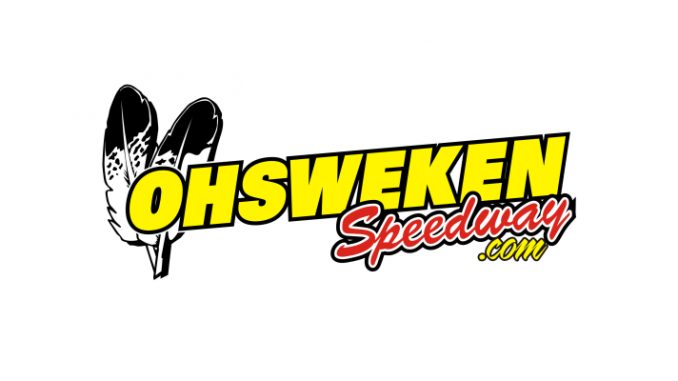 By T.J. Buffenbarger
OHSWEKEN, Ont. – (July 25, 2016) — Kasey Kahne made his first appearance at Ohsweken Speedway a memorable one by winning the 360 Sprint Car Feature during the Northern Crate Nationals Monday night. Kahne went from third to first during an early race restart and held off multiple challenges by Parker Price-Miller for the victory.
Dave Dykstra took the lead at the start while Kahne after dropping back to fifth worked his way back up to the third position before the first caution appeared when Dylan Westbrook and Cory Turner made contact with Westbrook hitting the wall on the front stretch before eventually stopping in turn one.
Kahne took advantage of the restart to go from third to first through turns one and who. Dykstra and Price-Miller raced for second before the caution appeared again. Following the restart Price-Miller used a slide job to get by Dykstra for second. With five laps to go the red flag appeared for Glenn Styres' grinding crash down the backstretch. Styres emerged from his car under his own power.
Price-Miller attempted a slide job through turns one and two after the restart, but Kahne was able to use his momentum around the top side of the track to maintain the lead. Kahne continued to pull away until a caution with four laps to go for Tyler Hendricks losing a left rear wheel in turn one.
Kahne was up to the challenge and pulled away again after the restart. Just as Kahne took the white flag with a sizeable advantage Jake Brown spun in front of the leader. Kahne was able to avoid Jake Brown's car as the caution appeared again.
This setup a green white checkered finish, but the result was the same as Kahne pulled away from the field for the victory. Price-Miller held off Dykstra for second with Mitch Brown and Steve Collins rounding out the top five.
Northern Crate Nationals
Ohsweken Speedway
Ohsweken, ONT.
Monday July 25, 2016
Winged 360 Sprint Cars
Heat Race #1:
1. 97 – Cory Turner
2. 18 – Ryan Susice
3. 01k – Mikey Kruchka
4. 67x – Parker Price-Miller
5. 69k – Scott Kreutter
6. 27z – Stan Zanchin
7. 2w – Lee Winger
8. 43 – Scott Sherk
9. 0c – Cole MacDonald
Heat Race #2:
1. 87 – Jason Barney
2. 4 – Kasey Kahne
3. 3r – Shane Ross
4. 38 – Tyler Hendricks
5. 17x – Dain Naida
6. 80 – Chris Steele
7. 77x – Alex Hill
8. 11 – Jamie Turner
Heat Race #3:
1. 47x – Dylan Westbrook
2. 5D – Dave Dykstra
3. 10b – Mitch Brown
4. 9 – Steve Lyons
5. 67 – Chris Durand
6. 10c – Paulie Colagiovanni
7. 15 – Mike Ferrell
8. 01jr – Paul Lang
Heat Race #4:
1. 0 – Glenn Styres
2. 14h – Jim Huppunen
3. 67C – Steve Collins
4. 22 – Shawn Sliter
5. 91 – Ryan Turner
6. 7 – Tom Huppunen
7. 6 – Curtis Gartly
8. 10-Jan – Jake Brown
B-Main #1:
1. 69k – Scott Kreutter
2. 10c – Paulie Colagiovanni
3. 27z – Stan Zanchin
4. 67 – Chris Durand
5. 2w – Lee Winger
6. 01jr – Paul Lang
7. 0c – Cole MacDonald
8. 15 – Mike Ferrell
9. 43 – Scott Sherk
B-Main #2:
1. 1-10 – Jake Brown
2. 17x – Dain Naida
3. 80 – Chris Steele
4. 91 – Ryan Turner
5. 7 – Tom Huppunen
6. 77x – Alex Hill
7. 11 – Jamie Turner
8. 6 – Curtis Gartly
Feature:
1. 4 – Kasey Kahne
2. 67x – Parker Price-Miller
3. 5D – Dave Dykstra
4. 10b – Mitch Brown
5. 67C – Steve Collins
6. 14h – Jim Huppunen
7. 18 – Ryan Susice
8. 87 – Jason Barney
9. 10c – Paulie Colagiovanni
10. 01k – Mikey Kruchka
11. 9 – Steve Lyons
12. 22 – Shawn Sliter
13. 17x – Dain Naida
14. 1-10 – Jake Brown
15. 69k – Scott Kreutter
16. 0 – Glenn Styres
17. 38 – Tyler Hendricks
18. 3r – Shane Ross
19. 97 – Cory Turner
20. 47x – Dylan Westbrook
Crate Sprint Cars
Heat Race #1:
1. 12 – Brad Herron
2. 68 – Aaron Turkey
3. 4 – Mack DeMan
4. 8 – Hannah Ferrell
5. 43h – Ryan Hunsinger
6. 18x – Davey Boughton
7. 0 – Mark Czuba
Heat Race #2:
1. 1 – Holly Porter
2. 18 – Josh Shantz
3. 87x – Shone Evans
4. 88 – Jesse Mcdonald
5. 55 – Mike Thorne
6. 49h – Jerry Hill
7. 51 – Brent Weller
Feature:
1. 4 – Mack DeMan
2. 18 – Josh Shantz
3. 68 – Aaron Turkey
4. 8 – Hannah Ferrell
5. 43h – Ryan Hunsinger
6. 12 – Brad Herron
7. 87x – Shone Evans
8. 1 – Holly Porter
9. 49h – Jerry Hill
10. 88 – Jesse Mcdonald
11. 18x – Davey Boughton
12. 51 – Brent Weller
13. 0 – Mark Czuba
14. 55 – Mike Thorne