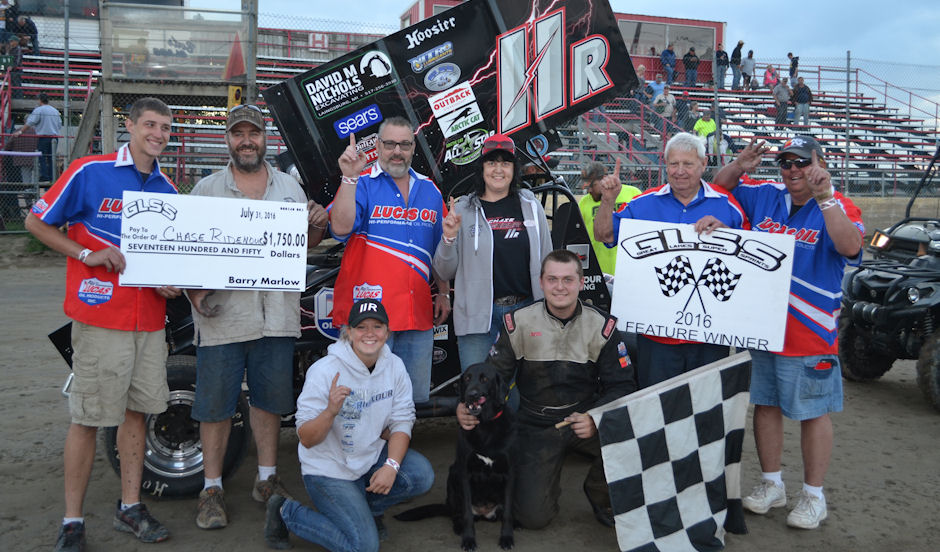 By Bob Buffenbarger
Lake Odessa, Mi. (07-31-16)-Chase Ridenour wowed the crowd at I-96 Speedway Sunday evening as he completed a weekend tripleheader sweep capturing all three Great Lakes Super Sprints features by passing race long leader Dustin Daggett as the white flag flew.
Ridenour would start outside of the front row next to Andy Teunessen. Dustin Daggett started third and immediately shot out to the lead with Teunessen and Ridenour falling in behind with Max Stambaugh and Brett Mann looking strong. A caution for Brad Lamberson on lap four closed the field with Teunessen showing some muscle early on, but encountered problems and dropped out.
Daggett was mostly using the high line around the track and was quickly stretching his lead as lapped traffic was heavy by lap ten. Stambaugh was hanging onto second but Ridenour reeled him in and they were exchanging position with Stambaugh still second until the yellow flew again for Tony Bures stopped on the front stretch on lap 16.
On the restart, Daggett seemed to be motoring away leaving Stambaugh and Ridenour to fight for second followed by Gregg Dalman and Brett Mann in a battle of their own. Ridenour moved in on Stambaugh again and on lap 20 took second. As Daggett was catching lapped traffic again, Ridenour was rapidly closing the gap and with two to go was all over Daggett. As the white flag was waving Ridenour managed to pass Daggett in heavy traffic. Ridenour hung on and took the checkers chased by Daggett, Stambaugh, Mann and Dalman.
Heats for the 24 cars on hand were won by Daggett, Linden Jones and Ridenour. The B main went to Mike Astraukaus.
Great Lakes Super Sprints
I-96 Speedway
Lake Odessa, MI
Sunday July 31, 2016
A Feature (25 Laps): 1. 11R-Chase Ridenour[2]; 2. 2M-Dustin Daggett[3]; 3. 16B-Max Stambaugh[6]; 4. 19-Brett Mann[4]; 5. 49T-Gregg Dalman[10]; 6. 10J-Jarrod DeLong[5]; 7. 57-Mike Dunlap[14]; 8. 27-Brad Lamberson[9]; 9. 19J-Linden Jones[7]; 10. 67-Chris Durand[8]; 11. 23G-Joe Geibe[13]; 12. 84-Kyle Poortenga[11]; 13. 3-Kyle Locke[12]; 14. 37-Noah Dunlap[15]; 15. 58-Tony Bures[18]; 16. 91L-Alexis Adgate[22]; 17. 35-Mark Strpko[21]; 18. 31-Andy Teunessen[1]; 19. 11-Trey Smith[17]; 20. 3A-Mike Astrauskas[16]; 21. 31A-Tanner Astraukaus[19]; 22. 24-Eric Smith[20]
B Feature (12 Laps): 1. 3A-Mike Astrauskas[1]; 2. 11-Trey Smith[2]; 3. 58-Tony Bures[4]; 4. 31A-Tanner Astraukaus[6]; 5. 24-Eric Smith[5]; 6. 35-Mark Strpko[7]; 7. 2T-Ralph Brakenberry[9]; 8. 21-Matt Lumbert[8]; 9. 91L-Alexis Adgate[3]; 10. 18-D.J. Lamance[10]
Heat 1 (8 Laps): 1. 2M-Dustin Daggett[4]; 2. 16B-Max Stambaugh[1]; 3. 31-Andy Teunessen[3]; 4. 49T-Gregg Dalman[2]; 5. 57-Mike Dunlap[5]; 6. 3A-Mike Astrauskas[6]; 7. 58-Tony Bures[7]; 8. 35-Mark Strpko[8]
Heat 2 (8 Laps): 1. 19J-Linden Jones[1]; 2. 19-Brett Mann[3]; 3. 27-Brad Lamberson[5]; 4. 84-Kyle Poortenga[2]; 5. 23G-Joe Geibe[4]; 6. 11-Trey Smith[6]; 7. 24-Eric Smith[7]; 8. 21-Matt Lumbert[8]
Heat 3 (8 Laps): 1. 11R-Chase Ridenour[4]; 2. 67-Chris Durand[1]; 3. 10J-Jarrod DeLong[3]; 4. 3-Kyle Locke[2]; 5. 37-Noah Dunlap[6]; 6. 91L-Alexis Adgate[5]; 7. 31A-Tanner Astraukaus[8]; 8. 2T-Ralph Brakenberry[7]
Qualifying (2 Laps): 1. 2M-Dustin Daggett, 14.839[14]; 2. 23G-Joe Geibe, 15.164[1]; 3. 11R-Chase Ridenour, 15.286[15]; 4. 31-Andy Teunessen, 15.411[11]; 5. 19-Brett Mann, 15.428[17]; 6. 10J-Jarrod DeLong, 15.643[21]; 7. 49T-Gregg Dalman, 15.666[3]; 8. 84-Kyle Poortenga, 15.727[4]; 9. 3-Kyle Locke, 15.774[8]; 10. 16B-Max Stambaugh, 15.809[24]; 11. 19J-Linden Jones, 15.835[12]; 12. 67-Chris Durand, 15.849[10]; 13. 57-Mike Dunlap, 15.953[7]; 14. 27-Brad Lamberson, 16.025[5]; 15. 91L-Alexis Adgate, 16.132[6]; 16. 3A-Mike Astrauskas, 16.230[16]; 17. 11-Trey Smith, 16.487[19]; 18. 37-Noah Dunlap, 16.709[18]; 19. 58-Tony Bures, 16.783[22]; 20. 24-Eric Smith, 17.058[13]; 21. 2T-Ralph Brakenberry, 17.403[9]; 22. 35-Mark Strpko, 17.522[20]; 23. 18-D.J. Lamance, 17.722[23]; 24. 31A-Tanner Astraukaus, 19.290[2]