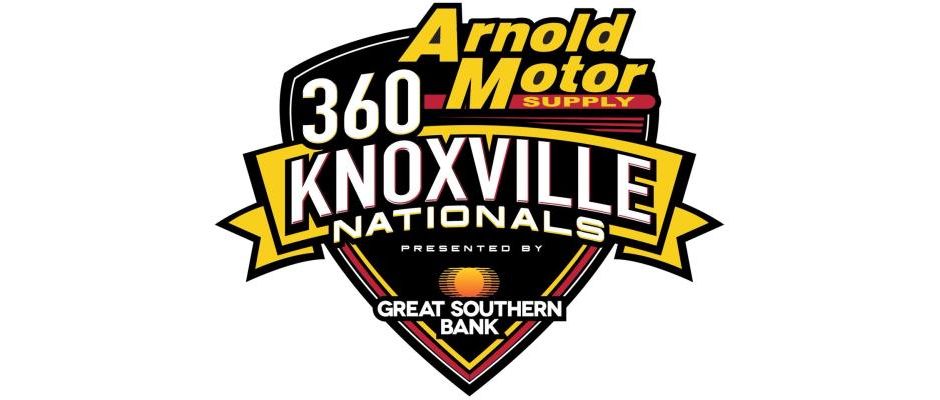 KNOXVILLE, Iowa (August 4, 2016) — After the first night of competition during Thursday night during the Arnold Motor Supply 360 Knoxville Nationals presented by Great Southern Bank at Knoxville Raceway Justin Henderson sits atop the point standings.
Henderson was the fastest qualifier, finished second in his heat race, 9th in the feature during Wednesday night's preliminary event. Sammy Swindell's runner up finish in Thursday's feature event. Tony Shilling, Josh Baughman, and Danny Lasoski rounded out the top five.
Defending 360 Knoxville Nationals champion Terry McCarl was sixth while preliminary feature winner Jamie Ball sits seventh.
Thursday Night Point Totals
1 1 Justin Henderson 481
2 3S Sammy Swindell 480
3 22 Tony Shilling 480
4 17X Josh Baughman 479
5 1M Danny Lasoski 476
6 24 Terry McCarl 472
7 5J Jamie Ball 467
8 18 Ian Madsen 464
9 17WX Bryan Clauson 464
10 9 Ryan Giles 461
11 18R Ryan Roberts 452
12 5H Cory Eliason 440
13 87 Aaron Reutzel 437
14 13V Seth Brahmer 437
15 95 Matt Covington 429
16 3P Sawyer Phillips 425
17 84 Brandon Hanks 422
18 23D Devon Dobie 417
19 75X JT Imperial 414
20 24H Kade Higday 405
21 35L Cody Ledger 404
22 9M Ricky Montgomery 402
23 9JR Derek Hagar 402
24 3 Nate Van Haaften 401
25 12H Daniel Harding 399
26 21T Ray Allen Kulhanek 394
27 94 Jeff Swindell 392
28 17 Tyler Groenendyk 391
29 10H Chad Kemenah 368
30 86 Tony Bruce Jr. 361
31 12 James Mosher 359
32 49X Tim Shaffer 353
33 71C Stacey Alexander 349
34 50Z Zach Chappell 346
35 85 Forrest Sutherland 346
36 9Z Jared Goerges 332
37 O7 Michael Bookout 332
38 98 Chris Masters 329
39 4S Adam Speckman 323
40 22B Jesse Baker 315
41 2K Kevin Ingle 306