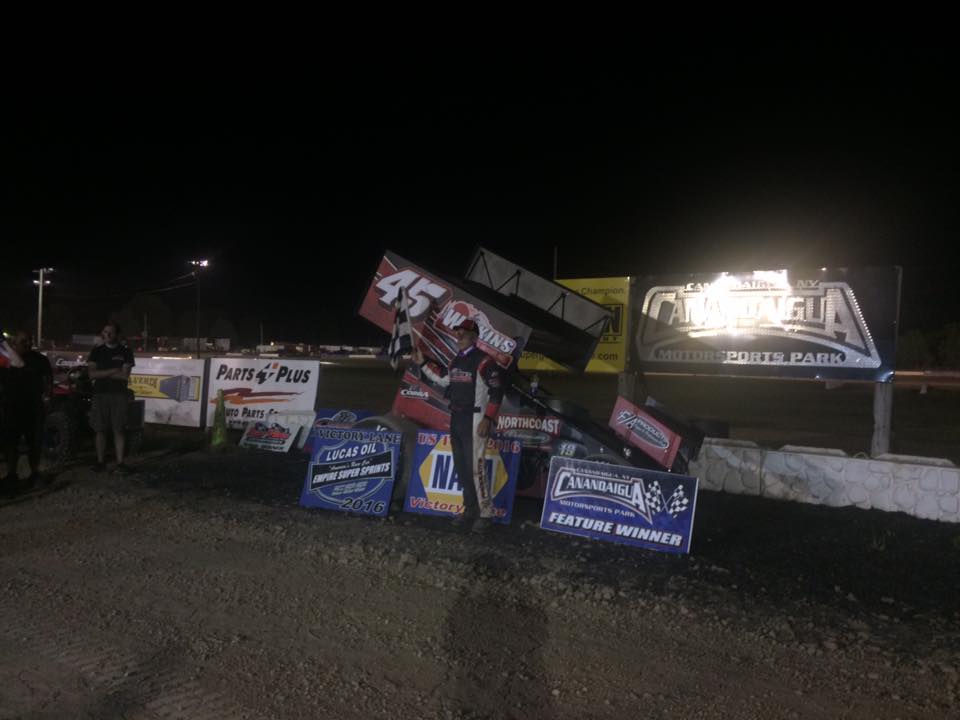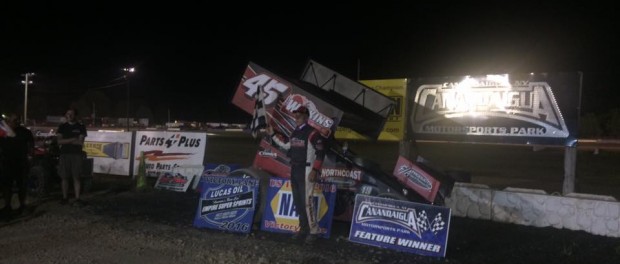 From Dean Reynolds
CANANDAIGUA, N.Y. (August 6, 2016) — When Ontario, NY's Chuck Hebing drew the pole for the 25 lap Mach 1 Chassis A-Main Saturday night at Canandaigua he knew the opportunity was there to capture another Lucas Oil Empire Super Sprint (ESS) checkered. When 25 laps were completed, he did a donut and climbed atop his tail tank to greet the cheering crowd and collected $2,350 for the win
Hebing got the jump on July winner and outside pole sitting Matt Tanner at the drop of Scott Hixson's green flag. With all 25 laps going non-stop the challenges weren't from just Tanner, but also lapped cars throughout the event.
"The track was different than it was in July, then you could pretty much used the middle as the fast lane," Hebing went on. "Tonight it seemed to be the bottom. I tried the middle one time and I saw Matt under me so I figured the bottom was faster."
Hebing has been known to use powerful Roush-Yates Ford. This time he had a Donath Motorworx engine under the hood and the experiment proved successful. "Brian (Donath) built this motor special for the slick tracks, Kelly (Chuck's daughter) has been using it and we wanted to give it a shot," said the driver known as the Cobra. "It worked real well, the motor was smooth and I could keep the momentum up with it. Real happy the way it worked."
While the event paid points for the overall Lucas Oil ESS Championship and also the lucrative NAPA Auto Parts US Tour, Hebing hasn't been chasing the full tour for several years now. At 52 years of age it's about getting the wins.
"A win here means a lot, we have many friends that come here to watch us. With this group of drivers with ESS you just don't know when the last one will come," Hebing reflected on what was now his 29th career ESS win tying him with Gordy Button. "These are the best drivers in our area and anytime you can still get a win is special, especially at 52."
For Tanner, he came in with the exact same set up he had back in July for his big CNY Speedweek win. While the car was fast, it was just a tick off Hebing's on this night. "The track wasn't as slippery as it was in July. The bottom just seemed to be better tonight," Tanner went on. "Maybe I should of tried the top or something to get by him but it's tough when you're right there, you don't want to make the wrong decision."
Tanner also noted the one time Hebing slipped up and he showed his nose. "Chuck moved up just a bit and I got under him. I probably should have been more aggressive but he went back down and I had to wait to see if he would slip up," Tanner said. "I probably should have been more aggressive on the start also, I had a good run and possibly could have gotten the lead. But, it didn't work out that way. Hey, it's still a second and we are very happy. We seem to have a real good combination here now."
Danny Varin shook off some of his Canandaigua bad luck as was happy just to finally get a podium finish at the track called the Land of Legends. "We have just been horrible here, I haven't felt that good," Varin dead-panned. "I talked to Lance (Yonge) here a few years ago and we actually went back to what he told us, we were way better."
With his seventh place starting spot and all laps run under green, you can bet the Fonda, NY driver was hoping for a caution. "I was praying for a caution!" Varin exclaimed, "We were running them down and I felt we just had a good of a cars as them if not maybe a little bit better. We just needed a better draw tonight but that is all part of luck."
Jason Barney came from his dash win, started on 13th to finish in fourth and collect the night's hard charger award. Bryan Howland completed the top five. Rounding out the top ten were Steve Poirier, Jeff Cook, Joe Trenca, Parker Evans and Mike Stelter.
ESS/CANANDAIGUA NOTES – A big field of 30 sprints filled the pits and played host to a big crowd at the Ontario County Fairgrounds…Colman Gulick made his first start for 2016, that made the 109th different driver in ESS competition so far in 2016…The annual asphalt race at Evans Mills has been postponed for 2016 with plans to have the Kevin Ward Jr. Memorial next year…next up for the Lucas Oil ESS gang is Sunday, August 21 at the Weedsport Speedway which will be the Legends Reunion Night.
Lucas Oil Empire Super Sprints
Canandaigua Motorsports Park
Canandaigua, NY
Saturday August 6, 2016
Feature (25 Laps): 1. 45 – Chuck Hebing, 2. 90 – Matt Tanner, 3. 00 – Danny Varin, 4. 87 – Jason Barney, 5. 51 – Bryan Howland, 6. 28FM – Steve Poirier, 7. 10 – Jeff Cook, 8. 98 – Joe Trenca, 9. 61 – Parker Evans, 10. 36 – Mike Stelter, 11. 19K – Paul Kinney, 12. 88C – Chad Miller, 13. 17 – Sammy Reakes IV, 14. 10K – Paulie Colagiovanni, 15. 1HD – Cory Sparks, 16. X – Dan Barrett, 17. 33 – Brandon Kidd, 18. 99 – Tim Axton, 19. 36D – Steve Doell, 20. 514 – James Hanson, 21. 10K – Rob Dietrick, 22. 25H – Paul Habeck, 23. 99K – Dan Kuhn, 24. 53 – Shawn Donath.