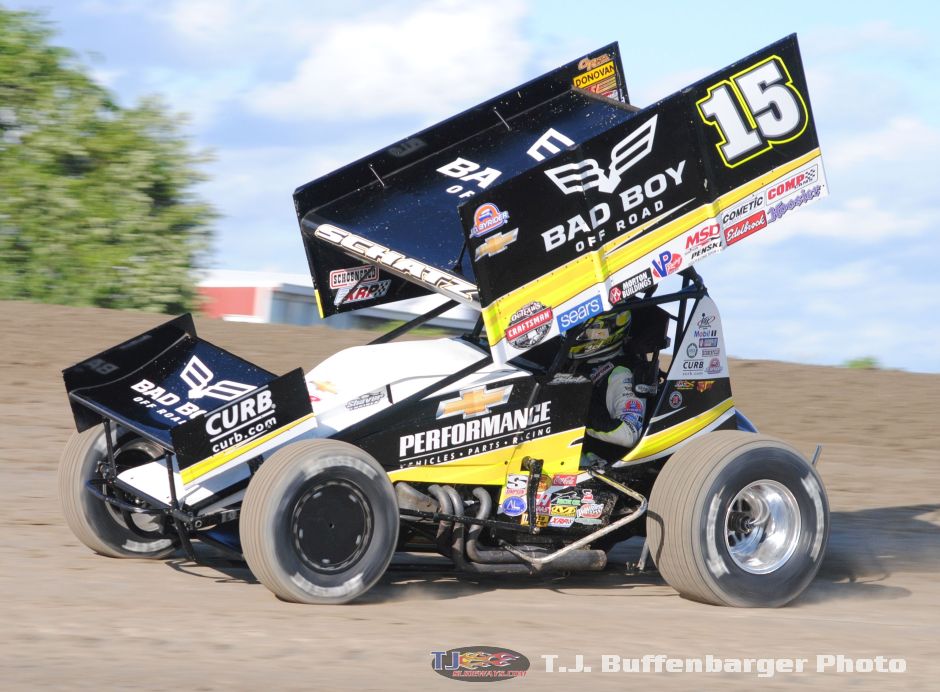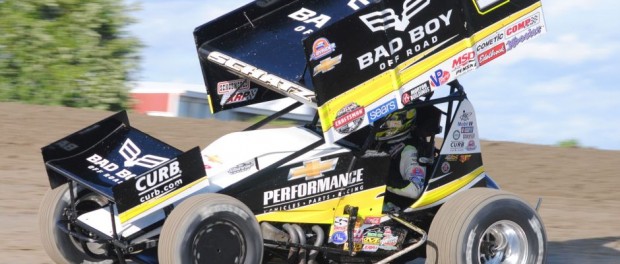 By T.J. Buffenbarger
Over the next week we will see prognostications and lists from pundits with predictions about the 56th Annual 5-Hour ENERGY Knoxville Nationals. When looking at the statistics there are two statistics that stand out the most.
Five in a row, nine of the last ten.
That is the frequency Donny Schatz has won the Knoxville Nationals over the past 10 years. Years of frustration chasing the goal have led to complete dominance with only a second place to Tim Shaffer in 2010 disrupting Schatz's dominance.
Schatz has already won the Nationals from further back in the field than anyone else (21st in 2013), tied the record held by Steve Kinser for most consecutive victories in National's Saturday finale at five and is 26 circuits away from being the all-time leader in laps led in Nationals A-Mains. Schatz has also reached another Kinser like status with a drink named in his "honor" with the track and Dingus Lounge serving up "Nothing but" shots.
Since June 8th Schatz has gone from eight wins to 16 on the World of Outlaws circuit and put a stranglehold on the point lead winning approximately 30% of the time. If you are as much like me and enjoy drivers passing the eye test Schatz's performance at the Kings Royal at Eldora Speedway was impressive and could be a sign of things to come at Knoxville.
It's difficult to argue picking against Schatz this year at Knoxville, but there are some drivers that have showed promise. One of the difficult aspects of picking who might be the top contender opposite of Schatz is how competitive things have been with the Outlaws and around 410 racing in general prior to June.
The popular choice lately to bump Schatz off the top step at the podium at Knoxville is David Gravel. Gravel has a victory at the Don Martin Memorial Silver Cup at Lernerville Speedway and doubled his feature in total on the Outlaw tour from three to six in the month of July. Add in the factor of Barry Jackson spinning the wrenches and Gravel is the most likely candidate based on recent performances.
Kasey Kahne Racing driver Daryn Pittman just relinquished second place in the Outlaw points to Gravel and is tied with teammate Brad Sweet for second in feature wins on the tour with seven. Pittman scored two high profile victories at Eldora Speedway and Williams Grove Speedway. Pittman has victories six out of seven completed months on the Outlaw tour. Pittman picked up another victory in the Front Row Challenge on Monday night.
Brad Sweet led the World of Outlaws point standings until June. Sweet traded the point lead once in June before Schatz asserted himself at Lincoln Park Speedway on June 8th. While Schatz is performance has picked up Sweet has not won since July 2nd.
Shane Stewart is another name that got bumped up the list after his performance on Sunday night at the Capitani Classic. While Stewart and the Larson/Marks team have had their ups and downs on the Outlaw tour Stewart seems to have the ability no matter the situation to perform well at Nationals.
Terry McCarl topped Schatz at Knoxville Raceway on June 10th, but didn't pick up another victory in a 410 sprint car until July 31st at Hancock County Speedway. After some boasting this summer one would think Badlands Speedway officials would love nothing more than to see one of its top stars in victory lane at the Nationals (even if they are suspended at the moment).
Outside of that quartet of drivers you could point out Brian Brown's strong showing at the Kings Royal and recent feature win at Knoxville, strong showings by Chad Kemenah and Dale Blaney on the All Star Circuit of Champions tour, or the fact that 10 of the 13 teams following the Outlaw circuit have at least one feature win to their credit.
Ultimately when looking at the numbers and using the "eye test" Schatz is the undeniable favorite going into Nationals. It is likely Saturday's finale will come down to seeing if Schatz makes a mistake, and if he does will someone else be able to capitalize on it.