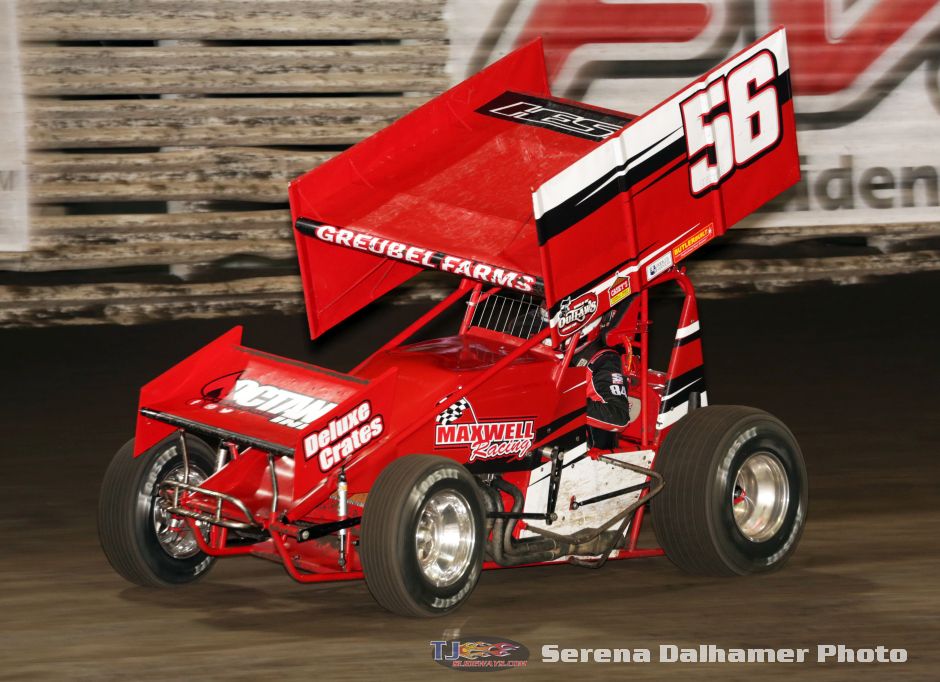 By T.J. Buffenbarger
KNOXVILLE, Iowa – (August 13, 2016) – Davey Heskin used the bottom of the race track to perfection in route to winning the C-Main during the 2016 5-Hour ENERGY Knoxville Nationals Saturday night at Knoxville Raceway.
Heskin and Matt Moro raced for the lead at the start with Moro taking the position on the opening lap. Behind them Dave Blaney and Matt Juhl raced for the third spot for two laps before Blaney moved past using the bottom in turn three.
By lap four Heskin was gaining speed on the bottom and closing on Moro for the lead. One lap later Heskin drove under Moro to take the lead and pulled away from the rest of the field.
With five laps to go Colby Copeland spun between turns three and four to bring out the caution flag. This setup a wild series of events where Juhl and Hendrickson split Blaney and moved him out of a transfer spot. At the same time Brian Brown, who had been closing on the front of the pack, got sideways and dropped back through the field.
Up front though it was all Heskin taking the win. Moro, Hendrickson, and Juhl claimed the transfer spots to the B-Main.
56th Annual 5-Hour ENERGY Knoxville Nationals presented by Casey's General Stores Finale
Knoxville Raceway
Knoxville, IA
Saturday August 13, 2016
C-Main (15 Laps): 1. 56N – Davey Heskin, 2. 2M – Matt Moro, 3. 10 – Dakota Hendrickson, 4. 09 – Matt Juhl, 5. 71M – Dave Blaney, 6. 11N – Randy Hannagan, 7. 5H – Cory Eliason, 8. 1A – Jacob Allen, 9. 7S – Jason Sides, 10. 3G – Brandon Wimmer, 11. 7 – Paul Mcmahan, 12. 26 – Willie Croft, 13. 18JS – Jason Solwold, 14. 17A – Austin McCarl, 15. 97 – Dean Jacobs, 16. 88N – D.J. Netto, 17. W20 – Greg Wilson, 18. 21 – Brian Brown, 19. 10V – Rager Phillips, 20. 23S – Trey Starks, 21. 18W – Colby Copeland, 22. 3 – Billy Alley, 23. 19P – Paige Polyak, 24. 55L – Aaron Reutzel. (First four finishers transferred to the B-Main)