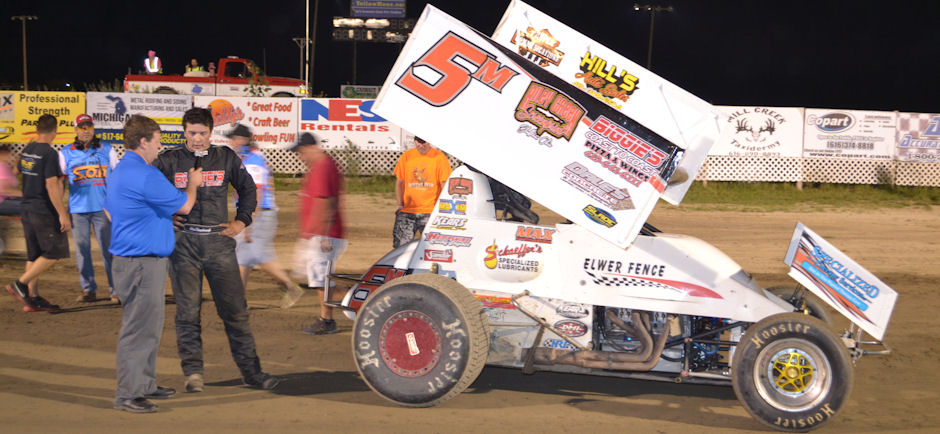 By Bob Buffenbarger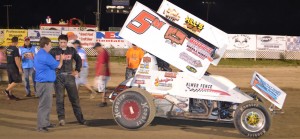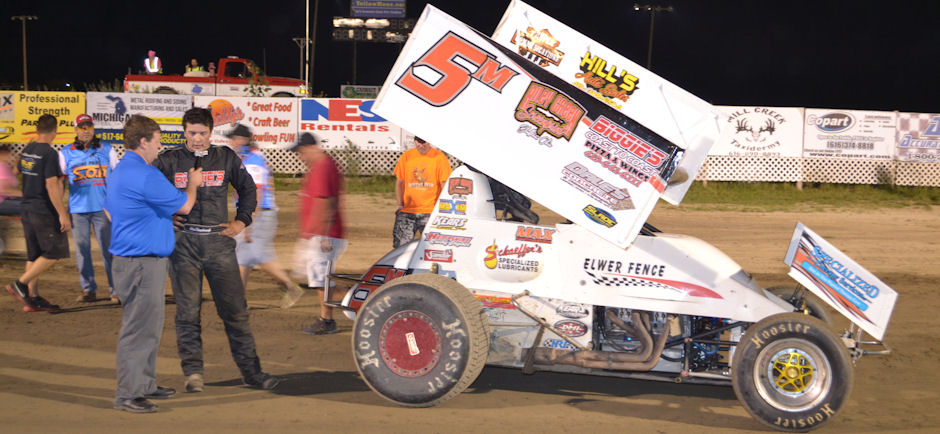 Lake Odessa,Mi (8-19-2016)-Max Stambaugh started outside of the front row and took the lead at the drop of the green and led all 25 laps of the Engine Pro Sprints on Dirt presented by ARP feature at I-96 Speedway Friday night.
Brian Smith was on the pole and fell in behind Stambaugh with Brad Lamberson, Brett Mann and Steve Irwin all in tow. The running order remained the same for several laps on the dust free, very fast track until Lamberson made the pass on Smith for 2nd on lap 14.
Stambaugh was now lapping cars and negotiating heavy traffic using both the high and low lanes. Shortly after the 5 to go signal was displayed, trouble struck on the backstretch with three cars taking a nasty series of cartwheels. Doug Zimmerman, John Gall and Brad Lamberson were involved but all drivers thankfully walked away from the carnage.
With four laps remaining, the green flew again and Stambaugh was not going to be caught tonight and finished ahead of Brian Smith, Steve Irwin, Mark Aldrich and Robert Huisken.
Heats were won by Stambaugh, Lamberson and Irwin.
25 lap feature:
1)#5 Max Stambaugh, 2) #2t Brian Smith, 3)#0 Steve Irwin, 4)#1A Mark Aldrich. 5)#Robert Huisken, 6) Andy Chehowski, 7)#Robert Bulloch, 8)#18 David Lamance, 9) #91 Lexi Adgate, 10)#19 Brett Mann, 11)#3 Kyle Locke,12)#71 Brad Lamberson, 13)#81 John Gall, 14)#19z Doug Zimmerman, 15)#44j Bill Jacoby, 16)#8 Justin Ward, 17)#35 Eric Smith, 18)#10s Jay Steinebach