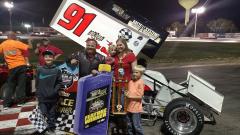 Meridian, Idaho- The Royal Purple NSRA Sprint Series would be in action for the final time in 2016 on Saturday, September 17th. It was the second consecutive night of racing for the series at Idaho's Meridian Speedway. Thirteen cars would still be on hand representing the states of Idaho, Oregon, Washington, and Utah as well as the Canadian province of British Columbia.
The main event would see young Tristen Spiers be the dominant driver for much of the race. Spiers, from Adrian, Oregon, was the leader of the first twenty-nine laps before a late-race caution would come out. On the ensuing restart, Spiers would, unfortunately, spin resulting in him going to the back.
Bryan Warf would inherit the lead. Warf, of Meridian and who started the main event in eighth, would stay out in front and led the rest of the race. It was his second win against the Royal Purple NSRA Sprints this season.
Middleton hot shoe Sierra Jackson would finish the feature in second followed by Roseburg, Oregon teenager Kyle Alberding, in third. Unfortunately, Alberding would not pass post-race tech and was disqualified giving the third spot to Colton Nelson, of Meridian, to make it an all Idaho top three.
Earlier in the program Roseburg, Oregon's Matt Hein set fast time of the night in time trials. Colton Nelson and Sierra Jackson would be victorious in heat race competition while trophy dashes were won by Nelson and Bryan Warf.
Once all the racing had come to a conclusion Matt Hein was declared the 2016 Royal Purple NSRA Sprint Series champion. It marked the fifth time that has won the championship and is his third straight title. He is now tied with Rick Brown for the most Royal Purple NSRA Sprint crowns in the history of the series.
With all of the racing at a close, this season the awards banquet is next on the agenda. Details for the event will be released soon and once they do can be found on the series website. In the meantime, be sure to stay up to speed via the website and Facebook page for the upcoming schedule over the offseason.
Be sure and stay up to date with the Royal Purple NSRA Sprint Series by visiting the series website at www.nsraracing.com. Also, check out the official Facebook page and click "Like" to follow the tour via your favorite electronic devices
Royal Purple is the proud title sponsor of the NSRA Pavement Sprint Car Series. Royal Purple manufactures high-performance lubricants for most automotive, industrial, marine, motorcycle and racing applications. It is considered the best synthetic motor oil by many end users. For more information or to find a store that carries these wonderful products log on to www.royalpurpleconsumer.com.