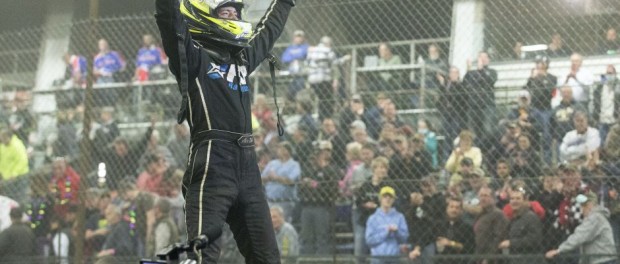 From Richie Murray
INDIANAPOLIS, Ind. (November 16, 2016) — Midget racing standout Alex Bright will pilot a USAC AMSOIL National Sprint Car for Pennsylvania car owner Rick Kaylor in the 11th annual "Eastern Storm" series in 2017.
Bright, who has yet to make a USAC Sprint Car start in his career, has 40 career USAC National Midget feature starts, including a second-place finish at Lawrenceburg (Ind.) Speedway in 2012.
The Collegeville, Pennsylvania native is renowned for his success in a midget on a resume that is highlighted by a 2016 ARDC title as well as a preliminary night feature win at the "Chili Bowl Midget Nationals" earlier in the season in Tulsa, Oklahoma.
Car owner Rick Kaylor has been involved in sprint car racing for over two decades. Beginning his driving career in 1989, he has spent the past decade in the role of car owner and sponsor. Rick has owned sprint cars for the likes of Lucas Wolfe, Kenny Jacobs, Ryan Bohlke and, more recently, Super Sportsman driver Troy Rhome and 358 sprint car driver Jordan Givler.
The team is currently assembling a CS9 chassis with a fresh Rider Racing Engine underneath the hood of the No. 13K as Kaylor anxiously awaits his first venture into the world of USAC Sprint Car racing.
"I was at the Knoxville Nationals in 2007 and decided to go to Oskaloosa to watch USAC," Kaylor recalls. "I just thought they were incredible. Since then, I would go to Grandview, or wherever they ran locally, and decided when the time was right, I would like to field a car."
"I started looking at drivers and was spending a lot of time at Susquehanna earlier this year," Kaylor explains. "ARDC just happened to be there quite a bit and I took notice of Alex. I watched him all summer and was impressed with him on the track. Since I didn't know him, I asked around and heard nothing but good things. We talked in September and made a deal for USAC "Eastern Storm" and possibly the URC wingless races."
The schedule for 2017 "Eastern Storm" will be released along with all three of USAC's National schedule at the PRI show in Indianapolis on December 8, 2016.