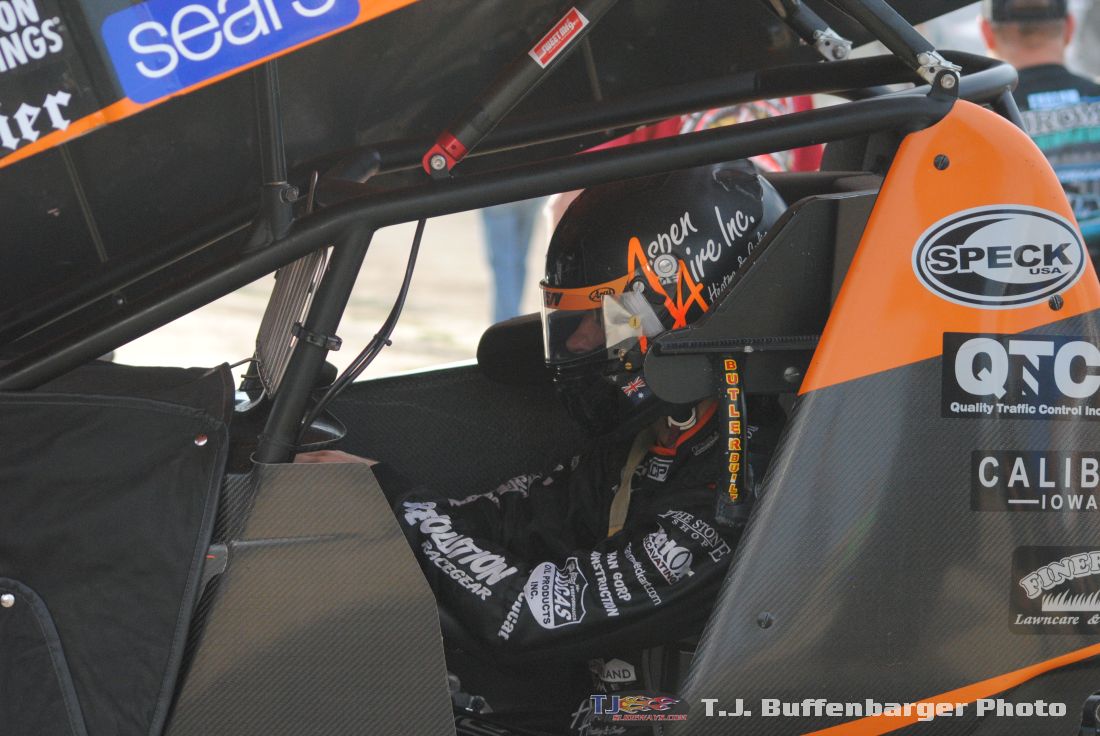 WARRNAMBOOL, Au. (January 21, 2017) — Ian Madsen won the preliminary feature Saturday night during the 45th Lucas Oil Grand Annual Sprintcar Classic at Premier Speedway. Madsen started on the pole and led every lap on his way to the victory.
Jamie Veal, Shane Stewart, James McFadden, and Bradley Keller rounded out the top five.
Luke Dillon was fastest in the second flight of qualifying and won one of his heat races. McFadden stood out in heat race action picking put two victories. Terry McCarl, Veal, Darren Mollenoyux, Mitch Wormall, and Bradley Keller picked up the remaining heat race victories. Dennis Jones won the C-Main while Ryan Jones won the B-Main.
Premier Speedway
Warrnambool, AU
45th Lucas Oil Grand Annual Sprintcar Classic
Saturday January 21, 2017
Qualifying Flight #1:
1. W66 – Ian Madsen, 12.349
2. V35 – Jamie Veal, 12.408
3. V29 – Terry McCarl, 12.467
4. Q36 – Mitchell Gee, 12.467
5. W26 – Jason Johnson, 12.730
6. S97 – Matt Egel, 12.742
7. V77 – Brayden Parr, 12.766
8. V55 – Ashley Scott, 12.946
9. V52 – Darren Mollenoyux, 13.004
10. W99 – Jamie Maiolo, 13.021
11. V98 – Peter Doukas, 13.022
12. N38 – Max Johnson, 13.035
13. USA0 – Corey Eliason, 13.170
14. Q59 – Kevin Titman, 13.207
15. W97 – Mitch Wormall, 13.250
16. Q54 – Richard Morgan, 13.325
17. V91 – Brad Warren, 13.335
18. Act21 – Shaun Dobson, 13.402
19. V64 – David Aldersley, 13.428
20. V5 – Max Dumesny, 13.432
21. V58 – Rhiannon Burleigh, 13.449
22. V17 – Dennis Jones, 13.504
23. N10 – Harli White Hines, 13.517
24. N71 – Courtney O'Hehir, 13.558
25. V81 – Robbie Paton, 13.563
26. S44 – Daniel Evans, 13.593
27. S20 – Glen Sutherland, 13.680
Qualifying Flight #2:
1. S81 – Luke Dillon, 13.027
2. W17 – James McFadden, 13.201
3. V68 – Shane Stewart, 13.215
4. N21 – Garry Brazier, 13.235
5. N7 – Toby Bellbowen, 13.238
6. Act15 – Harley Bishop, 13.258
7. S15 – Aidan Hall, 13.288
8. Q7 – Robbie Farr, 13.300
9. S63 – Ryan Jones, 13.356
10. S4 – Lisa Walker, 13.359
11. NQ5 – Danny Reidy, 13.360
12. S24 – Ricky Maiolo, 13.378
13. S19 – Bradley Keller, 13.410
14. N16 – Daniel Sayer, 13.454
15. V74 – Michael Cunningham, 13.503
16. N47 – Marcus Dumesny, 13.504
17. USA1 – Dominic Scelzi, 13.565
18. V36 – Tim Van Ginneken, 13.570
19. NT21 – Chace Karpenko, 13.595
20. S27 – Daniel Pestka, 13.605
21. V50 – Darren Clark, 13.696
22. N79 – Peter Bourke, 13.828
23. V2 – Domain Ramsey, 13.832
24. V23 – James Gardiner, 13.836
25. N44 – Shane Sheedy, 13.860
26. N75 – Glen Saville, 13.912
27. V72 – Jacob Smith, 14.133
Heat Race #1:
1. V29 – Terry McCarl
2. W66 – Ian Madsen
3. W26 – Jason Johnson
4. V77 – Brayden Parr
5. V98 – Peter Doukas
6. V52 – Darren Mollenoyux
7. USA0 – Corey Eliason
8. V91 – Brad Warren
9. S20 – Glen Sutherland
10. N10 – Harli White Hines
11. V81 – Robbie Paton
12. V58 – Rhiannon Burleigh
13. W97 – Mitch Wormall
14. V64 – David Aldersley
Heat Race #2:
1. V35 – Jamie Veal
2. Q36 – Mitchell Gee
3. S97 – Matt Egel
4. N38 – Max Johnson
5. Q54 – Richard Morgan
6. W99 – Jamie Maiolo
7. Q59 – Kevin Titman
8. Act21 – Shaun Dobson
9. S44 – Daniel Evans
10. V5 – Max Dumesny
11. N71 – Courtney O'Hehir
12. V17 – Dennis Jones
13. V55 – Ashley Scott
Heat Race #3:
1. S81 – Luke Dillon
2. USA1 – Dominic Scelzi
3. V68 – Shane Stewart
4. S19 – Bradley Keller
5. N7 – Toby Bellbowen
6. V72 – Jacob Smith
7. NQ5 – Danny Reidy
8. NT21 – Chace Karpenko
9. S63 – Ryan Jones
10. V2 – Domain Ramsey
11. N44 – Shane Sheedy
12. V74 – Michael Cunningham
13. V50 – Darren Clark
14. S15 – Aidan Hall
Heat Race #4:
1. W17 – James McFadden
2. Q7 – Robbie Farr
3. N21 – Garry Brazier
4. Act15 – Harley Bishop
5. V36 – Tim Van Ginneken
6. S24 – Ricky Maiolo
7. N47 – Marcus Dumesny
8. S4 – Lisa Walker
9. N16 – Daniel Sayer
10. V23 – James Gardiner
11. N79 – Peter Bourke
12. N75 – Glen Saville
13. S27 – Daniel Pestka
Heat Race #5:
1. V52 – Darren Mollenoyux
2. V91 – Brad Warren
3. USA0 – Corey Eliason
4. W66 – Ian Madsen
5. N38 – Max Johnson
6. V58 – Rhiannon Burleigh
7. W26 – Jason Johnson
8. N71 – Courtney O'Hehir
9. V5 – Max Dumesny
10. Q54 – Richard Morgan
11. V55 – Ashley Scott
12. Q36 – Mitchell Gee
13. V81 – Robbie Paton
Heat Race #6:
1. W97 – Mitch Wormall
2. N10 – Harli White Hines
3. Q59 – Kevin Titman
4. S97 – Matt Egel
5. V17 – Dennis Jones
6. V35 – Jamie Veal
7. Act21 – Shaun Dobson
8. W99 – Jamie Maiolo
9. V77 – Brayden Parr
10. V29 – Terry McCarl
11. V98 – Peter Doukas
12. S44 – Daniel Evans
13. S20 – Glen Sutherland
14. V64 – David Aldersley
Heat Race #7:
1. S19 – Bradley Keller
2. V23 – James Gardiner
3. N47 – Marcus Dumesny
4. Q7 – Robbie Farr
5. S63 – Ryan Jones
6. USA1 – Dominic Scelzi
7. S81 – Luke Dillon
8. N7 – Toby Bellbowen
9. N21 – Garry Brazier
10. V50 – Darren Clark
11. S24 – Ricky Maiolo
12. N44 – Shane Sheedy
Heat Race #8:
1. W17 – James McFadden
2. N79 – Peter Bourke
3. V68 – Shane Stewart
4. N16 – Daniel Sayer
5. NT21 – Chace Karpenko
6. V2 – Domain Ramsey
7. NQ5 – Danny Reidy
8. S4 – Lisa Walker
9. N75 – Glen Saville
10. V72 – Jacob Smith
11. Act15 – Harley Bishop
12. V36 – Tim Van Ginneken
13. S15 – Aidan Hall
14. V74 – Michael Cunningham
C-Main:
1. V17 – Dennis Jones
2. V2 – Domain Ramsey
3. V72 – Jacob Smith
4. N75 – Glen Saville
5. V5 – Max Dumesny
6. V55 – Ashley Scott
7. V58 – Rhiannon Burleigh
8. S44 – Daniel Evans
9. V81 – Robbie Paton
10. V50 – Darren Clark
11. N71 – Courtney O'Hehir
12. S15 – Aidan Hall
13. V74 – Michael Cunningham
14. V64 – David Aldersley
15. N44 – Shane Sheedy
16. V36 – Tim Van Ginneken
B-Main:
1. S63 – Ryan Jones
2. Q36 – Mitchell Gee
3. V77 – Brayden Parr
4. NQ5 – Danny Reidy
5. Act15 – Harley Bishop
6. W97 – Mitch Wormall
7. W99 – Jamie Maiolo
8. V98 – Peter Doukas
9. NT21 – Chace Karpenko
10. N10 – Harli White Hines
11. Act21 – Shaun Dobson
12. Q54 – Richard Morgan
13. S4 – Lisa Walker
14. V23 – James Gardiner
15. S24 – Ricky Maiolo
16. V2 – Domain Ramsey
17. V17 – Dennis Jones
18. V72 – Jacob Smith
19. N75 – Glen Saville
20. N79 – Peter Bourke
A-Main:
1. W66 – Ian Madsen
2. V35 – Jamie Veal
3. V68 – Shane Stewart
4. W17 – James McFadden
5. S19 – Bradley Keller
6. USA1 – Dominic Scelzi
7. W26 – Jason Johnson
8. Q7 – Robbie Farr
9. S97 – Matt Egel
10. S81 – Luke Dillon
11. USA0 – Corey Eliason
12. V52 – Darren Mollenoyux
13. V29 – Terry McCarl
14. S63 – Ryan Jones
15. N38 – Max Johnson
16. NQ5 – Danny Reidy
17. N16 – Daniel Sayer
18. Q36 – Mitchell Gee
19. V77 – Brayden Parr
20. V91 – Brad Warren
21. Q59 – Kevin Titman
22. N21 – Garry Brazier
23. N7 – Toby Bellbowen
24. N47 – Marcus Dumesny