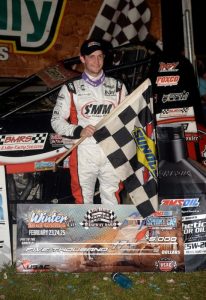 From Richie Murray
OCALA, Fla. (February 24, 2017) — Justin Grant's most recent visit to Bubba Raceway Park prior to Friday night's USAC AMSOIL Sprint Car National Championship 2017 season-opener ended in heartbreak.
One year later, despite late-race contact that nearly spelled disaster for the Ione, California native, the 26-year-old Grant swiftly exorcised those demons to capture night one of "Winter Dirt Games VIII."
Since joining forces last August, Grant and the Sam McGhee Motorsports team have been stellar in USAC competition. In a mere seven starts, the combo has already amassed five top-five finishes and their first two series victories together: last September's "4-Crown Nationals" at Eldora Speedway and now at the three-eighths-mile, D-shaped speedway in Ocala, Fla.
"I really felt like we came in here with a lot of momentum," Grant said. "With the same car, the same engine and the same whole program we ended with last year, it felt just like we left it. Last year down here was a heartbreaker. We were leading going into turn three on the last lap and blew a tire. I've been really close here several times, but something always happened. It feels really good to finish one off and get the first win of the season. I really like winning for these guys. They work their butts off and they've got a ton of passion for what we do. It makes it that much better to win with them."
A washout one night earlier provided a heavy racetrack for the 22 cars and drivers lined up for the 30-lap feature event, which saw pole sitter Dave Darland and outside front row starter C.J. Leary wage war in a side-by-side battle with Darland able to nip Leary at the line to take the point at the conclusion of lap one.
A two-man race quickly turned into a three-wide feast of speed on the second circuit with Boespflug sneaking along the bottom, Darland in the middle and Leary on the outside. Darland once again emerged from the fray where he escaped to the head of the pack where he would hold serve throughout much of the first third of the event.
Meanwhile, Grant quickly emerged as a contender, springing to the second spot by the end of lap two from his sixth starting position. Grant, who earlier in the evening established a new one-lap track record in ProSource Qualifying, then began his pursuit of race leader Darland.
By lap nine, Grant caught Darland and was able to scoot by as the two encountered the tail end of the field. Darland refused to go away quietly as he and Grant searched for an avenue to tiptoe their way around the lappers. The pair split around Isaac Chapple, allowing Darland to reclaim the top spot at the stripe on lap 10.
The see-saw battle for the lead hit its peak on the 11th lap as Grant returned the favor and took the spot back from Darland, but Darland was able to storm back on the bottom of turn three to briefly hold the lead as Grant dipped back underneath to rip the number one position away from Darland.
"I kind of got into Dave a little bit off turn four going for the lead," Grant recalls. "I didn't really want to get into him, but we were in lap traffic and when the track's fast and kind of one lane, you can't let an opportunity like that get away from you. We got in there together and I kind of leaned on him. I'm sure that didn't make him happy, but I've got a mortgage to pay and kids to feed."
By the midway point, Grant began to pull away from the rest of the field, holding nearly a half-straightaway lead before the stopped car of Jeff Bland, Jr. between turns three and four brought the action to a halt on lap 19 and bunched up the field for the ensuing restart.
Darland was able to poke a nose under Grant when action resumed, but was unable to make the bid stick as Grant maintained his advantage. One lap later, Boespflug wrestled the second spot away from Darland exiting turn two. On the 21st lap, Darland slipped out of the top-three as Carson Short grabbed the position with an outside pass exiting turn four.
Meanwhile, Grant was on cruise-control and seemingly had everything in check. However, lapped traffic would nearly play a pivotal role in determining the winner with five laps in this instance. As Grant approached the lapped car of 16th-running Tyler Courtney, the two made contact on the backstretch, putting both cars sideways as they both fought to maintain control. The two continued after the hair-raising fracas, though Grant would lose a bit of track position, thus allowing second-running Boespflug to close the gap.
"It was a close call," Grant acknowledges. "At the front, the sway bar tube is folded back around the car. He (Courtney) half-spun in front of us and I plowed him in the left rear which straightened him out and kept him going, I think. I about spun out and ended up in the infield. I was like 'oh no, here we go.' We made pretty hard contact, hard enough that it bent our frame."
With just three laps to go and Boespflug continuing to clamp down on Grant, the caution flag flew as the machine of early leader and sixth-running Darland went up in a ball of flame that was quickly extinguished, but would sideline the series' winningest driver for the final run to the finish.
A three-lap shootout for the victory was in store between Grant and Boespflug on the lap 28 restart. Boespflug took to the bottom, attempting to slide up in front of Grant who was able to cling to the momentum up top. On lap 29, Boespflug threw it in even deeper, but was unable to secure the spot as Grant motored away to distance himself from Boespflug heading into the final lap, completing the 30-lap mission in grand fashion by 0.675 seconds over Boespflug, Chase Stockon, Brady Bacon and Leary. Carson Short originally took third, but was repositioned to the tail of the field due to missing the scales after the feature.
After seeing a pair of late-race leads slip through his fingers over the past few seasons, Grant finally captured that elusive first "Winter Dirt Games" victory Friday night for his fifth overall USAC National Sprint Car win, and his second for the Sam McGhee Motorsports team, in his Mike McGhee & Associates – Brown & Miller Racing Solutions/Maxim/Foxco.
"Chad (Boespflug) and I raced pretty hard during those final laps," Grant remembered. "On the restart, I knew if I could keep him behind us on the restart, we would be okay. But those restarts always concern you, especially when the track is rough and heavy. Chad got under me all the way in turns one and two one time and I put a pretty big chop on him and kept him behind us for a lap or so before I could get it opened up a little bit. Chad and I have been in that exact same scenario before and both of us ended up hanging from the fence, but he raced me really clean and gave me plenty of room. In turns three and four, he very easily could've leaned on me and knocked me up the racetrack and gotten by me that way. But he didn't and he left me plenty of room."
Hanford, California's Boespflug came home second after a hard-charge in the final laps of Friday night's feature, a solid debut as the full-time pilot of the Dynamics, Inc./Mean Green – PAC Springs/Maxim/Claxton.
"Before that yellow, we were definitely in some heavy lap traffic," Boespflug said. "I didn't know if I was happy to see that yellow come out or not. We got to the rear of Justin (Grant) and he was having a tough time with those lappers. I was happy to see it, but then again, I don't know. I gave it all I had on that restart. I got underneath him in turns one and two a couple of times. I feel if we could've just gotten in front of him, maybe we would've had something to hold him off. He was really good through the center of turns one and two and off of turn two. It was just a good overall night for us, for not necessarily a new team, but new sponsors and everything. I'm just happy to put the Hoffman No. 69 back up front where it finished last year and for ourselves as well."
Fort Branch, Indiana's Chase Stockon took third-place in his 32 TBI Racing/Superior Tank & Trailer – Crescent Electric Supply/DRC/Fisher, starting off the season on the right foot one year following a career-best runner-up finish in the series point standings.
Contingency award winners Friday night at Bubba Raceway Park include Justin Grant (ProSource Fast Qualifier), Carson Short (Simpson Race Products First Heat Winner), Chris Windom (Competition Suspension, Inc. Second Heat Winner), Chase Stockon (Chalk Stix Third Heat Winner), Max McGhee (Indy Race Parts Semi Winner), Brady Bacon (KSE Racing Products/ProSource Hard Charger) and Shane Cottle (Wilwood Brakes 13th Place Finisher).
Winter Dirt Games VIII
USAC Amsoil National Sprint Car Series
Bubba Raceway Park
Ocala, FL
Friday February 24, 2017
PROSOURCE QUALIFYING: 1. Justin Grant, 11, McGhee-13.683 (New Track Record); 2. Hunter Schuerenberg, 2, Motsinger-13.731; 3. Kyle Cummins, 3R, Rock Steady-13.839; 4. Max McGhee, 4J, 4J Motorsports-13.913; 5. Chad Boespflug, 69, Dynamics-13.958; 6. C.J. Leary, 30, Leary-13.981; 7. Dave Darland, 71p, Phillips/Curb-Agajanian-13.992; 8. Chris Windom, 5, Baldwin-14.045; 9. Chase Stockon, 32, 32 TBI-14.053; 10. Carson Short, 21, RCM-14.060; 11. Jarett Andretti, 18, Andretti-14.097; 12. Shane Cottle, 44, Pace-14.171; 13. Thomas Meseraull, 21x, Pollock-14.211; 14. Tyler Courtney, 23c, TOPP-14.318; 15. Jerry Coons, Jr., 20N, Nolen-14.355; 16. Brady Bacon, 63, Dooling/Hayward-14.366; 17. Josh Hodges, 74x, Hodges-14.393; 18. Aaron Farney, 15F, DCT-14.433; 19. Isaac Chapple, 52, LNR/Chapple-14.580; 20. Dallas Hewitt, 16, Kaser/Seeling-14.612; 21. Landon Simon, 24, LSR-14.709; 22. Jeff Bland, Jr., 17GP, Dutcher-14.751; 23. Cooper Clouse, 14, Clouse-14.848; 24. Rob Caho, Jr., 78, Caho-15.056; 25. Joe Liguori, 44D, Staab-15.142; 26. Robert Bell, 71, Bell-16.204; 27. Frank Carlsson, 20, Carlsson-16.371.
SIMPSON RACE PRODUCTS FIRST HEAT: (8 laps) 1. Short, 2. Meseraull, 3. Darland, 4. Grant, 5. Bacon, 6. McGhee, 7. Chapple, 8. Liguori, 9. Bland. 1:56.78
COMPETITION SUSPENSION (CSI) SECOND HEAT: (8 laps) 1. Windom, 2. Schuerenberg, 3. Andretti, 4. Boespflug, 5. Hodges, 6. Courtney, 7. Hewitt, 8. Bell, 9. Clouse. NT
CHALK STIX THIRD HEAT: (8 laps) 1. Stockon, 2. Coons, 3. Cummins, 4. Leary, 5. Farney, 6. Cottle, 7. Simon, 8. Caho, 9. Carlsson. 1:55.60
INDY RACE PARTS SEMI: (12 laps) 1. McGhee, 2. Courtney, 3. Chapple, 4. Cottle, 5. Simon, 6. Liguori, 7. Bland, 8. Hewitt, 9. Caho, 10. Carlsson, 11. Bell. NT
FEATURE: (30 laps) 1. Justin Grant, 2. Chad Boespflug, 3. Chase Stockon, 4. Brady Bacon, 5. C.J. Leary, 6. Hunter Schuerenberg, 7. Josh Hodges, 8. Chris Windom, 9. Jerry Coons, Jr., 10. Thomas Meseraull, 11. Jarett Andretti, 12. Shane Cottle, 13. Tyler Courtney, 14. Aaron Farney, 15. Landon Simon, 16. Joe Liguori, 17. Max McGhee, 18. Dave Darland, 19. Kyle Cummins, 20. Isaac Chapple, 21. Jeff Bland, Jr., 22. Carson Short. (Short originally finished third, but was repositioned to the tail of the field after missing the scales). NT
—————————-
FEATURE LAP LEADERS: Laps 1-8 Darland, Lap 9 Grant, Lap 10 Darland, Laps 11-30 Grant.
KSE RACING PRODUCTS/PROSOURCE HARD CHARGER: Brady Bacon (16th to 4th)
WILWOOD BRAKES 13TH PLACE FINISHER: Shane Cottle
NEW USAC AMSOIL SPRINT CAR NATIONAL CHAMPIONSHIP POINTS: 1-Grant-81, 2-Boespflug-74, 3-Stockon-72, 4-Schuerenberg-67, 5-Bacon-65, 6-Leary-64, 7-Windom-57, 8-Hodges-56, 9-Coons-53; 10-Meseraull-50.
NEXT USAC AMSOIL SPRINT CAR NATIONAL CHAMPIONSHIP RACE: February 25 – Ocala, Florida – Bubba Raceway Park – "Winter Dirt Games VIII"