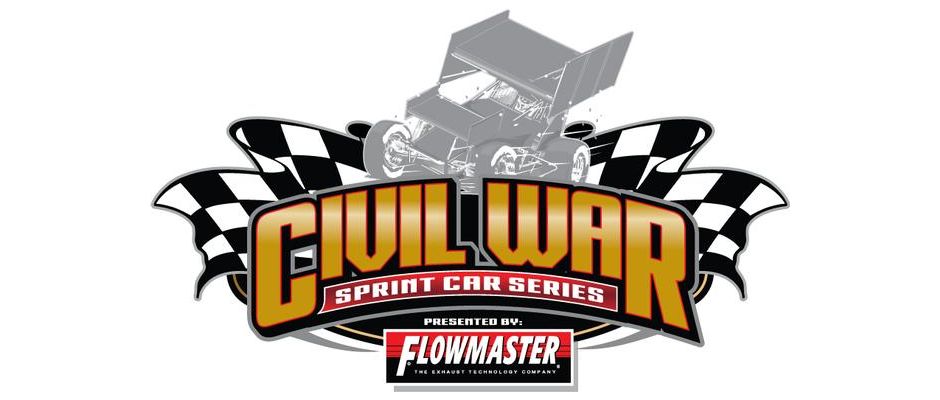 From Petersen Media
Saturday night in Chico, CA the 27th season for the Civil War Series presented by Flowmaster comes to life in a big way. Sanctioning the annual Silver Cup at the Silver Dollar Speedway, Saturday night's season opening event will offer up a cool $4000 to the feature event winner, and will pay $400 to make the feature event.
"It has been a wild off season, and I know we are all ready to go racing," PMG President, John Prentice said. "We are very much looking forward to being a part of the 2017 Silver Cup, and are expecting it to be a great show."
The 2017 Civil War Series will offer some new changes in what is the 27th year of competition. For one, all races will pay at least $2500 to win, and $400 to start with a few, such as the Silver Cup, paying more to win. One thing fans will notice on restarts is a single file formation opposed to double file restarts that the series has used the last few seasons.
"After talking to drivers and teams it was a pretty big consensus to go back to single file restarts with a cone on the front stretch, so we made that change," Prentice added. "Fans enjoyed double-file restarts, but we think going single file will bring another element of excitement to our program."
In 2017 there will be no pill draw fee for the Civil War Series, and there is no mandatory number of races to attend to be included in the final point pay out with the Top-10 in points earning at least $1000.
Fresh off of his ninth Civil War Series presented by Flowmaster championship, Andy Forsberg comes into this season looking to add to his total and his quest for No. 10 will begin on Saturday night.
"All of us at Silver Dollar Speedway are extremely excited to have the Civil War Series on the card at the Silver Cup," Silver Dollar Speedway Director of Communications, Troy Hennig said. "The series put on some fantastic racing in 2016, and we are expecting more of the same in 2017."
Saturday night is shaping up to be a strong field with drivers like Kyle Hirst, Sean Becker, Shane Golobic, Mitchell Faccinto, Geoff Ensign, Mason Moore, Koen Shaw, Lucas Ashe, Brad Bumgarner, and many more expected to be on hand for the season opening event.
Saturday night at Silver Dollar Speedway, the front gate is scheduled to open at 5pm with racing slated to go green at 630pm. Adult tickets will be on sale for $22, junior and seniors will be admitted for $18, children for $5, and kids five and under are free. Remember, in 2017 you can avoid ticket lines at Silver Dollar Speedway by purchasing your tickets online at www.silverdollarspeedway.com.