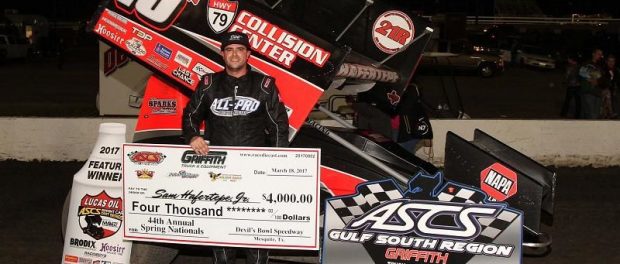 From Bryan Hulbert
MESQUITE, Texas (March 18, 2017) – Sam Hafertepe, Jr. proved unstoppable at the 44th annual Devil's Bowl Spring Nationals as the Hwy. 79 Collision/Keith Dobbs Motorsports No. 15h sailed to his second victory in as many nights with the Lucas Oil American Sprint Car Series presented by the MAVTV Motorsports Network.
Having to bounce back from an inauspicious start that saw Sam slip back to sixth from a third starting spot, the point was held by Johnny Herrera with Justin Henderson in tow.
"You know, I looked like an idiot there early on. I think we fell back to sixth and that's not like us but we just had it a little too tight early on. I had them make a change after that 305cid A-Feature and we probably shouldn't have made the change, but it actually made our car great later on in the race," commented Hafertepe, who also topped the night's IMCA RACEsaver Sprint Car feature event. "I just have to say, hats off to everyone who helps make this thing happen."
Caution working Lap 6 as the leaders found the tail of the lead lap, the field rolled back to life with John Carney II taking over the runner-up position Lap 7 with Hafertepe back to third by Lap 8. Working into slower traffic, the leaders ran multiple grooves on the Devil's Bowl with Herrera working low in one and two, then high in three and four while Carney railed the cushion.
With momentum and traffic working to his favor, the Lubbock Wrecker Services No. 11x bolted to the lead on Lap 18. Taking over second two laps later, Hafertepe pursed Carney with great vigor; running down the No. 11x as the pair approached slower cars. Able to move the No. 15h through the different grooves of racing, Hafertepe took the point with eight laps to run.
Leaving Carney to battle for second with Herrera and Henderson, the No. 11x would see his night come to an early close due to a cut right rear tire that brought out the caution on Lap 24.
Keeping the Mesilla Valley Transportation No. 45x at bay on the restart, Johnny was left to contend with the NGK Spark Plugs No. 1 of Justin Henderson who grabbed away second on Lap 28, but there was not catching Hafertepe as the Texas native raced the win by 3.337 seconds.
Justin Henderson's runner-up finish was his second result in as many nights. Like Henderson, the No. 45x placed on the bronze step for the second night running. Improving his position by one from Friday night, Washington's Seth Bergman raced to a fourth place finish with Wayne Johnson rebound from a DNF on Friday night to round out Saturday's top-five.
Another driver turning a 180 on the weekend, a fresh bullet under the hood put Aaron Reutzel sixth with Sammy Swindell coming from 11th to seventh. Ray Allen Kulhanek crossed eighth with Sean McClelland ninth. Earning the CP-Carrillo Hard Charger of the Night, Zane Lawrence advanced eight spots to finish tenth.
Saturday saw 44 drivers returning to competition in the 44th Devil's Bowl Spring Nationals. Five Heat Races were topped by Scott Bogucki, Chris Martin, Kaley Gharst, Zane Lawrence, and Sean McClelland. Qualifier wins went to Skylar Gee, Wayne Johnson, and Aaron Reutzel. A pair of B-Mains went to Scott Bogucki and Zane Lawrence.
The Lucas Oil American Sprint Car Series National Tour presented by the MAVTV Motorsports Network returns to competition at the Randolph County Raceway in Moberly, Mo. on Sunday, March 26, 2017. For more information on the Show-Me oval, log onto http://www.randolphcountyraceway.com.
For continued updates on the American Sprint Car Series, from the National Tour to any of the seven Regional Tours that make up the ASCS Nation and its over 150 nights of racing in 2017, log onto http://www.ascsracing.com.
Race Results:
Lucas Oil ASCS National Tour
Griffith Truck and Equipment ASCS Gulf South Region
Devil's Bowl Speedway – Mesquite, Texas
44th Spring Nationals – Night 2
Saturday, March 18, 2017
Car Count: 44
Event Count: 48
ButlerBuilt Heat Races: (Top 30 in Passing Points advance to a Qualifier)
Heat 1 (8 Laps): 1. 84B-Scott Bogucki[1]; 2. 84-Brandon Hanks[2]; 3. 99-Skylar Gee[3]; 4. 17-Josh Baughman[4]; 5. 8M-Kade Morton[8]; 6. 6-Dustin Gates[5]; 7. 29-Travis Rilat[7]; 8. 1J-Danny Jennings[6]
Heat 2 (8 Laps): 1. 44-Chris Martin[2]; 2. 17G-Chad Wilson[1]; 3. 02-Brandon Long[3]; 4. 2C-Wayne Johnson[8]; 5. 17W-Harli White[5]; 6. M1-Mark Smith[6]; 7. 3C-Raven Culp[4]; 8. 13M-Chance McCrary[7]
Heat 3 (8 Laps): 1. 7-Kaley Gharst[2]; 2. 99X-Dalton Stevens[3]; 3. 21T-Ray Allen Kulhanek[7]; 4. 87-Aaron Reutzel[8]; 5. 12-Scott Smith[1]; 6. 93-Dustin Morgan[5]; 7. 2-Logan Payne[6]; 8. 20G-Jake Greider[4]
Heat 4 (8 Laps): 1. 76-Zane Lawrence[2]; 2. 23-Seth Bergman[8]; 3. 52-Blake Hahn[5]; 4. 51-Caleb Martin[4]; 5. 2X-Tucker Doughty[3]; 6. 28-Tommy Bryant[7]; 7. 18-Ryan Roberts[6]; 8. (DNF) 57-Jacob Lucas[1]
Heat 5 (8 Laps): 1. 1S-Sean McClelland[2]; 2. 3-Sammy Swindell[1]; 3. 14K-Kyle Bellm[3]; 4. 03-Joe Wood Jr[5]; 5. 95-Matt Covington[7]; 6. 88-Scottie McDonald[6]; 7. 12W-Dale Wester[8]; 8. 77X-Alex Hill[4]
Hoosier Tire Qualifiers: (Top 16 in Combined Passing Points advance to the A-Feature)
Qualifier 1 (8 Laps): 1. 99-Skylar Gee[1]; 2. 23-Seth Bergman[6]; 3. 17G-Chad Wilson[2]; 4. 03-Joe Wood Jr[7]; 5. 99X-Dalton Stevens[3]; 6. 7-Kaley Gharst[5]; 7. 51-Caleb Martin[8]; 8. 84B-Scott Bogucki[4]; 9. 88-Scottie McDonald[10]; 10. (DNF) 2X-Tucker Doughty[9]
Qualifier 2 (8 Laps): 1. 2C-Wayne Johnson[4]; 2. 3-Sammy Swindell[2]; 3. 52-Blake Hahn[3]; 4. 21T-Ray Allen Kulhanek[6]; 5. 02-Brandon Long[1]; 6. 95-Matt Covington[7]; 7. 76-Zane Lawrence[5]; 8. 6-Dustin Gates[10]; 9. (DNF) 17W-Harli White[8]; 10. (DNF) 12-Scott Smith[9]
Qualifier 3 (8 Laps): 1. 87-Aaron Reutzel[4]; 2. 14K-Kyle Bellm[1]; 3. 1S-Sean McClelland[5]; 4. 8M-Kade Morton[2]; 5. 44-Chris Martin[6]; 6. 28-Tommy Bryant[8]; 7. 84-Brandon Hanks[3]; 8. M1-Mark Smith[9]; 9. 93-Dustin Morgan[10]; 10. 17-Josh Baughman[7]
BMRS B-Feature: (Top 3 advance to the tail of the A-Feature)
B Feature 1 (12 Laps): 1. 84B-Scott Bogucki[4]; 2. 7-Kaley Gharst[1]; 3. 02-Brandon Long[3]; 4. 93-Dustin Morgan[8]; 5. 6-Dustin Gates[6]; 6. 28-Tommy Bryant[5]; 7. 17W-Harli White[7]; 8. 1J-Danny Jennings[13]; 9. 12W-Dale Wester[10]; 10. 8M-Kade Morton[2]; 11. 2-Logan Payne[11]; 12. 2X-Tucker Doughty[9]; 13. 77X-Alex Hill[14]; 14. (DNF) 3C-Raven Culp[12]
B Feature 2 (12 Laps): 1. 76-Zane Lawrence[2]; 2. 95-Matt Covington[3]; 3. 84-Brandon Hanks[4]; 4. 17-Josh Baughman[8]; 5. M1-Mark Smith[6]; 6. 51-Caleb Martin[5]; 7. 29-Travis Rilat[10]; 8. 88-Scottie McDonald[7]; 9. 99X-Dalton Stevens[1]; 10. 18-Ryan Roberts[11]; 11. 57-Jacob Lucas[14]; 12. 20G-Jake Greider[13]; 13. 13M-Chance McCrary[12]; 14. (DNF) 12-Scott Smith[9]
Protect the Harvest A-Feature:
A Feature (30 Laps): 1. 15H-Sam Hafertepe Jr[3]; 2. 1-Justin Henderson[4]; 3. 45X-Johnny Herrera[1]; 4. 23-Seth Bergman[5]; 5. 2C-Wayne Johnson[6]; 6. 87-Aaron Reutzel[7]; 7. 3-Sammy Swindell[11]; 8. 21T-Ray Allen Kulhanek[9]; 9. 1S-Sean McClelland[8]; 10. 76-Zane Lawrence[18]; 11. 03-Joe Wood Jr[14]; 12. 14K-Kyle Bellm[15]; 13. 95-Matt Covington[20]; 14. 99-Skylar Gee[10]; 15. 44-Chris Martin[12]; 16. (DNF) 11X-John Carney II[2]; 17. (DNF) 7-Kaley Gharst[19]; 18. (DNF) 84-Brandon Hanks[22]; 19. (DNF) 02-Brandon Long[21]; 20. (DNF) 17G-Chad Wilson[16]; 21. (DNF) 84B-Scott Bogucki[17]; 22. (DNF) 52-Blake Hahn[13]
Lap Leader(s): Johnny Herrera 1-17; John Carney II 18-21; Sam Hafertepe, Jr. 22-30
CP-Carrillo Hard Charger: Zane Lawrence +8
FSR High Point Driver: Seth Bergman
Provisional(s): N/A
2017 Lucas Oil ASCS A-Main Winner(s): Sam Hafertepe, Jr. – 2 (3/17 – Devil's Bowl Speedway; 3/18 – Devil's Bowl Speedway);
2017 Lucas Oil ASCS Driver Standings (Top 10: 1. Sam Hafertepe, Jr. 300; 2. Justin Henderson 284; 3. Johnny Herrera 270; 4. Seth Bergman 255; 5. John Carney II 228; 6. Matt Covington 226; 7. Joe Wood, Jr. 216; 8. Wayne Johnson 214; 9. Kyle Bellm 212; 10. Ray Allen Kulhanek 208;