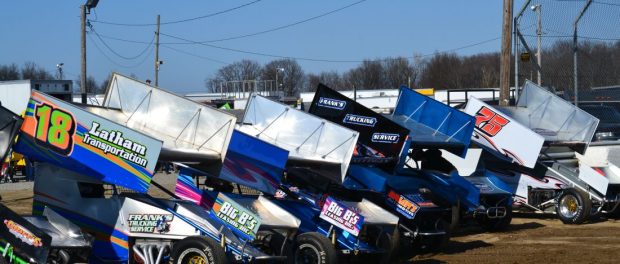 By T.J. Buffenbarger
When you live in the Michigan/Indiana/Ohio area the last two weeks of March takes on a different feel. Mall shows have taken place and season opening events are right around the corner. The prospect of taking on Mother Nature trying to get the first race of the season in during this time period is similar to putting a large bet on a casino table. Generally the weather wins, but if you hit good weather its likely going to be a win for everyone involved.
This week Attica Raceway Park and Brownstown Speedway hold traditional season opening sprint car events. Mansfield Motor Speedway offers some new intrigue with its return to dirt track racing for the first time with three weeks of racing that serves as a "soft opening" before some big events scattered throughout the summer.
While in years past some of the unknown added to the excitement the hype is different with teams showing off paint schemes, live streaming firing their cars for the first time, which builds some serious excitement leading into these season opening events.
In the end, pack everything from shorts to ice fishing gear and prepare for a full season of sprint car racing.
Notes…
If the weather is decent look for a few surprise visitors at Attica and/or Mansfield this weekend. There have been several tantalizing rumors and hints of teams that might show up at these events, but I remain reserved on such news until I see that person's trailer pull into the race track.
One thing to keep in mind this weekend if you are heading to Ohio is Attica's rain date for Friday's program is Saturday night. Attica has traditionally had Saturday rain dates for their early season events until Fremont Speedway opens later in the season. Poor Friday weather could potentially create two races going head to head the first few weeks of the season.
For racing fans in the Hoosier State the No-Way-Out 40 typically draws one of the stoutest, if not the best non-sanctioned field of sprint cars in the state. Fresh off of winning three of his last four feature events on the west coast Ryan Bernal will join the fray driving for Michael Dutcher. Bernal revealed last week on our podcast, but we didn't want to ruin the tease.
If you want to attempt a racing triple Williams Grove Speedway will attempt to host their first Friday event of the 2017 season. Lincoln Speedway's early start on Saturday with gates opening at 2:00 makes is possible to hit up Port Royal for the evening program that starts at 5:00. I would keep an eye on the clock if attempting this double and keep in mind the just over 90 minute drive between both facilities (according to Google Maps).
One of the most intriguing series to watch this season is going to be the USAC National Midget Car Series. Clauson-Marshall Racing flexed their muscle at DuQuoin, Illinois during the season opening event for the series running first and second with Justin Grant and Shane Golobic. Having two "super teams" with Clauson-Marshall and Keith Kunz Racing makes for a great rivalry at every race, but the storyline of which team outside of this dynamic duo can score a victory? Intrigue is high leading into the Kokomo Grand Prix at Kokomo Speedway in April.
Michael Pickens has been outstanding at Western Springs Speedway this season. Saturday Pickens claimed his third sweep of the midget and sprint car features in the same night to close the season at the Springs. As of our last interview with Pickens he did not have a ride in the United States lined up for 2017, which seems out of sorts considering the type of season Pickens has had.
Jamie Veal filled in for James McFadden in the Monte Motorsports #17 car, winning the Australian 360 Sprint Car Title Saturday at Perth Motorplex. McFadden was in California racing a car put together by Willie Kahne with support from Sean Dyson and Phil Durst. McFadden picked up a top five on Friday before a 20th places showing on Saturday. Once the west coast swing is complete McFadden will head back to Australia for a while before returning later in the summer to drive the Highlands Tire #3 car in Central Pennsylvania.
East Coast sprint car standout Bryan Howland announced on his Facebook page Monday that 2017 will be his final season. Howland has a flare for the dramatic during his career winning the Canadian Sprint Car Nationals and Full Throttle Nationals with late race passes. That Full Throttle victory was our introduction to Howland. With family and work commitments increasing Howland looks to go out with a bang with one final east coast tour, and I wish him the best in his future endeavors.