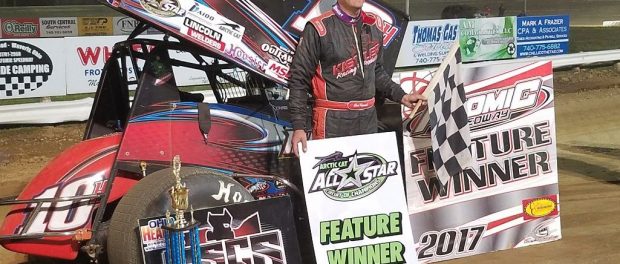 From Tyler Altmeyer
CHILLICOTHE, Ohio (April 9, 2017) – In dramatic fashion, Alvada, Ohio's Chad Kemenah scored his first Arctic Cat All Star Circuit of Champions victory of the 2017 season on Sunday night in Chillicothe, Ohio, driving around race leader Lee Jacobs on the final circuit to score $5,000 at Atomic Speedway. The five-time and defending Arctic Cat All Star champion, who started sixth on the main event grid, used a late-race caution and a wide, slicked-off racing surface to help stage his dramatic finish.
"Before heading out for the feature, my car owner, who is the greatest guy in the world, told me 'remember, this is where we won our championship.' That really gives you something to think about before going out to race," Chad Kemenah explained. "I can't say enough about Rob Hunter and this team. My brother does one heck of a job. He really makes my job easy."
Outside pole-sitter Lee Jacobs took command during the drop of the initial green flag, soon followed by fellow full-time All Star Ryan Smith and Lockbourne, Ohio, native Cole Duncan to complete lap number one. Jacobs maintained control for the first 29 circuits, at one point separating himself from the rest of the field by nearly three seconds. Traffic came into play for the first time on lap eight, eventually allowing Armstrong, who overtook the second position just before halfway, and Duncan to close-in on the 1881 Racing/Simcox Grinding & Steel/No. 81.
Chad Kemenah, who already climbed two positions to find himself just outside of a podium spot, caught a big break on lap 20 when Duncan and Armstrong made contact with a spinning lapped car between turns one and two, also nearly collecting Lee Jacobs. Armstrong would get the worst of the incident and suffer from a flat left rear tire, forcing the New Castle, Indiana, native to restart at the rear of the field. Despite wing damage, Duncan maintained his position in the running order; keeping momentum and not stopping on the race track after making contact. With Armstrong surrendering his position, Kemenah moved into third for the restart, eventually moving by Duncan for second on lap 22.
Chasing Jacobs through traffic, Kemenah made his bid for the top spot on the 30th and final circuit, driving by Jacobs at the exit of turn two and surviving a last-ditch effort pass by the No. 81 through the final corner. Lee Jacobs would hold on to finish second, followed by Ryan Smith, Cole Duncan, and Dale Blaney.
For Kemenah, the victory was the 31st of his career during Arctic Cat All Star Circuit of Champions competition and his second at Atomic Speedway. With his victory, equaling his third top-five finish of the 2017 Arctic Cat All Star season, the pilot of the Hunter Racing/Seneca Energy/No. 10H officially takes command of the Arctic Cat All Star championship point chase.
"The clearer the race track got, the better I got. We didn't have a spectacular qualifying effort here tonight, but my crew kept plugging away. This is probably one of my favorite race tracks in the country. I want to thank all of you for coming out here and supporting [Brad McCown] and this race. Hopefully we put on one heck of a show for you guys," said Chad Kemenah as he addressed the crowd.
The Arctic Cat All Star Circuit of Champions will return to competition in less than a week, revisiting Attica Raceway Park in Attica, Ohio, on Saturday, April 15, for the 2017 HD Supply Spring Nationals. "America's Series" last visited the home of "Ohio's Finest Racing" on Saturday, September 3, during the inaugural Dirt Classic Ohio. Wooster, Ohio's Sheldon Haudenschild scored the $10,000 top prize; the 13th Arctic Cat All Star victory of his career and his second-ever at Attica Raceway Park. The HD Supply Spring Nationals visit will go down in the books as the 113th total appearance at Attica Raceway Park by the Arctic Cat All Stars since their first visit on September 4, 1989.
HD Supply Spring Nationals gates are scheduled to open at 3:00pm on Saturday, April 15. Action will hit the speedway at 6:00pm, sharp, beginning with hot laps and qualifying time trials, followed by heat races and respective main events. Those who would like to learn more should visit Attica Raceway Park live on the Web at www.atticaracewaypark.com.
Contingency Awards/Results: Atomic Speedway – Sunday, April 9, 2017:
EMi Driver's Meeting: 39 Entries
State Water Heaters Warm-Ups: Tim Shaffer – 12.168 seconds
Lincoln Electric Fast Qualifier: Max Stambaugh – 12.717 seconds (2nd quick)
Ford Performance Heat #1: Danny Smith
All Pro Aluminum Cylinder Heads Heat #2: Tim Shaffer
Hunt Brothers Pizza Heat #3: Chad Kemenah
Kistler Racing Products Heat #4: Jimmy Stinson
JE Pistons Dash #1: Ryan Smith
JE Pistons Dash #2: Lee Jacobs
Classic Ink USA B-Main: Caleb Helms
Daido Engine Bearings Main Event Winner: Chad Kemenah
MSD Performance Hard Charger Award: Caleb Helms (+11)
Outback Steakhouse A-Main 5th Place Finisher: Dale Blaney
Outback Steakhouse A-Main 10th Place Finisher: Caleb Helms
Outback Steakhouse A-Main 15th Place Finisher: Caleb Armstrong (16th)
(Lincoln Electric, Daido Engine Bearings, MSD Performance, Outback Steakhouse: Need decal to qualify for contingency award)
Qualifying
1.22C-Cole Duncan, 12.580; 2.33M-Max Stambaugh, 12.717; 3.4-Danny Smith, 12.933; 4.A67-Brandon Wimmer, 13.171; 5.81-Lee Jacobs, 13.177; 6.6M-Jac Haudenschild, 13.238; 7.11N-Dale Blaney, 13.261; 8.59-Ryan Smith, 13.316; 9.49x-Tim Shaffer, 13.325; 10.48-Danny Dietrich, 13.362; 11.10H-Chad Kemenah, 13.404; 12.7C-Caleb Armstrong, 13.551; 13.56R-Ryan Myers, 13.568; 14.17-Caleb Helms, 13.652; 15.59N-Bryan Nuckles, 13.705; 16.35-Tyler Esh, 13.752; 17.8M-TJ Michael, 13.777; 18.22D-Josh Davis, 13.796; 19.22B-Ryan Broughton, 13.854; 20.7K-Cale Conley, 13.899; 21.22-Brandon Spithaler, 13.960; 22.33-Brent Matus, 14.038; 23.15H-Mitch Harble, 14.070; 24.4X-Jimmy Stinson, 14.072; 25.7J-Joe Swanson, 14.275; 26.40-Mark Imler, 14.307; 27.60-Kory Crabtree, 14.320; 28.5-Jordan Harble, 14.497; 29.1080-Jordan Mackison, 14.584; 30.9J-Jessie McCreary, 14.610; 31.13-Brandon Matus, 14.623; 32.9C-Roger Campbell, 14.641; 33.45-Trevor Baker, 14.649; 34.51-John Garvin, 14.697; 35.49H-Bradley Howard, 14.925; 36.95-Hunter Mackison, 15.148; 37.9-Ryan Linder, 15.164; 38.80-Lance Webb, 15.399; 39.83X-Nate Reeser, 16.434;
Heat 1, Group A – (8 Laps)
1. 4-Danny Smith[2] ; 2. 22C-Cole Duncan[4] ; 3. 6M-Jac Haudenschild[5] ; 4. A67-Brandon Wimmer[1] ; 5. 33M-Max Stambaugh[3] ; 6. 22-Brandon Spithaler[7] ; 7. 35-Tyler Esh[6] ; 8. 33-Brent Matus[8] ; 9. 9C-Roger Campbell[9] ; 10. 95-Hunter Mackison[10]
Heat 2, Group B – (8 Laps)
1. 49x-Tim Shaffer[2] ; 2. 59-Ryan Smith[3] ; 3. 11N-Dale Blaney[4] ; 4. 56R-Ryan Myers[1] ; 5. 22D-Josh Davis[5] ; 6. 7J-Joe Swanson[6] ; 7. 9J-Jessie McCreary[10] ; 8. 60-Kory Crabtree[8] ; 9. 5-Jordan Harble[9] ; 10. 40-Mark Imler[7]
Heat 3, Group C – (8 Laps)
1. 10H-Chad Kemenah[2] ; 2. 81-Lee Jacobs[4] ; 3. 48-Danny Dietrich[3] ; 4. 22B-Ryan Broughton[6] ; 5. 13-Brandon Matus[8] ; 6. 83X-Nate Reeser[10] ; 7. 8M-TJ Michael[5] ; 8. 17-Caleb Helms[1] ; 9. 51-John Garvin[9] ; 10. 1080-Jordan Mackison[7]
Heat 4, Group D – (8 Laps)
1. 4X-Jimmy Stinson[5] ; 2. 7C-Caleb Armstrong[4] ; 3. 7K-Cale Conley[2] ; 4. 15H-Mitch Harble[1] ; 5. 59N-Bryan Nuckles[3] ; 6. 45-Trevor Baker[6] ; 7. 9-Ryan Linder[8] ; 8. 49H-Bradley Howard[7] ; 9. 80-Lance Webb[9]
Dash 1 – (4 Laps)
1. 59-Ryan Smith[1] ; 2. 22C-Cole Duncan[3] ; 3. 4X-Jimmy Stinson[2] ; 4. A67-Brandon Wimmer[4] ; 5. 49x-Tim Shaffer[5]
Dash 2 – (4 Laps)
1. 81-Lee Jacobs[1] ; 2. 7C-Caleb Armstrong[3] ; 3. 10H-Chad Kemenah[4] ; 4. 33M-Max Stambaugh[2] ; 5. 4-Danny Smith[5]
B-Main 1 – (12 Laps)
1. 17-Caleb Helms[1] ; 2. 33-Brent Matus[5] ; 3. 5-Jordan Harble[9] ; 4. 8M-TJ Michael[3] ; 5. 60-Kory Crabtree[8] ; 6. 35-Tyler Esh[2] ; 7. 9J-Jessie McCreary[11] ; 8. 22-Brandon Spithaler[4] ; 9. 1080-Jordan Mackison[10] ; 10. 45-Trevor Baker[13] ; 11. 83X-Nate Reeser[19] ; 12. 9-Ryan Linder[17] ; 13. 7J-Joe Swanson[6] ; 14. 95-Hunter Mackison[16] ; 15. 9C-Roger Campbell[12] ; 16. 80-Lance Webb[18] ; 17. 49H-Bradley Howard[15] ; 18. 51-John Garvin[14] ; 19. 40-Mark Imler[7]
A-Main 1 – (30 Laps)
1. 10H-Chad Kemenah[6] ; 2. 81-Lee Jacobs[2] ; 3. 59-Ryan Smith[1] ; 4. 22C-Cole Duncan[3] ; 5. 11N-Dale Blaney[12] ; 6. 4X-Jimmy Stinson[5] ; 7. 49x-Tim Shaffer[9] ; 8. 33M-Max Stambaugh[8] ; 9. 48-Danny Dietrich[13] ; 10. 17-Caleb Helms[21] ; 11. 6M-Jac Haudenschild[11] ; 12. 4-Danny Smith[10] ; 13. 7K-Cale Conley[14] ; 14. 13-Brandon Matus[20] ; 15. A67-Brandon Wimmer[7] ; 16. 7C-Caleb Armstrong[4] ; 17. 59N-Bryan Nuckles[18] ; 18. 15H-Mitch Harble[17] ; 19. 22D-Josh Davis[19] ; 20. 35-Tyler Esh[26] ; 21. 8M-TJ Michael[24] ; 22. 5-Jordan Harble[23] ; 23. 9-Ryan Linder[25] ; 24. 33-Brent Matus[22] ; 25. 22B-Ryan Broughton[16] ; 26. 56R-Ryan Myers[15] Lap Leaders: Lee Jacobs [1-29]; Chad Kemenah [30]
2017 Arctic Cat All Star Point Standings (4/9/2017):
1. Chad Kemenah: 828
2. Caleb Armstrong: 754
3. Donny Schatz: 742
4. Caleb Helms: 712
5. Danny Dietrich: 702
6. Davel Gravel: 696
7. Kerry Madsen: 674
8. Greg Hodnett: 656
9. Ryan Smith: 646
10. Ian Madsen: 638