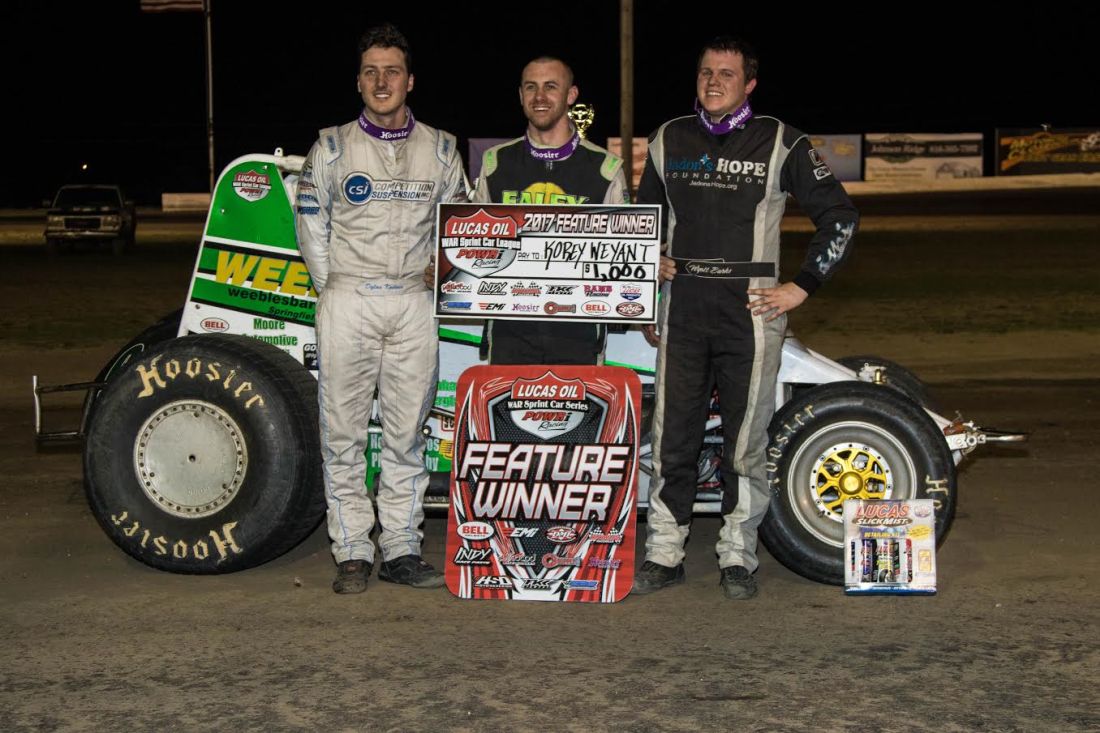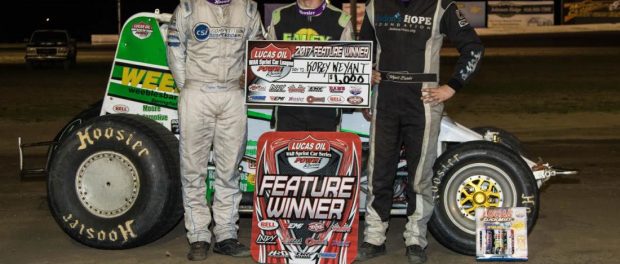 From Chad Buford
Winston, MO (April 15, 2017) – Taking over the top spot and holding off multiple charges from Wyatt Burks, Korey Weyant picked up his first win of 2017 with the POWRi Lucas Oil WAR Sprints on Saturday at I-35 Speedway.
Dylan Kadous shot into the lead at the start as he was followed by Craig Carroll. The lead duo would remain this way for a handful of laps as eighth-starting Weyant made his presence known early on moving into third on lap three. Weyant, running the high line around I-35 moved into second and had Kadous in his sights. On lap six, Weyant got a good run down the backstretch to move past Kadous and into the lead. It appeared as though Weyant was going to have a comfortable win, but Burks had other ideas.
Also running the top line, Burks would get closer and closer to Weyant and at the race's midway point, he started to pressure Weyant for the top spot. Lap after lap, Burks had Weyant in his sights but could not find a way around the Springfield, IL pilot. On lap twenty-two with the duo approaching lapped traffic, things were looking to get very interesting, but an inadvertent yellow flag would come out for Steve Mahannah, who did a 360 in turn two.
On the restart, Weyant again shot into the lead with Burks giving chase. Burks got a good run and tried a slide job in turn one, but Weyant was able to turn under Burks and continue into the lead. Another lap would get in the books before a caution was thrown for fifth-running Quinton Benson, who looped in between turns three and four. Brian Beebe also spun to avoid Benson, with Mahannah coming in and making contact with Benson. Benson and Mahannah would see their nights come to an end.
With three laps left, Burks was given another shot at Weyant. Weyant and Burks put on a show over the last few laps as the pair went wheel to wheel and made contact with one another multiple times. Burks tried one last move in turn three, but Weyant was up to the challenge and beat the Topeka, KS driver to the line to pick up his seventh career POWRi Lucas Oil WAR Sprints win in his Weeble's Bar and Grill/Ealey Transportation/Tosti's Transmission Eagle with Automotive Machine power. Burks was a strong second in the RCB Motorsports/Clem Signs/Bumper to Bumper/DSR Fuel Systems/ Jadon's Hope Foundation Maxim with Salina power under the hood. Kadous was a career best third in his Watowa-Weber Racing/Competition Suspension/Skoc Enterprises/ Andrew Felker Designs/Randy and Reece Smith Construction Twister with a 410 powerplant. Ty Hulsey was a career best fourth in the Risley's Trash Service/ Auto Glass Unlimited #24H. Parkinson rounded out the top five in the Country Kid's Daycare/54th Street Bar and Grill/ Design Source Flooring/ Kansas City Mavericks/Kevin's Liberty Machine/ DRC. Katlynn Leer moved up to sixth from her twelfth starting spot and she was followed by fifteenth-starting JD Black, who was the Indy Race Parts Hard Charger. Austin Sears, Vinny Ward, and Beebe rounded out the top ten.
The POWRi Lucas Oil WAR Sprints will be back in action next Saturday April 22 at the Valley Speedway in Grain Valley, MO. In their first appearance there last week, Clinton Boyles picked up the win.
POWRi Lucas Oil WAR Sprints
I-35 Speedway
Winston, MO
Saturday April 15, 2017
Hinchman Racewear Heat Race #1 (8 Laps): 1. 15B-Quinton Benson, Emma, MO (1); 2. 65-Chris Parkinson, Gladstone, MO (2); 3. 31-Dylan Kadous, Topeka, KS (3); 4. 11W-Wyatt Burks, Topeka, KS (5); 5. 99-Korey Weyant, Springfield, IL (8); 6. 31S-Austin Sears, Macomb, IL (4); 7. 77K-Katlynn Leer, Moulton, IA (6); 8. 93-Steve Mahannah, Springfield, MO (DNS)
Wilwood Disc Brakes Heat Race #2 (8 Laps): 1. 77-Rob Hockett, Lone Jack, MO (2); 2. 22S-Slater Helt, Harrisonville, MO (3); 3. 24C-Craig Carroll, Collinsville, OK (5); 4. 37-Brian Beebe, Oak Grove, MO (8); 5. 24H-Ty Hulsey, Owasso, OK (1); 6. 9L-Hunter Lane, Milo, IA (7); 7. 82-Vinny Ward, Warrenton, MO (6); 8. 7JR-JD Black, Grain Valley, MO (4)
POWRi Lucas Oil WAR Sprints A Main (25 Laps): 1. 99-Korey Weyant (8); 2. 11W-Wyatt Burks (7); 3. 31-Dylan Kadous (1); 4. 24H-Ty Hulsey (10); 5. 65-Chris Parkinson (2); 6. 77K-Katlynn Leer (12); 7. 7JR-JD Black (15); 8. 31S-Austin Sears (12); 9. 82-Vinny Ward (14); 10. 37-Brian Beebe (9); 11. 22S-Slater Helt (4); 12. 77-Rob Hockett (6); 13. 9L-Hunter Lane (11); 14. 24C-Craig Carroll (3)-DNF; 15. 15B-Quinton Benson (5)-DNF; 16. 93-Steve Mahannah (16)-DNF