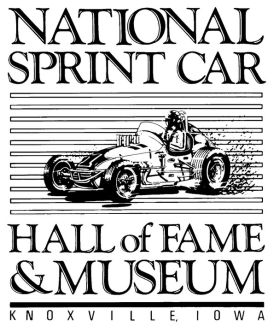 By Bob Baker
The 28th Annual National Sprint Car Hall of Fame induction festivities will be held Friday, June 2 and Saturday, June 3!  Those individuals being inducted for their career achievements include: Drivers – Dave Darland, Tony Elliott and Terry McCarl; Owners-Mechanics-Builders-Manufacturers-Car Sponsors – Guy Forbrook and John Singer; Promoters-Officials-Media Members-Event/Series Sponsors – Doug Auld and Pat Sullivan; and Pre-1945 Era – Earl Cooper.
Things kick off Friday night, June 2nd, at 7 p.m. with a salute to the inductees on the museum's second floor.  The reception and gathering of current NSCHoF inductees will include an open mic discussion.  The reception will be FREE and open to the public.
The 28th Annual National Sprint Car Hall of Fame induction banquet will take place on Saturday, June 3 at the Dyer-Hudson Hall on the Marion County Fairgrounds in Knoxville.  Festivities will get underway at noon with a catered luncheon from the Rib Shack.  Induction ceremonies will follow the luncheon.  2014 National Sprint Car Hall of Fame Inductee, Dave Argabright, and one of this year's Inductees, Pat Sullivan, will be emceeing the event.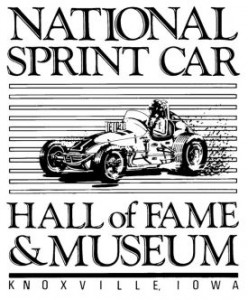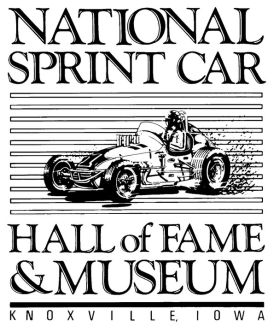 Following the induction, inductees' families and friends are invited back to the National Sprint Car Hall of Fame & Museum's second floor for the unveiling of the new inductees' plaques.
Saturday evening, racing is scheduled at the Knoxville Raceway.  The AMSOIL USAC National Sprint Cars will be making their first appearance since 2010 at "The Sprint Car Capital of the World!"  The USAC sprints will be joined by a full program of 360 and 305 winged sprint cars.  For more information on the events at Knoxville Raceway, visit www.KnoxvilleRaceway.com.
Induction banquet tickets are $25 each and still available by contacting Lori DeMoss at 641-842-6176 or by e-mail at LDeMoss@SprintCarHoF.com.