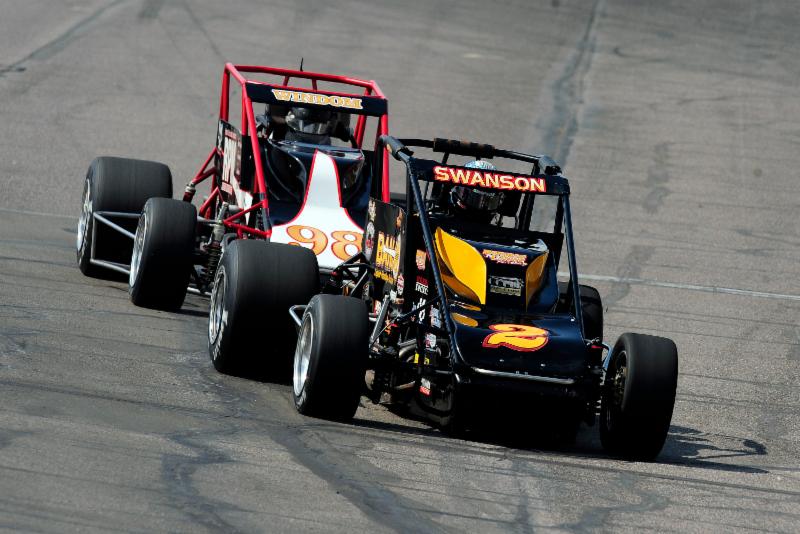 By Richie Murray
In Major League baseball, a player who steps up to the plate and gets a base hit one out of every three at-bats year-after-year is celebrated as one of the top players in the game and a potential hall-of-famer.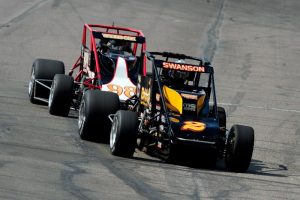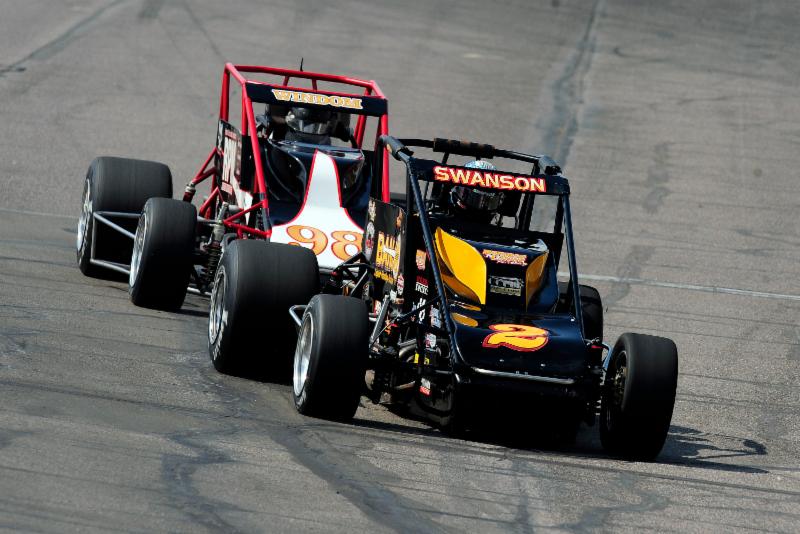 What would you say, then, about a driver who straps himself into a USAC Silver Crown car maybe three or four times per year and wins more than half of those starts, on average?
Then again, Tanner Swanson isn't your average racer.
The Kingsburg, California veteran driver has found success in his career as a feature winner in all three of USAC's National divisions: Silver Crown, National Sprint Cars and National Midgets. And early on in the decade, one would have pegged Tanner as a good bet to become a future USAC national champion.
Yet, over the past handful of seasons, those ambitions have changed as he has scaled his schedule back to less than a handful of races per year. In 2016, Tanner was victorious in two of his three Silver Crown starts and finished second to his two-time series champion brother Kody Swanson. Right now, Tanner's plans are to compete just three times this year: this Saturday's "Phoenix Copper Cup" at Phoenix Raceway and the two Silver Crown events at Lucas Oil Raceway at Indianapolis in May and July.
To the outside world, it's difficult to fathom why someone as successful as Tanner would only put his racing talent on display so little. But at 21-years-old, Tanner came to a crossroads and, now 26, has found that the road he pursued suits him just fine.
"At the end of the 2012 season, Kody and I were without Silver Crown rides," Tanner recalls. "I was graduating college in May and felt like God was calling me to apply my life in a different direction. Things fell into place and I was presented with a great job and my heart wasn't enjoying racing as much as I had in the past. I am really enjoying the schedule that I am keeping right now and have been fortunate enough to remain competitive."
Tanner once did compete on a regular basis in USAC's Silver Crown division, albeit briefly from 2010 to 2012, earning the first of his seven career series wins in 2010 at Michigan's Berlin Raceway and finishing a best of fifth in the standings in 2012 before dialing back to a limited schedule in 2013.
Since that point four years ago, Tanner has a .600 winning percentage in ten Silver Crown starts with six triumphs (five at Lucas Oil Raceway and once at Gateway Motorsports Park in Madison, Ill.) to go along with a pair of second-place finishes. The only two finishes outside the top-two in that span have come by virtue of misfortune.
In 2014, he led 16 laps in the early-going at Gateway before falling out due to transmission issues and, in 2015, looked poised for victory at Ohio's Toledo Speedway when he and a lapped car got together on the front straightaway, sending Tanner into a frightening, violent flip that he was, thankfully, able to walk away from.
All that success in the past four seasons has come with the Bowman Racing team, however. Although he wishes he could say that after a nine-month layoff, he can simply hop into a racecar and put it up front, he admits it takes an entire team effort from top-to-bottom to get to the level of success he has attained with Bowman.
This weekend's Phoenix round takes him into a new setting with car owner Gene Nolen, a stalwart on the Silver Crown circuit for nearly three decades whose level of success and experience is admired by Tanner. His regular ride was unable to make the trip to the Southwest, so Tanner went on the hunt and found himself one which teams him up with USAC Triple Crown champ Jerry Coons, Jr. of Tucson, Arizona and Franklin, Indiana's Joe Axsom.
"I actually went back to looking at previous Silver Crown race video and noted the success that Jerry and Gene have had in recent years on the pavement and was hoping that there would be some way that I could join the team," Tanner explains. "After a couple of phone calls with Gene, he told me that he was purchasing a backup car for them to use the rest of the year, but that it would be available if I wanted to run Phoenix. I actually haven't even gotten to meet or talk to the crew yet, but I have seen their level of preparation and I am excited to be a part of their team."
Racing at Phoenix is a dream for Tanner. It's something he's only gotten the chance to do a single time back in 2009, but only in the USAC National Midget portion of the "Copper World Classic." It was an experience that Tanner describes as "frightening." After all, it's quite the place for a driver to make his first pavement National Midget start! But the then 17-year-old adapted quickly, qualifying eighth. However, the experience didn't last long as a mechanical failure on the opening lap put him on the sidelines, seeding him an extra sense of motivation with redemption on his mind as he takes his first laps in a Silver Crown car on the one-mile tri-oval this weekend.
The significance of competing at Phoenix Raceway is not lost on Tanner. The list of winners alone is one that will make a race fan or driver from any generation stand up and take notice with names like A.J. Foyt, Mario Andretti, Bobby Unser, Al Unser, Gordon Johncock, Johnny Rutherford, Jeff Gordon and Tony Stewart among the few that have raced to victory at Phoenix since the track's inception in 1964.
History is just one aspect of the equation that has Tanner eager to hit the Phoenix pavement once again. The meaning is personal. He watched as his brother Kody finished second in the Silver Crown portion of the "Copper World Classic" in 2009 and was just a little over a week old when his father Mike ran third in a Supermodified at Phoenix in 1991. Tanner now aims to make a lasting mark of his own to add to the Swanson legacy.
"Phoenix holds a special place in my heart," Tanner said. "It was a family destination every year. It's crazy to look at the list of winners during the Copper World's history and not get goosebumps. Some of the best USAC races in history have been held there and I think that's why there has been so much excitement because fans, drivers and teams are expecting another exciting one on Saturday. I'm just excited to get back to the track that houses so much history, but I'm also curious to see how the new pavement and track configuration effects the racecars. I have no doubt that there will be a lot of exciting racing all over the track and will be a must-see for USAC fans."
Phoenix Raceway was slightly reconfigured and repaved in 2011, which could produce a threat to Dave Steele's one-lap track record from 2004 that clocked in at over 142mph. The track will produce the fastest lap times of any circuit on the 2017 USAC Silver Crown calendar. That doesn't faze Tanner who admits the higher the speed, the higher the comfort level for himself.
Though Tanner isn't behind the wheel much these days, that doesn't mean he's absent from the racetrack. On many weekends, you will find him serving as crew chief and coach to young California micro sprint racer Mason Daniel. Over the past couple of those weekends, Daniel and Tanner were in victory lane, a place that's become oh-so-familiar to Tanner regardless of what role he's a part of at the track.
Apart from racing, Tanner and his wife Allison stay busy, and that puts it mildly. They run a graphics business together – Top Shelf Design Company – and serve as youth group leaders. By day, though, Allison works as a real estate agent while Tanner works with farmers on their finances as a loan officer.
In fact, Tanner and Kody grew up around the corn fields as much as they did the racetracks back in their hometown of Kingsburg, California. Tanner still resides there while Kody has made his home 2000 miles away in Indianapolis. Though separated by half a country, Tanner and Kody have maintained an unbreakable bond.
"Kody and I are probably as close as two brothers can be who live 2000 miles apart," Tanner said. "We usually talk four to five times a week discussing racing, life and work. We are each other's biggest fan, critic and competitor. For instance, last week, Kody drove an hour-and-a-half to the Nolen shop and spent three hours there mounting my seat before driving home on a weeknight. I wouldn't be able to race at the level I have been without his and his wife, Jordan's, help. That is for sure!"
Even though his racing schedule is limited, Tanner doesn't skimp on the preparation. Each race represents an opportunity and Tanner isn't going to let one slip by without giving his total focus and concentration.
"It is tough to take nine months off and then go compete against the best drivers in the country with no practice," Tanner states. "A big part of my preparation consists of reviewing previous race film over-and-over and trying to focus on other racers and their tendencies and how to use that to my advantage. This weekend will be difficult trying to settle into a new team, a new car and at a track that has a new configuration, but I think that if we are close, there is enough practice on Friday to be competitive."
And when Tanner is on-track, it's all business. It doesn't matter if it's his teammate or, more often than not, his brother he has to contend with for the win. In fact, 17 of the last 31 Silver Crown races have been won by one of the two. Seven times since 2010, Tanner and Kody have finished first and second in an event. The first of those six contests went Tanner's direction until Kody finally got the upper hand last July at Lucas Oil Raceway.
It's been a regular occurrence for the Swanson brothers to rule the roost when the Silver Crown series hits the pavement and don't count it out from happening a few times yet this season. The two will bounce ideas off each other and compare their driving techniques at certain venues, but are careful not to give too much away when they are preparing to do battle.
"When we're working for opposing teams, it's usually business as usual and we really don't talk much other than a little smack talk in between sessions," Tanner said. "We are both very competitive, intense individuals who like to remain focused on race day. One routine that we do have is, each time we roll out for the feature, we will find each other on the track and exchange a thumbs up. After that, all bets are off and Kody just becomes the driver of the 63."
See Tanner and Kody Swanson and the rest of the stars of the USAC Silver Crown Championship this Friday and Saturday, April 28-29 as they take on the tricky Phoenix Raceway mile for the first time in eight seasons at the "Phoenix Copper Cup."
Friday's schedule includes a pair of practice sessions for the "Phoenix Copper Cup" from 12:30 to 1:30pm and 1:45 to 2:15pm. ProSource Qualifying is slated to begin at 2:40pm.
Saturday's schedule for the Silver Crown cars starts at 2pm when cars and drivers make their way to pit road. The green flag for the 100-lap, 100-mile race is set for 3pm.
Get your discount tickets now at
http://bit.ly/2p5WGI5
to witness both days of racing action: the "Phoenix Copper Cup" featuring the USAC Silver Crown Champ Car Series, the Vintage Desert Classic and the Desert Diamond West Valley Phoenix Grand Prix featuring the Verizon IndyCar Series.
Can't make it to Phoenix in-person? Watch flag-to-flag coverage of the event a day after, on-demand at
http://www.Loudpedal.TV/
!