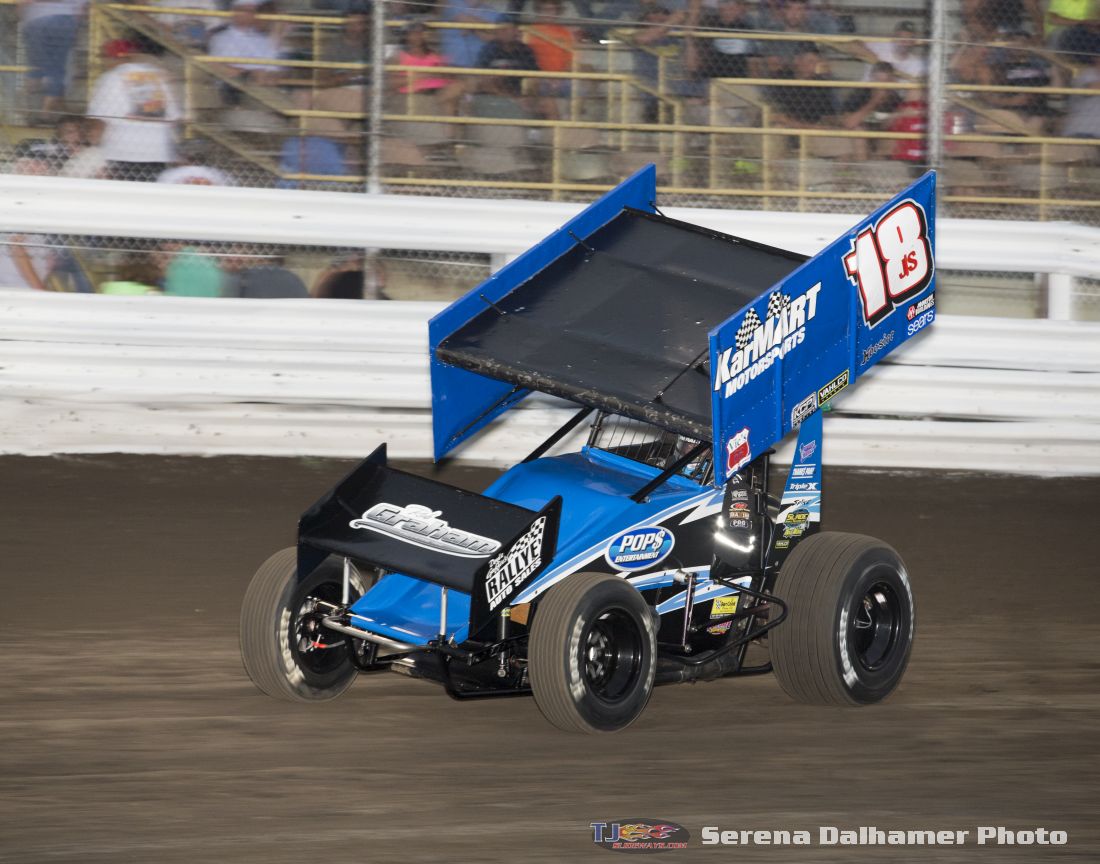 From Kaleb Hart
ALGER, Wa. (May 6, 2017) — Jason Solwold capped a strong evening of racing with his second win of the year over the Summer Thunder Sprint Series at Skagit Speedway on Saturday night. Joining Solwold in victory lane were Ross Rankine in the Northwest Focus Midget Series and Jon Gunderson in the Outlaw Tuners. Racing action on the night was presented by Here 2 Wire.
Solwold nearly pulled off the coveted clean sweep of the action on the first appearance of the year for the STSS. After setting quick time, Solwold raced from fourth to second in his heat, earning his spot in the redraw where he'd pick up the outside pole position. JJ Hickle led lap number one, but Solwold found moisture in the high groove through turns three and four to secure the point on lap two. The Burlington, WA driver set a rapid pace, lapping a number of cars while Hickle, Colton Heath and Eric Fisher gave chase. A lap 12 yellow for Jeff Dunlap bunched the field a bit, as there three lapped cars between the leader and Hickle. Heath took advantage of the restart by pinning Hickle behind one of those lappers to take over the runner up spot. As Solwold once again entered extremely heavy slower cars, Heath took the opportunity to close in as Fisher ascended to third. With two laps to go, Heath was as close as two car lengths back from Solwold but never closer, as Jason scored the win. Heath settled for second while Fisher held off a huge run from Greg Hamilton and Hickle in taking third. Heat winners were Steve Reeves, Austen Wheatley, Garen Linder and Heath. Reece Goetz won the Triple X Hard Charger award, going from 19th to 8th in the A Main.
Noblesville, IN driver Ross Rankine made the most of his yearly trip to the Northwest by winning the Northwest Focus Midget Series A Main at Skagit Speedway on Saturday night. Chance Crum led the first six circuits but left too much of the inside groove over for Rankine, who drove the Gaylon & Carla Stewart owned #92 into the top spot off the bottom of turn two on lap seven. Rankine then had his hands full as former series champ Tristin Thomas pressured him high and low over the final 10+ laps, before Rankine opened a little gap at the end to win by .58 seconds. Thomas settled for second in his family owned car with Shane Smith taking his best career finish with the series in third in a RPM Raceco owned entry. Heat winners were Cody Ridge, Nik Larson and Crum.
Outlaw Tuner glory went to Jon Gunderson on the night. Despite having issues with shifting on multiple restarts, Gunderson rallied his tuner to the race win, leading the first three laps before Matt Ploeg got him on a lap four restart, then racing back around Ploeg on lap eight to snag the win. Curtis Cameron made his first ever race memorable as he ran to second with Ploeg a close third. Heat winners were Ploeg and Vance Hibbard.
Summer Thunder Sprint Car Series
Fast Time – Jason Solwold 12.195
Heat 1 – Steve Reeves, Jason Solwold, Cam Smith, Greg Hamilton, Robbie Price, Chris Schmelzle, Rick Hinds
Heat 2 – Austen Wheatley, Chase Goetz, Eric Fisher, Colin Baker, Lance Sargent, Luke Didiuk, Steve Parker
Heat 3 – Garen Linder, Brandon Harkness, JJ Hickle, Evan Margeson, James Bundy, Lawrance Kirkham
Heat 4 – Colton Heath, Chance Crum, John Stuart, Steve James, Jeff Dunlap, Reece Goetz
B Main – Robbie Price, Dunlap, Schmelzle, Sargent, R Goetz, Bundy, Didiuk, Parker, Hinds
A Main – Jason Solwold, Heath, Fisher, Hickle, Hamilton, Baker, C Goetz, R Goetz, Linder, Price, Schmelzle, Crum, Margeson, Smith, Sargent, Reeves, James, Stuart, Dunlap, Bundy, Harkness, Wheatley
Lap Leaders – Hickle 1, Solwold 2-30
Triple X Hard Charger – Reece Goetz +11 Positions Gained
Northwest Focus Midget Series
Heat 1 – Cody Ridge, Ross Rankine, Shane Biles, Jonathan Jorgenson, Greg Thornhill, Todd Hartman, Ashley Thompson, Chris Bullock, Ray Stebbins, Dave Mead
Heat 2 – Nik Larson, Tristin Thomas, Nick Evans, Shane Smith, Garrett Thomas, Nate Vaughn, Ryan Cully, Doug Davison, Renee Angel, Brian Aune
Heat 3 – Chance Crum, Hannah LIndquist, Eric Turner, Sawyer LInd, Michael Hodel, Otto Jorgenson, Wade Spreckelmeyer, Hailey Bower, Dave Mills
B Main – Ryan Cully, Spreckelmeyer, Angel, Walker, Davison, Stebbins, Mills, Bower, Mead, Bullock, Thompson
A Main – Ross Rankine, T Thomas, Smith, G Thomas, Evans, Crum, LIndquist, Lind, Davison, Vaughn, J Jorgenson, Hartman, Thornhill, Walker, Cully, Hodel, Spreckelmeyer, Angel, O Jorgenson, Turner, Larson, BIles
Lap Leaders – Crum 1-6 Rankine 7-25
Outlaw Tuners
Heat 1 – Vance HIbbard, Kevin Reuter, Clint Meins, Jon Gunderson, DJ Beaver, Keifer Colburn
Heat 2 – Matt Ploeg, Brian Michelson, TJ Campbell, Curtis Cameron, Intars Spunde, Terra Arnett, Rob Dozark
Main – Jon Gunderson, Cameron, Ploeg, Reuter, Meins, Hibbard, Spunde, Arnett, Colburn, Campbell, Michelson, Beaver, Dozark