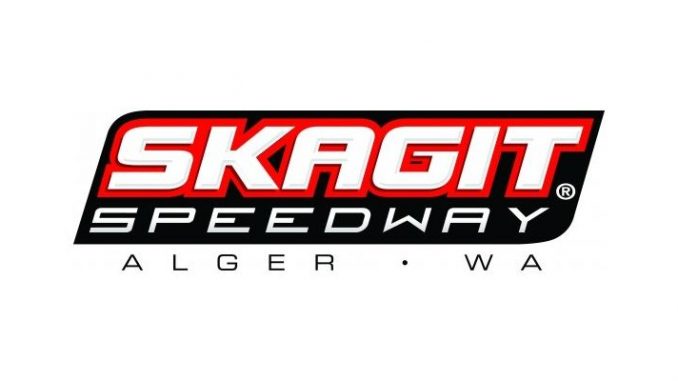 By Kaleb Hart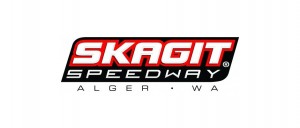 Alger, WA – A huge crowd at Skagit Speedway enjoyed fantastic racing and a huge fireworks extravaganza on Friday night, as Industrial Resources Incorporated presented the John Carroll Classic. As the dust settled on the race night, Evan Margeson emerged as the winner in a thrilling Budweiser 360 Sprint race with Trevor Cook, Kyler Moore and Jon Gunderson joining him in victory lane.
Margeson kept firm control of the 25 lap main event until slower traffic reared it's head. Evan had enjoyed a three plus second advantage before catching the back of the field, and unfortunately for the race leader, those cars were running the same high line that he was. As Brandon Harkness, Colton Heath and Robbie Price closed, Margeson worked to slide Steve Kilcup, seeing his lead chopped by over two seconds in the interim. Heath used the time to pass Harkness as Price followed, while closing in on Margeson as he took aim at Steve Reeves. Evan zigged as Reeves zagged, getting around him as Heath worked the bottom of the track to narrow on Margeson more with about four laps remaining. Colton drove underneath Reeves coming out of turn two and managed to show a nose to Margeson twice before crossed under the checkered flag to score the win, his first of 2017. Heath was relegated to second while Price passed Harkness for third. Heat winners were Heath and Kelsey Carpenter. Eric Fisher was the top qualifier.
Trevor Cook won his first career main event in the Cook Road Shell Sportsman Sprints. Trevor was engaged in a vicious battle for second place with Derek Roberts and Kelsey Carpenter when race leader Zach McCabe tangled with lapped traffic a flipped violently in turn 1 at the start of lap 11. Roberts took the lead on the restart, working the low groove in turn one and two and the high side in turn three and four. Cook measured Roberts for a couple of circuits, opting to try a high side move out of turn two to pass Derek for the lead. On lap 15, the move stuck and Cook rocketed into a lead he would not relinquish on his way to his first Skagit Speedway win. Carpenter was second with Devin Barnes taking third. Cook also set quick time. Heat winners were Carpenter, Bailey Sucich and Brett McGhie.
After flipping his modified last year, Kyler Moore was apprehensive about returning to Skagit Speedway in 2017. After his Washington Modified Tour win on Saturday night, Moore has turned that apprehension into enthusiasm after leading the final 13 laps of the main event.  Lap ten spin by Tom Warner set Moore up for a restart behind race leader Tyler Walker. On lap twelve, Moore took his modified high in turn two to make the pass and streak away to his first Skagit Speedway win. Graham Cook was second with Kevin Smith taking third. Moore, Rick Smith and Scott Miller won the heat races.
Jon Gunderson won his second outlaw tuner main event of 2017, in a different car from his first win. Picking up a new tuner on Friday night, Gunderson hauled it off the trailer and into victory lane on Saturday, leading all 17 laps. Brian Michelson and Cliff Ballenger engaged in an entertaining duel for second with Michelson coming out on top. Michelson was the heat winner.
Budweiser 360 Sprints
Fast Time – Eric Fisher 12.311
Heat 1 – Colton Heath, Brandon Harkness, Eric Fisher, Marc Duperron, Lawrance Kirkham, Steve Kilcup
Heat 2 – Kelsey Carpenter, Evan Margeson, Robbie Price Steve Reeves, Bud Ashe
Main – Evan Margeson, Heath, Price, Harkness, Carpenter, Ashe, Fisher, Duperron, Reeves, Kilcup, Kirkham
Lap Leaders – Margeson 1-25
Cook Road Shell Sportsman
Fast Time – Trevor Cook 112.734
Heat 1 – Bailey Sucich, Devin Barnes, Trevor Cook, Derek Roberts, Paul Burdick, Adam Hinds, Clayton Sibley
Heat 2 – Kelsey Carpenter, Kevin Kirkpatrick, James Bundy, Bill Rude, Julian Fuentes, Rick Hinds
Heat 3 – Brett McGhie, Steve Parker, Cory Swatzina, Zach McCabe, Ashleigh Johnson, Ashley Lewellen
Main – Trevor Cook, Carpenter, Barnes, Parker, Roberts, Bundy, Burdick, Swatzina, McGhie, Sucich, Johnson, Fuentes, Sibley, R Hinds, Rude, A Hinds, Lewellen, Kirkpatrick, McCabe
Lap Leaders – McCabe 1-10 Roberts 11-14 Cook 15-25
Washington Modified Tour
Heat 1 – Kyler Moore, James Wolford, Tyler Walker, Mel Decker, Brandon Berg, Tom Warner, Louis Nutter Jr
Heat 2 – Rick Smith, Graham Cook, Tiana Berkeley, Craig Moore, Mike Knox Jr, Becky Boudreau, Dan Butenschoen
Heat 3 – Scott Miller, Kevin Smith, Tyson Blood, Austin Kerrigan, Bill Tomer, Adam Holtrop
Main – Kyler Moore, Cook, K Smith, R Smith, Miller, C Moore, Berkeley, Blood, Walker, Knox Jr, Nutter Jr, Berg, Butenschoen, Decker, Wolford, Tomer, Holtrop, Warner, Boudreau, Kerrigan
Lap Leaders – Walker 1-12 Moore 13-25
Outlaw Tuners
Heat – Brian Michelson, Cliff Ballenger, Jon Gunderson, TJ Campbell, Vance Hibbard, DJ Beaver, Terra Arnett, Clint Meins, Dylan Acidera, Intars Spunde, Howard Vos
Main – Jon Gunderson, Michelson, Ballenger, Meins, Hibbard, Beaver, Spunde, Arnett, Acidera, Vos, Campbell
Lap Leaders – Gunderson 1-17