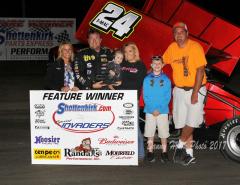 By Bill W
May 30, 2017 – Terry McCarl and the TMAC Motorsports #24 team racked up a pair of wins last week. On Friday, they bested the Sprint Invaders field assembled at Lee County Speedway in Donnellson, Iowa, and Sunday they won at Quincy Raceways in Illinois with the MOWA series. A third place run in Oskaloosa with the Sprint Invaders and a sixth place run Saturday at Knoxville were also a part of the week. After being inducted into the National Sprint Car Hall of Fame on Saturday, the Altoona, Iowa driver will compete at Knoxville in the 360 class.
TMAC started things Wednesday at the Southern Iowa Speedway in Oskaloosa by running from fourth to second in his heat and fourth in the Dash. "We had a new J&J that night and we had brake issues," he says. "We found out that J&J has a bit of a different braking system, so we had to change the master cylinder around a little."
He started the feature side by side with son Carson and they finished second and third. "Lori probably didn't think that was very fun, but it was cool," says TMAC. "Ian (Madsen) just had to ruin our party! It would have been fun running first and second, but he's been strong all year. Carson did a great job, and we did our best. We had a good solid night and loaded it up in one piece."
TMAC headed for Donnellson Friday. "We almost didn't go," he says. "We were late in getting the brake thing figured out. We just made it out the door in time. Steve and Sandy Hainline were there, and we wanted to go. We lived a few years in Keosauqua when I was a kid, and we have a lot of friends down that way."
He would proceed to sweep the night's heat, Dash and feature. "I think we went six or seven years in a row down there winning races," says TMAC. "It's one of my favorite tracks. Chris (Martin), Jamie (Ball) and my sons too need to take advantage of tracks like that. It is nice and wide and forgiving. You can get a lot of good laps in and learn a lot."
TMAC was able to pass Ball with three laps to go for the win. "The 360 that is provided by Don Long and Searsboro Telephone Company and built by Jaymie Moyle is pretty dog gone good," he says. "I'd say we have one of the best 360's in the country. That always helps!"
Timing in fourth quick at Knoxville Saturday in the 410 was a good sign. "Last year, we really struggled with qualifying," says TMAC. "We never blamed the engines. We just couldn't get the car rolling around there very well. We were driving off the left rear so hard. Even the Outlaw show we won at Knoxville, we were 30th quick. We had to come from the third row in the heat to make the Dash. So qualifying was an issue. We're really happy now and making some strides."
TMAC ran fifth in his heat and sixth in the feature on a fast track. "Steve (Fitzpatrick) has been helping Doug (Rankin) and I and that's certainly helped," he says. "I think we're just going to keep getting better. The Dunkin's are the best at track prep. Just because Knoxville's the best doesn't mean the track prep people would be, but they are. It's easy to criticize them some nights, but generally, they are right and we are wrong. They did an amazing job with a track that got a lot of rain. It wasn't rough and it didn't ledge up. You could run anywhere you wanted to run."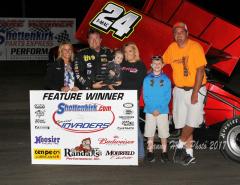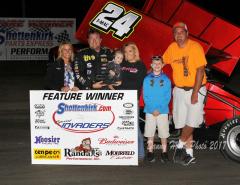 The MOWA show was next in Quincy Sunday. "We won there in 1995 and Troy Renfro was my mechanic," says TMAC. "Now my son, Austin, is driving for him. That's kind of neat. Quincy is a fun track. It's nice to go from a Knoxville to a quarter-mile where you 'stomp and steer' a little bit, let it eat and 'Cowboy up'. We were going to go to the IRA show, but it rained out early."
After timing in fourth quick, TMAC finished third in his heat and started beside his other son, Austin in the second row. "Lori had two of us starting side by side again," he says. "That has to be nerve wracking. Jerry and Stephen Russell were there and we let Doug and them set the (JR1) car up. I didn't even want to know what was going on. I just let them know how the car would feel. It was a great car."
He would drive to his second win of the weekend and 303rd overall. "It was fun to win on a track like that," says TMAC. "It had a big treacherous curb. You had to drive hard, but not too hard. It was a lot of fun. It was a different group of fans, and it's nice to come out of there with the win. The MOWA guys are tough there, and that helped my confidence and my ego a little bit."
TMAC will be inducted into the National Sprint Car Hall of Fame Saturday. "I don't know what to think," he says. "I'm really proud. As it gets closer, it's meaning more and more to me. It meant a lot when I was told, but it means even more now. I'm very proud to have my whole family involved. It will be fun."
Car Show at Price Chopper Sunday
The team will be showing their car and giving out checkered flags and pictures at the "Grillin & Chillin'" car show at the Merle Hay Price Chopper store in Des Moines, Sunday June 4 from 11 a.m. until 2 p.m. All proceeds raised will go to the American Diabetes Association.
McCarl Family Websites!
Driverwebsites.com develops the websites for the McCarl boys. Check out www.TerryMcCarl.com, as well as www.AustinMcCarl.com and www.CarsonMcCarl.com!
This Month in TMAC History!
On May 26, 2002, TMAC was victorious with the Interstate Racing Association (IRA) at the Cresco Speedway in Cresco, Iowa. With 39 cars on hand at the banked 3/8 mile oval, TMAC topped Travis Cram, Joe Roe, Colin Northway and John Haeni.
"Tuesdays with TMAC"!
"Tuesdays with TMAC" is an up close and personal look at colorful sprint car veteran Terry McCarl. To receive "Tuesdays with TMAC", send an e-mail to sprntcar@hotmail.com with "TMAC" in the subject line.
TMAC Motorsports would like to thank sponsors SnowPlow Snow Pushers – www.TheSnowPlow.com, Country Builders Construction, Bosma Poultry, Destiny Motorsports, Simplot Grower Solutions, Price Chopper, Hiland Dairy, Searsboro Telephone Company, A.R.T. Speed Equipment, Berryhill Racing, Phil and Vivian, Justice Brothers/Gillund Enterprises, Vortex Racing, Hoosier Tire, Chris Spaulding – Attorney at Law, SuperFlow, Schoenfeld Headers, Rens Trucking, NutriShop – Maple Grove, MN, HRP, All Pro Cylinder Heads, Maxim Chassis, Bob and Beulah Elder, Engler Injection, Snap On Tools, Sposato Paint, Winters, Kilani Fender, Inc., DriverWebsites.com, CM Rock, Brown & Miller Racing Solutions, Pro Shocks, Bell Helmets, Burnett's Rock and Landscaping, Octane Ink, Morgan Strawberry Farms, Dynasty Stucco, Aurora Rod Ends, Crow Safety, KSE Steering, Snyder Lawn & Landscaping, Strange Performance, Saldana Racing Products, Scribner Plastics, Waterman Fuel Pumps, Butlerbuilt and Mote Fasteners.