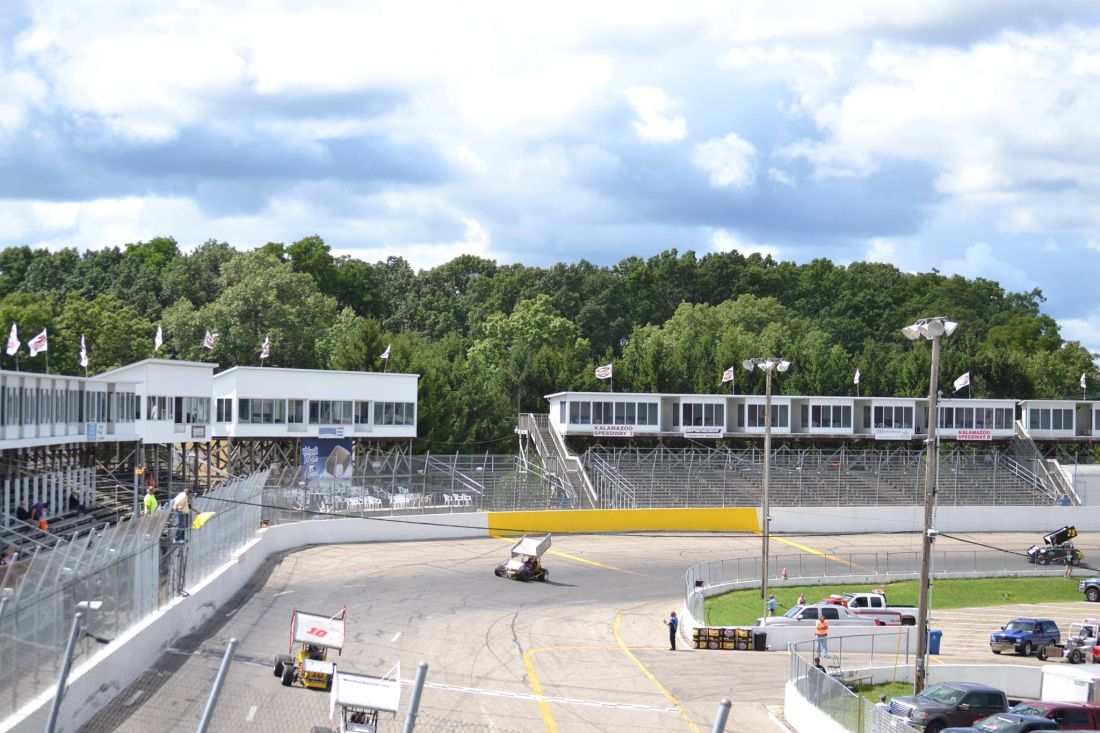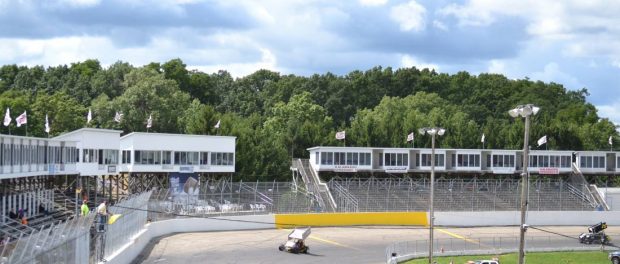 By T.J. Buffenbarger
(June 1, 2017) — Aaron Pierce's qualifying efforts at Kalamazoo Speedway have been spectacular enough to warrant an early arrival to the world's fastest 3/8-mile oval. In 2015 Pierce blistered Kalamazoo with a lap of 10.114 seconds on his first qualifying lap and might have been faster had he not slipped on the second, having to chase his car up the banking in turn four to avoid pile driving the wall.
While a sprint car is not likely to approach Andy Bozell's 9.465 second lap that was set at the famous Call of the Wild event in September of last year, that record was set using a highly modified stock car with a lexan wall on the left side of the car. Pierce's laps are done essentially in a sprint car in the same trim used to race with.
Kalamazoo is one of the few venues in racing that produces impressive speed and great side by side racing. The round layout always provides for multiple groove racing and is normally one of two tracks I normally recommend for someone's first pavement sprint car experience. Switching to Friday nights in 2015 Kalamazoo sets up the first of a two night tour in the area with the tour heading South Bend Speedway on Saturday.
Another change fans will experience is Kalamazoo and switch to Friday nights. Kalamazoo promoter Gary Howe announced the change for 2016 and so far the return to Friday night racing at Kalamazoo has been a success.
"Friday has been a pleasant surprise for us," said Howe. "It has worked out very well for us."
As for a new track record Howe is unsure, but agrees that Kalamazoo is one of the best venues for pavement sprint car racing.
"(Sprint Cars) always put on a great show at Kalamazoo, and we're looking forward to having them back on Friday."
The first hot lap session for the sprint cars is schedule for 4:00 with qualifying at 6:35 p.m. Racing is slated to start at 7:30.
Notes
Michigan resident Trevor Berry played an important role in Kyle Hamilton's victory on Saturday during the Pay Less Little 500 at Anderson Speedway. Berry was the spotter during the race for Hamilton.
While a lot of hype has surrounded Andrew Schneid based on previous performance in lightening sprints, but the best sprint car rookie so far this season could be Boston Mead. Son of former Sprints on Dirt champion Mark Mead, Boston made his debut with SOD on Friday at I-96 Speedway scoring a fourth place finish.
Jeff Bloom's streak at the Little 500 came to an end this week as he failed to qualify for the event for the first time in 35 years. Bloom experienced an engine failure before qualifications that forced him to sit out the event. No word on if Bloom will have another power plant for the event at Kalamazoo on Friday.
Fans gave rave reviews for the American Ethanol Late Model Series and Engine Pro Sprints on Dirt presented by ARP double header at I-96 Speedway. Thankfully I-96, SOD, and Motor City Promotions officials were able to complete the show before a large rain shower the encapsulated a large portion of West Michigan overnight.
Thomas Meseraull's Lane Automotive Michigan Traditional Sprints victory on Saturday was the first as partners with Don Whitney. MTS produced a nice 24 car field for the event including some new faces such as street stock veteran Max Wierbaugh. Moving MTS to Saturday also showcases non-wing sprint cars with a much heavier race track than in years past for the non-wing cars at Crystal.