From POWRi
LINCOLN, Ill (June 4, 2017) –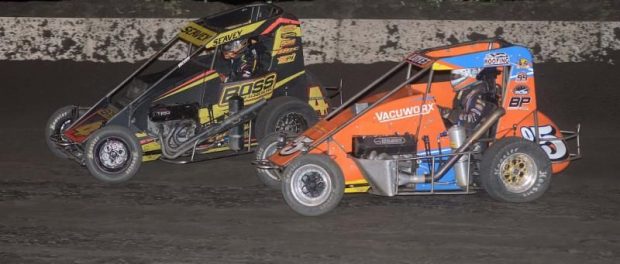 Starting in the 12th position, the Sutter, California native carefully crept his way towards the front, almost appearing out of nowhere to the top three a little past halfway. Trailing Michael Pickens, Tucker Klaasmeyer, and Brad Loyet after a late race caution, Seavey dispatched of Klaasmeyer after Loyet moved into second.
Moving past Loyet, Seavey set his sights on the Auckland, New Zealand driver for the lead. Coming within feet of the driver in lap traffic, Seavey picked the wrong line and faded a few car lengths. Making the ground back up and carrying momentum into the last lap, Seavey made his move entering turn three for the final lap. Diving towards the bottom of the racetrack, Seavey put his slide job into motion. Making contact atop turn four, the slide job resulted in Pickens upside down and the red flag displayed instead of the checkered.
When the field refired, Seavey led the way to the checkered for the final lap, followed to the line by Shane Golobic and Zach Daum. Tyler Thomas took fourth, while Tucker Klaasmeyer rounded out the top five. Even with a 16th place finish, Pickens matched Zach Daum for POWRi Illinois SPEED Week points after five rounds. The tiebreaker for the duo came down to wins and with Pickens holding two, he is crowned the 2017 POWRi Illinois SPEED Week champion for the POWRi Lucas Oil National Midget League. Full statistics and a press release will be available soon.
"I don't know what to say," stated Logan Seavey. "I wore out Michael Pickens. He probably should have won the race. Not a good move on my part. Sorry to him. He outran me in lap traffic. I thought I was a little better in open air, but he just got through lap traffic better. I got close enough and thought I could clear him, but wrecked him instead. I'm sorry about that."
"It was a good run for us," Shane Golobic said. "Car felt really good, I've got to thank these guys for giving me the opportunity to come out and run for two nights and giving me a really good car. I've got to thank Matt Wood, Elk Grove Ford, and Clauson-Marshall Racing."
"It's unfortunate for Michael there, but it's a racing deal and we might be the benefactor of the whole situation there," commented Zach Daum. "It's nothing that nobody's ever done to anybody else before, so heat of the moment deal. But, congratulations to Logan on getting his first win.
Midgets
Speedway Motors Heat Race Winners: Heat 1: 1nz – Michael Pickens, Heat 2: 27 – Tucker Klaasmeyer, Heat 3: 39 – Zeb Wise
Mesilla Valley Transportation Feature Winner: 4a – Logan Seavey
Powri Lucas Oil National Midget League Feature Results (30 Laps): 1. 4a – Logan Seavey 2. 17w – Shane Golobic 3. 5d – Zach Daum 4. 91t – Tyler Thomas 5. 27 – Tucker Klaasmeyer 6. O5 – Brad Loyet 7. 8gq – Jimi Quin 8. 39 – Zeb Wise 9. 3n – Jake Neuman 10. 22 – Andy Malpocker 11. 6a – Aidan Roosevans 12. 37 – Andrew Felker 13. 28 – Ace Mccarthy 14. 7me – Chance Morton 15. 8m – Kade Morton 16. 1nz – Michael Pickens 17. 3b – Shelby Bosie 18. 4d – Robert Dalby 19. 87 – Dalton Camfield 20. 97 – Austin Odell 21. 37x – Jake Blackhurst 22. 7 – Austin Brown 23. 20 – Cody Weisensel 24. 77 – David Camfield Jr 25. 17c – Devon Camfield