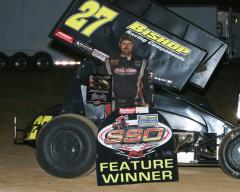 By David Smith Jr.
Ada, Oklahoma – June 24, 2017 –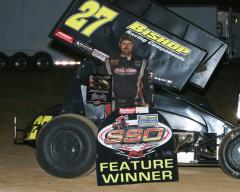 On the benefit of the redraw, Chad Koch and Chris Kelly started on the front row for the twenty-lap feature and it was Koch who quickly jumped into the lead as the green flag fell. Fourth starting Shouse quickly moved into the runner-up position and was on the leaders rear bumper entering turns three and four. Shouse would get a run underneath Koch exiting turn four to take the lead on lap two and quickly opened a half-stretch lead.
The leader encountered slower traffic on lap ten, allowing Koch to cut the deficit in half. With three laps remaining, Shouse followed a slower car for the remaining laps allowing Koch to close to three car lengths. That was as close as he would get as Shouse would hold on to claim his fourth career series victory.
Eighth starting Gary Owens came home third while Kelly and Lewisville, Texas driver Chip Graham rounded out the top five in the caution-free feature finale.
The four, eight lap heat races for the twenty-six car field were won by Loyd Clevenger, Shouse, Koch and Jake Martens while Michelle Melton controlled the twelve lap "B" feature.
The Sprint Series of Oklahoma IMCA RaceSaver Sprint Car Series presented by Smiley's Racing Products will be this coming Friday night, June 30, at Red Dirt Raceway in Meeker, Oklahoma for the tracks "Freedom Forty," highlighted by a forty-lap feature event for the series. Added money from top to bottom will be added to the feature purse for this event.
Sprint Series of Oklahoma
Oklahoma Sports Park/Ada
June 24, 2017
26 Cars
1st Heat: 1) Loyd Clevenger, 2) Chris Kelly, 3) Martin Edwards, 4) Josh Toho, 5) Steven Shebester, 6) Mike Scott, 7) Tanner Conn
2nd Heat: 1) Andy Shouse, 2) Chip Graham, 3) Michael Day, 4) Nathan Moore, 5) Donnie Wilson, 6) Jerry Jumper, 7) Chase Smith
3rd Heat: 1) Chad Koch, 2) Gary Owens, 3) Ty Williams, 4) Tristian Oakes, 5) Michelle Melton, 6) Justin Mowry
4th Heat: 1) Jake Martens, 2) Joe Wood, Jr. 3) Blake Scott, 4) Cody Whitworth, 5) Justin Fisk, 6) Cody Jarvis
B Feature: 1) Michelle Melton, 2) Steven Shebester, 3) Justin Fisk, 4) Tanner Conn, 5) Nathan Moore, 6) Jerry Jumper, 7) Mike Scott, 8) Justin Mowry, 9) Chase Smith, DNS) Cody Jarvis
A Feature: 1) Andy Shouse (4), 2) Chas Koch (1), 3) Gary Owens (8), 4) Chris Kelly (2), 5) Chip Graham (3), 6) Joe Wood, Jr. (9), 7) Jake Martens (7), 8) Marten Edwards (6), 9) Michael Day (10), 10) Loyd Clevenger (5), 11) Tristan Oakes (14), 12) Blake Scott (13), 13) Michelle Melton (17), 14) Donnie Wilson (16), 15) Steven Shebester (18), 16) Justin Fisk (19), 17) Tanner Conn (20), 18) Ty Williams (11), 19) Cody Whitworth (12), 20) Josh Toho (15)