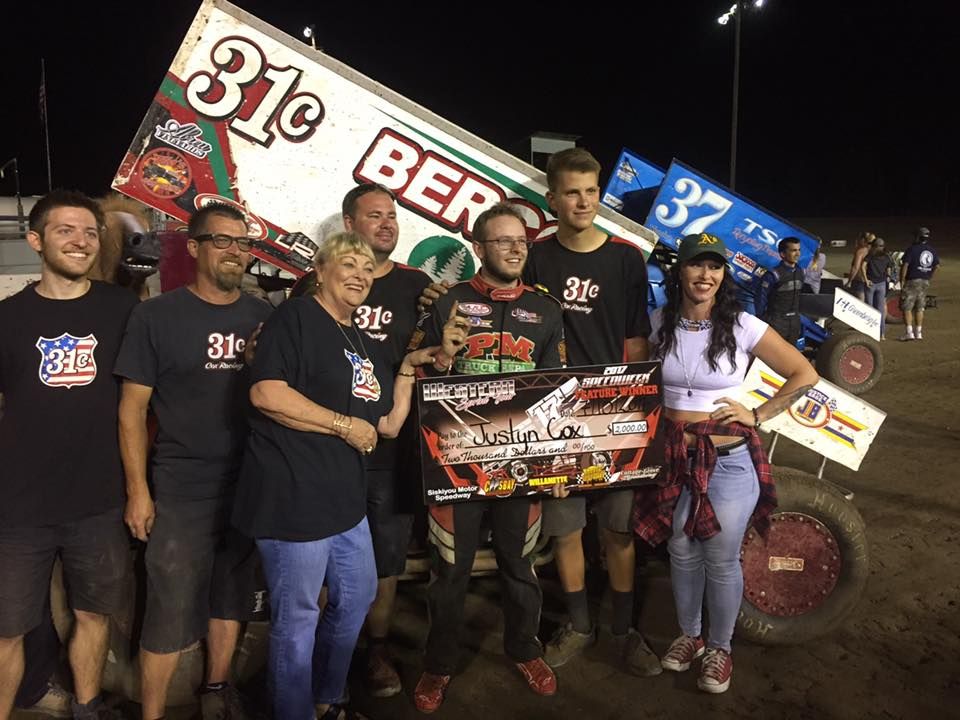 From Ben Deatherage
YREKA, Ca. (July 10, 2017) — The twentieth annual Speedweek Northwest schedule would officially get kicked off at Siskiyou Motor Speedway for the one and only race in the state of California on Monday, July 10th. It marked the third time that the Yreka ¼-mile clay oval has opened up the series. A total of sixteen cars would sign in representing the American states of California and Oregon, the Canadian province of British Columbia, the New Zealand region of Canterbury, and the Australian states of Western Australia and Victoria.
On the opening lap of the main event Justyn Cox would take firm control of the lead. The Clarksburg native would stay out in front and blaze the trail and the only challenge thrown in his way was figuring out how to work some of the lapped cars. Just when he was about to be challenged for the position a caution would come out.
Cox continued to set the pace and eventually crossed the finish line in first place. It marked the fourth different time a driver has won at SMS during Speedweek and Justyn's third career series victory. It also the third different Speedweek venue he has parked it in victory lane.
Mitchell Faccinto, out of Hanford and driving once again for Stan Greenberg, would be second followed by Roseville's Sean Becker, in third and running for car owners Dan and Cindi Menne. Fairfield pilot Zack Lynskey would be an impressive fourth in his Speedweek debut while the top five would be rounded up by Kyle Hirst, of Paradise and racing for Canadian car owners Doug and Kathy Rutz, in fifth.
Steven Tiner, of Visalia, was fastest in time trials earlier in the night. Mitchel Faccinto and Bunbury, Western Australia driver Michael Keen, driving for car owners Jim and Annette Van Lare, were the heat race winners. Justyn Cox would be victorious in the trophy dash.
Speedweek Northwest heads to Coos Bay Speedway on Tuesday, July 11th, for the second race of the series. Be sure and visit sprints.nwextremeseries.com for the latest stories regarding the tour. Also check out Speed Shift TV where you can watch every single lap of the action.
Race Results:
Speedweek Northwest Race #1
Monday, July 10th, 2017
Siskiyou Motor Speedway
Yreka, California
A Feature: 1. 31C-Justyn Cox, [1]; 2. 37-Mitchell Faccinto, [3]; 3. 75-Sean Becker, [4]; 4. 7N-Zack Lynskey, [2]; 5. 8R-Kyle Hirst, [12]; 6. 33-Lucas Ashe, [6]; 7. 94-Steven Tiner, [9]; 8. 18-Tyler Seavey, [8]; 9. 16AUS-Daniel Keen, [7]; 10. 5V-Michael Keen, [5]; 11. 74-Michael Cunningham, [15]; 12. 69NZ-Jamie Duff, [10]; 13. 21W-Jake Wheeler, [14]; 14. 12-Jared Ridge, [11]; (DNS) 11-Roger Crockett, ; (DNS) 12J-John Clark,
Dash: 1. 31C-Justyn Cox, ; 2. 37-Mitchell Faccinto, ; 3. 75-Sean Becker, ; 4. 7N-Zack Lynskey, ; 5. 5V-Michael Keen, ; 6. 33-Lucas Ashe,
Heat 1: 1. 37-Mitchell Faccinto, [1]; 2. 33-Lucas Ashe, [2]; 3. 7N-Zack Lynskey, [3]; 4. 31C-Justyn Cox, [5]; 5. 69NZ-Jamie Duff, [4]; 6. 94-Steven Tiner, [6]; 7. 21W-Jake Wheeler, [7]; 8. 74-Michael Cunningham, [8]
Heat 2: 1. 5V-Michael Keen, [1]; 2. 16AUS-Daniel Keen, [2]; 3. 18-Tyler Seavey, [3]; 4. 75-Sean Becker, [5]; 5. 12-Jared Ridge, [4]; 6. 12J-John Clark, [7]; 7. 8R-Kyle Hirst, [6]; (DNS) 11-Roger Crockett,
Qualifying: 1. 94-Steven Tiner, ; 2. 8R-Kyle Hirst, ; 3. 31C-Justyn Cox, ; 4. 75-Sean Becker, ; 5. 69NZ-Jamie Duff, ; 6. 12-Jared Ridge, ; 7. 7N-Zack Lynskey, ; 8. 18-Tyler Seavey, ; 9. 33-Lucas Ashe, ; 10. 16AUS-Daniel Keen, ; 11. 37-Mitchell Faccinto, ; 12. 5V-Michael Keen, ; 13. 21W-Jake Wheeler, ; 14. 12J-John Clark, ; 15. 74-Michael Cunningham, ; (DQ) 11-Roger Crockett
Speedweek Northwest Points (Top Ten)
1. 31C-Justyn Cox 95; 2. 37-Mitchell Faccinto 88; 3. 75-Sean Becker 87; 4. 8R-Kyle Hirst 82; T 7N-Zack Lynskey 82; 6. 94-Steven Tiner 78; 7. 33-Lucas Ashe 75; 8. 18-Tyler Seavey 71; 9. 16AUS-Daniel Keen 69; 10. 5V-Michael Keen 68