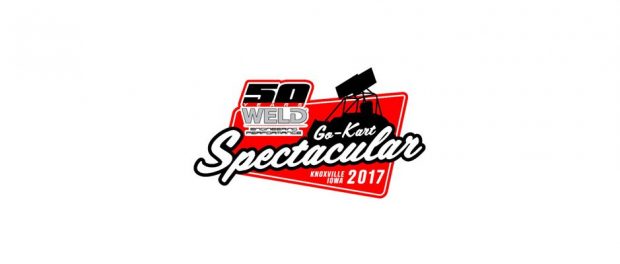 From Weld Racing
KANSAS CITY, Mo. (July 6, 2017) – WELD Racing is proud to announce it will once again be the presenting sponsor of the Fifth Annual Go-Kart Spectacular taking place during the 57th Annual 5-Hour Energy Knoxville Nationals presented by Casey's General Stores in Knoxville, Iowa.
The WELD Racing Go-Kart Spectacular is a unique race that gives lucky fans the opportunity to race alongside some of their favorite racecar drivers with the proceeds supporting the Tony Stewart Foundation and its primary initiative, Team One Cure. This will be the fifth year WELD Racing has stepped up to sponsor this popular charity event.
"WELD Racing is a longtime supporter of sprint car racing and it is our pleasure to join forces this year with the Tony Stewart Foundation as a sponsor of the charity go-kart race at the 2017 Knoxville Nationals," said Norm Young, president and CEO, WELD Racing. "The Tony Stewart Foundation's Team One Cure approach is an excellent way to bring much needed attention in finding sustainable treatments and an eventual cure of various forms of cancer in humans and their pets."
Two WELD Racing ambassadors will be competing in the 2017 race. "KamiKaze" Chris Day from the highly-rated television series "Street Outlaws" will be driving one go-kart and Pirelli World Challenge Driver, Shea Holbrook, will be in another. Prior to the race WELD will unveil a specially designed kart commemorating their 50th Anniversary.
The all-star line-up of professional drivers includes: three-time NASCAR Cup Series Champion, Tony Stewart; the current Monster Energy NASCAR Cup Series points leader, Kyle Larson; Two-time Xfinity Series Champion and most recent NASCAR event winner, Ricky Stenhouse Jr.
The Fifth Annual WELD Racing Go-Kart Spectacular will take place Wednesday, August 9 at the Slideways Karting Center in Knoxville. The event begins at 1:00 p.m. Central time and consists of 10 heat races, a last-chance showdown and a 20-lap feature event on the Slideways slick track.
Fans are able to participate in this event, but space is limited 50. The entry fee/donation is $400 per person. (Participants must be at least 16 years of age.) These 50 fans will receive an event t-shirt and goodie bag containing WELD Racing merchandise and Tony Stewart autographed merchandise.
This karting event is open to the public for a $5 admission/donation per person (12 and under are free) with all proceeds benefitting Team One Cure.