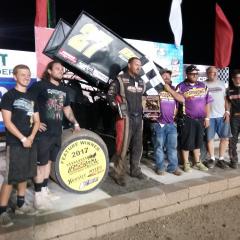 By Nick Schwein
On Sunday night, the 305 sprint car driver from Mustang, Okla., walked away with a victory and $2000 in the ninth Wheatshocker Nationals in Hays. He also took home the Custom Pit Boss Smoker Grille presented by Lance Pittman of S&W Supply for being the high point driver of the Wheatshocker weekend.
Shouse made a late charge en route to finishing second during Saturday night's qualifier. On Sunday, he drew the fourth starting spot.
"To be honest, we really just do our basic stuff," Shouse said about being so fast at the 3/8-mile oval. "I think the big thing is we don't really race at one race track all the time. We usually travel all over and see a lot of different places. I think that definitely helps us when we come to someplace new. It's always tough when you get locals who have run at this race track a number of times. But we're usually pretty good when we go to a new race track of getting it figured out in good time."
He figured it out quickly Sunday night. After Koby Walters started second and jumped to the lead at the start, Shouse was working to find the best way around the track.
He moved up to second on the fourth lap around Austin McLean, who started on the pole.
On Lap 6, he was side-by-side with Walters at the stripe, leading by mere inches. He finally cleared Walters on the next lap before the red flag flew a lap later after multiple cars got together entering the first turn.
"We, honestly, were pretty good," Shouse said. "But I really screwed up. I didn't think the bottom would stay as long as it did. Under that red, I almost over-compensated. I made a few too many changes. I got the car a little on the tight side. I was expecting the bottom to go away, and I was going to have to move up into the slick a little more. Man, the bottom stayed good enough on the exit that I knew I couldn't give it up. But I was awful tight down there. I was glad I wasn't slowing down too much."
Once Shouse was in front, Walters was left wondering what might have been.
"Leading the race, you never know what's behind you," he said. "Once you're leading it and get passed, you don't know what to do from there on out. You have to change something to something better than what you're doing."
Once the cars got rolling after the red flag, Shouse had a stranglehold on the front spot. But the biggest mover after the stoppage was Luke Cranston, who jumped from ninth to sixth by using the high line until it went away.
Meanwhile, Shouse was controlling the pace until lap traffic. Then he got bottled up enough to allow Walters to pull right on his bumper.
"I felt like I could get under him, felt like he was going to mess up," Walters said. "But when he did mess up, I'd mess up or wouldn't be close enough to him. I wish it would have changed up, but it never did."
Shouse slowly began to distance himself once again, and when Walters bobbled in Turn 2, Zach Blurton pounced on the opportunity.
"He just, at the end, messed up and missed the bottom coming off of two, and we were there to capitalize on it," Blurton said. "Last few laps, we really started catching Andy, and he was catching lap cars really bad and couldn't get around them. We were going through them good. I would have liked to see a few more laps because I think things would have turned out different."
Blurton took the second spot from Walters on Lap 27. He closed within a car length on the next lap, only to run out of time to make a move on Shouse in the 30-lap feature.
"I knew there weren't many laps left, and I knew we had to make something happen," Blurton said. "It just wasn't quite enough time."
"You don't know who's behind you, and I didn't know if I was keeping a very good pace or not," Shouse said. "I felt like I was pretty decent, but you never know."
It was the first Wheatshocker title for Shouse in his first attempt. He took home the $2,000 payout and a new grill with the victory.
"That's what we came to try to do, so it was a good weekend," Shouse said.
Blurton's second-place finish kept him from winning his second Wheatshocker event. He claimed the crown in a photo-finish in 2015.
"It would have been cool to win one of these again, but second isn't bad to Andy Shouse," Blurton said. "He's a class act and a good driver. So we'll take second to him."
Walters finished third, with Jed Werner — who started third and was in the top four all night — finishing fourth.
Jake Bubak and McLean rounded out the top six.
Heat race winners were Ty Williams, Luke Cranston and Tracey Hill
McCook Nebraska's Nate Berry earned the Keizer Aluminum Wheels Hard Charger Award, starting in the 20th position and moving up 11 spots to finish 9th.
Results
A Feature
1 Andy Shouse
2 Zach Blurton
3 Koby Walters
4 Jed Werner
5 Jake Bubak
6 Austin McLean
7 Luke Cranston
8 Ty Williams
9 Nate Berry
10 Steven Richardson
11 Keefe Hemel
12 Kaden Taylor
13 Todd Plemons
14 Brandon Anderson
15 Brandy Jones
16 Lance Davis
17 Tracy Hill DNF
18 Lonnie Cox DNF
19 Brian Herbert DNF
20 Taylor Velaquez DNF
B Feature
1 Brandy Jones
2 Lonnie Cox
3 Lance Davis
4 Nate Berry
5 Nick Nichols
6 Howard Van Dyke
7 Shane Sundquist
8 Cody Lampe
9 Kyle Johnson
10 Aaron Ploussard DNF
Heat race winners – Williams, Cranston, Hill