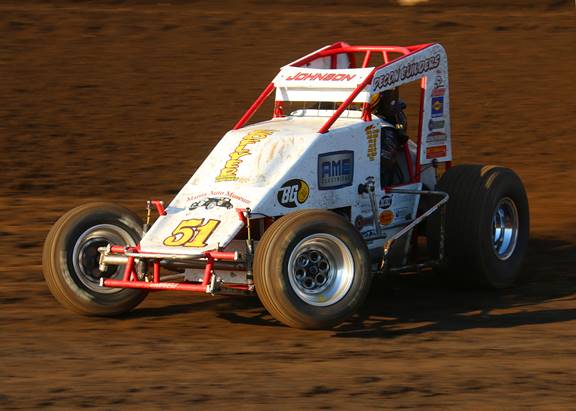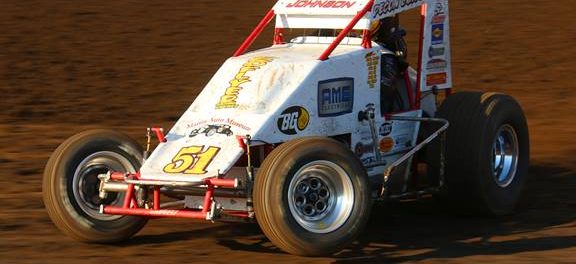 From Scott Daloisio
PERRIS, Ca. (July 18, 2017) – Much to the delight of fans and to the chagrin of USAC/CRA Series drivers, a strong contingent of cars will be coming from Arizona and a top driver from Indiana will be flying in to take on the locals this Saturday night, July 22nd, at the "Southern California Home of Major League Sprint Car Racing," Perris Auto Speedway. In addition to the stars and cars from the West Coast's number one sprint car series, The PAS Senior & Young Gun Sprint Cars will also be on the program. Spectator gates will open at 5:00 PM and the first race will begin at 7:00.
With the heat on full blast in Arizona, most tracks in the "Copper State" closed in early June and will not reopen until the start of September. That leaves drivers looking for a place to race. Four weeks ago, on June 23rd, five Arizona teams made their way to Perris Auto Speedway for the USAC/CRA race and they left a big impression. Multi-time USAC Southwest Sprint Car Series champion R.J. Johnson of Laveen, Arizona, beat back the locals to win his second ever main event on the famous Riverside County half-mile clay oval. If that was not enough, Ronnie Gardner of Norco, drove the Robbie and Gaye Allen owned car out of Cottonwood, Arizona to third in the main event just behind Visalia's Richard Vander Weerd.
"Arizona has always been a great state for sprint car racing," promoter Don Kazarian said. "You go back 40-50 years and some of the top drivers and race cars in the country came out of Arizona. Back in the day, the battles between the California and Arizona drivers over here at Ascot and in Arizona at Manzanita Speedway were epic and still talked about today. Over the past decade, 410 sprint car racing in Arizona has pretty much died (been replaced by 360 sprint cars). But, the guys came over last month and kicked some rear end on a lot of our regulars. I am anxious to see them again on Saturday."
Johnson will be back to try and make it two in a row on Saturday and Gardner, who won his first ever wing sprint car race at Petaluma last Saturday night, will be back as well. Joining them will be hard charging Stevie Sussex and KTAR radio personality/sprint car driver Bruce St. James. Both of them call Phoenix home.
If the Arizona contingent is not enough, one of the top sprint car drivers in the nation, Chad Boespflug, will be flying out from his Plainfield, Indiana home to drive the Dwight Cheney owned sprint car on Saturday. Three weeks ago, Cheney's #42 won the last USAC/CRA Series race at the Santa Maria Raceway with 2016 "Rookie of the Year" Max Adams of Loomis, California behind the wheel. Boespflug, a native of Hanford, California, who moved to the Midwest after graduating from high school a decade ago, is currently ranked third in USAC National points. He is no stranger to success at The PAS. Last November, the then 28-year-old won the opening night main event at the 21st Annual Budweiser Oval Nationals presented by All Coast Construction.
In addition to the out of town drivers and cars, San Bernardino's Don Gansen will be ending a 3 ½-year retirement to race in the USAC/CRA Series. The former Chaffey College student and 2006 California Lightning Sprint Car Series Champion will join his brother Chris and five-time USAC/CRA Champ Mike Spencer on the Gansen Engineering team.
Acton, California college student Hannah Mayhew won the last Young Gun (drivers 14-25 with no prior sprint car experience) main event in June and took the point lead from 14-year Covina High School student Joel Rayborne. Despite mechanical ills that kept him off the track at the last race, Canyon Country, California veteran Richard McCormick still leads Ed Schwarz by 23-points in the Senior Sprint Car (drivers 40 and older) standings.
Adult tickets for Saturday's race are $25.00. Seniors 65 and older get in for $20.00. Active military members with proper id, teens 13-18 with their school id and gets age 6-12 get in for $5.00. Children 5 and under are free. Parking on the fairgrounds is $8.00.
Advanced tickets for Saturday's event are available 24-hours a day by calling 1-800-595-4849 or online at http://pas.tix.com/Event.aspx?EventCode=922978. For those who do not wish to purchase advance tickets, there will be plenty of tickets available for everyone at the ticket window on Saturday.
Amsoil USAC/CRA Point Standings
1. Damion Gardner – Concord, CA – 520
2. Brody Roa – Garden Grove, CA – 502
3. Mike Spencer – Temecula, CA – 467
4. Jake Swanson – Anaheim, CA – 437
5. Austin Williams – Yorba Linda, CA – 407
6. Cody Williams – Yorba Linda, CA – 386
7. Logan Williams – Yorba Linda, CA – 343
8. Chris Gansen – Verdemont Heights, CA – 292
9. Richard Vander Weerd – Visalia, CA – 289
10. Matt McCarthy – Riverside, CA – 246
PAS Senior Sprint Point Standings
1. Richard McCormick – Canyon Country, CA – 236
1. Ed Schwarz – Santa Fe Springs, CA – 213
3. Rick Hendrix – Palmdale – 187
4. Danny Parrish – Fairbanks, AK – 155
5. Mike Trottochau – Acton, CA – 123
5. John Aden – Apple Valley, CA – 123
PAS Young Gun Sprint Car Point Standings
1. Hannah Mayhew – Acton, CA – 231
2. Joel Rayborne – West Covina, CA – 228
3. Daniel Anderson – Venice, CA – 114
4. Blade Hildebrand – Yucca Valley – CA – 113
5. Malyssa Perkins – Oak Hills, CA – 102