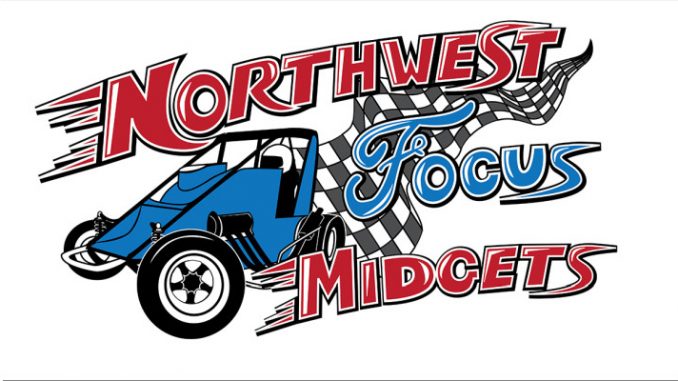 From Ben Deatherage
BANKS, Or. (July 21, 2017) – The Northwest Focus Midget Series heads to Sunset Speedway Park on Saturday, July 22nd. This will be the one and only appearance the series makes to the "Banks Bullring" in 2017 and is the second occasion they've visited the state of Oregon during the current campaign. It also marks the fourth race of the Summer Challenge and is the fifty-lap Heroes Race presented by Design 500 and Lady Eagle.
"After a weekend off, we are very excited for the upcoming event at Sunset Speedway, this will our fourth SUMMER CHALLENGE event for our series championship," commented series co-owner, Carla Stewart, "after our first event, Michael Vollbrecht #4 ran the POINTS LEADER bright yellow visor, after the second it was found on the Tristin Thomas #9t, and after the third race for the championship, you will see the POINTS LEADER visor on the #21j Ryan Cully race car this weekend."
The Northwest Focus Midget Series has visited SSP twice in the last two seasons. Chance Crum was victorious last year while Michael Vollbrecht got the job done in 2015.
Tristin Thomas has won the first two Summer Challenge events while Nate Vaughn picked up the huge win at Deming a few weeks ago. Thomas leads the overall win list this season, with five trips to victory lane, over Nick Evans' three and two-time victor Chance Crum. Colton Heath, Ross Rankine, and the aforementioned Nate Vaughn are the only drivers to have won once. Around twenty-five cars are expected to be in attendance including Indiana's Ross Rankine.
Along with the awesome series sponsors, the SUMMER CHALLENGE ten Race Series is powered by Bardahl, Central Welding, Demitris, and NWSprintcarhistory.com. NEW for this event is a special presentation/award for the 15th place finisher by BEAR4Life, fifteen is the age they lost their son to suicide, as a series we want to help share their story and to be aware, don't be shy asking questions, and tell someone if you think someone is at risk. We thank Kat and Dane Halbert for this very special award and their time spent with us on Saturday. Our drivers will have their NEW BEAR4Life Teen Suicide Prevention decals on their cars.
For all the latest news and info regarding the Northwest Focus Midget Series visit northwestfocusmidgets.com You can also get information via your favorite mobile device by checking out the Northwest Focus Midget Series page on Facebook or on Twitter @NW_focus. If you can't make it to the races you can LISTEN LIVE on the RBN RacinBoys Broadcast Network at www.racinboys.com. Also Northwest Focus Midget Series t-shirts, hoodies, and hats are available for purchase at the series trailer.