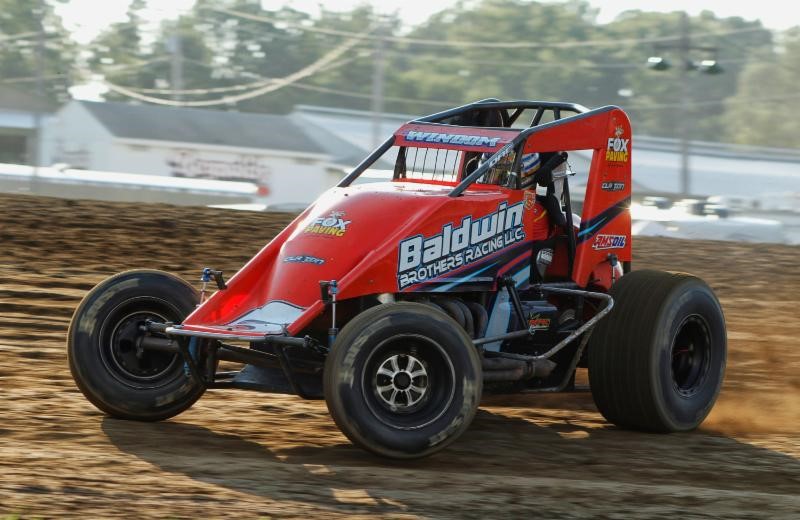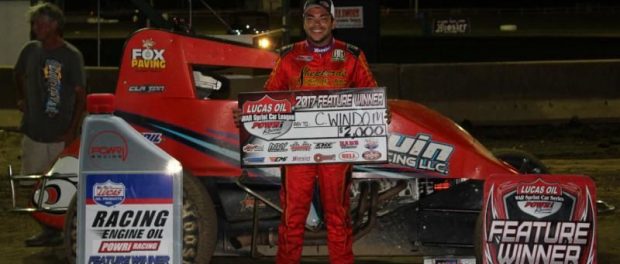 From Chad Buford
URBANA, Ill. (July 21, 2017) – Making his second start of the season with the POWRi Lucas Oil WAR East Sprints, Chris Windom made it two for two with a win Friday night at the Champaign County Fairgrounds Speedway fresh off of his NASCAR Truck start at Eldora Speedway this week.
The initial start would see the red flag fly as Chris Parkinson got upside down in turn 1. He was uninjured, but done for the evening.
When racing resumed, Clouser moved into the top spot as he was followed by Wissmiller. With a lap in the books, Cameron Knell would flip in turn four to bring out the red flag. He was uninjured. During the red flag, Wissmiller went to the pits with a mechanical issue, ending his evening.
Clouser set a quick pace as he was chased by Windom. With the pair working heavy lapped traffic, Windom would move past Clouser on lap fourteen. Clouser kept it close as the duo negotiated continued lapped traffic. Just behind them, Terry Babb was gaining on Clouser for the second spot and Justin Grant had worked his way into the fourth spot.
In the closing laps, Windom had a comfortable lead as the battle was for second between Clouser and Babb. Clouser was able to move past a slower car, while Babb made contact slowing him down and allowing Grant to move into third.
Windom picked up the win in his Baldwin Brothers Racing/Fox Paving/AmsOil Claxton-powered DRC. Clouser was a strong second in his Yokohama Tires/Clouser Auto Repair Claxton-powered Maxim. Grant was third in the Sam McGhee Motorsports/Mike McGhee and Associates/Brown Racing Solutions Foxco-powered Maxim. Babb was fourth in the KCBJ Motorsports/Faith Flat Out Minstries/APT Powder Coating Eagle with 5 Star power. Rounding out the top five was Landon Simon in the Mount Baker Vapor J&D powered DRC. Zach Daum was the Indy Race Parts Hard Charger as he moved from fourteenth to sixth. He was followed by Jerry Coons Jr. and points leader Korey Weyant. Rounding out the top ten were Bret Tripplett and Steve Thomas.
The POWRi Lucas Oil WAR East Sprints will be in action again on Saturday, July 22 at the Spoon River Speedway in Canton, IL.
POWRi Lucas Oil WAR East Sprint League
7/21/17
Champaign County Speedway – 26 cars
Hinchman Racewear Heat 1 – 8 laps
1. 20-Steve Thomas, Ludlow, IL (2); 2. 99-Korey Weyant, Springfield, IL (1); 3. Bret Tripplett, Lincoln, IL (3); 4. 56-Mitchell Davis, Auburn, IL (5); 5. 4L-Cameron Knell, Villa Grove, IL (4); 6. 65-Chris Parkinson, Gladstone, MO (6); 7. 37X-Dave Gross, Rochester, IN (7)-DNF
Wilwood Disc Brakes Heat 2 – 8 laps
1. 5-Chris Windom, Canton, IL (1); 2. 11G-Justin Grant, Ione, CA (2); 3. 21K-Jerry Coons Jr, Tucson, AZ (3); 4. 5D-Zach Daum, Pocahontas, IL (5); 5. 73-Willie Tackitt, Tuscola, IL (4); 6. 7-Bobby Logan, Rantoul, IL (6); 7. 31-Austin Sears, Macomb, IL-DNS
Bell Helmets Heat 3 – 8 laps
1. 24-Landon Simon, Brownsburg, IN (5); 2. 7S-Wade Seiler, Alton, IL (1); 3. 95-Tommy Rockwell, Towanda, IL (2); 4. E85-Dan Meyer, Tuscola, IL (3); 5. 31L-Buddy Lowther, Cincinnnati, OH (6); 6. 22S-Slater Helt, Harrisonville, MO-DNS
Schure Built Suspensions Heat 4 – 8 laps
1. Mario Clouser, Auburn, IL (1); 2. Mitch Wissmiller, Saybrook, IL (3); 3. 8D-Terry Babb, Decatur, IL (6); 4. 11X-James Lyerla, Hillsboro, IL (4); 5. 11-Mark Brucker, Elliott, IL (2); 6. 72-Al Thomas, Ludlow, IL (5)
B-Main – 12 laps
1. 4L-Cameron Knell (1); 2. 65-Chris Parkinson (5); 3. 73-Willie Tackitt (2); 4. 31L-Buddy Lowther (3); 5. 11-Mark Brucker (4); 6. 72-Al Thomas (7); 7. 37X-Dave Gross (8); 8. 7-Bobby Logan (6); 9. 31-Austin Sears-DNS; 10. 22S-Slater Helt-DNS
POWRi Lucas Oil WAR East Sprints A-Main – 25 laps
1. 5-Chris Windom (3); 2. 6-Mario Clouser (1); 3. 11G-Justin Grant (7); 4. 8D-Terry Babb (4); 5. 24-Landon Simon (6); 6. 5D-Zach Daum (14); 7. 21K-Jerry Coons Jr. (11); 8. 9 9-Korey Weyant (8); 9. 22-Bret Tripplett (10); 10. 20-S. Thomas (5); 11. 56-Mitchell Davis (13); 12. 95=Tommy Rockwell (12); 13. 11X-James Lyerla (15); 14. 7S-Wade Seiler (9); 15. E85-Dan Meyer (16); 16. 31L-Buddy Lowther (20); 17. 1-Mitch Wissmiller (1)-DNF: 18. 4L-Cameron Knell (17)-DNF; 19. 65-Chris Parkinson (18)-DNF; 20. 73-Willie Tackitt (19)-DNF