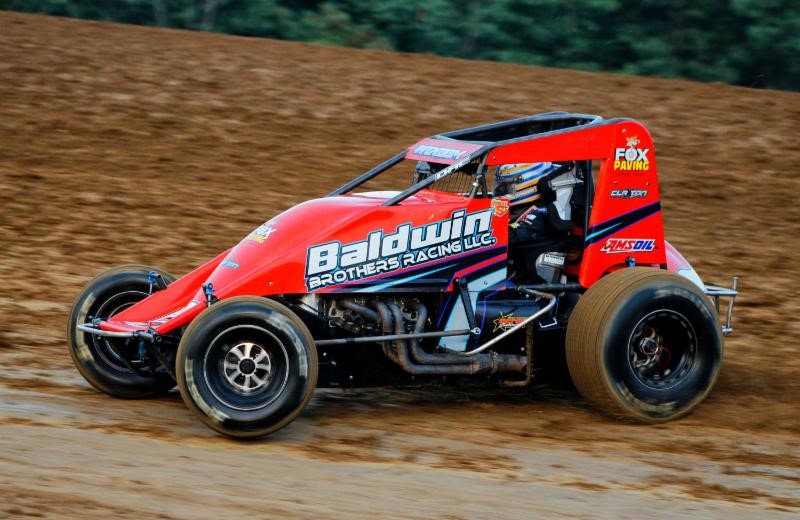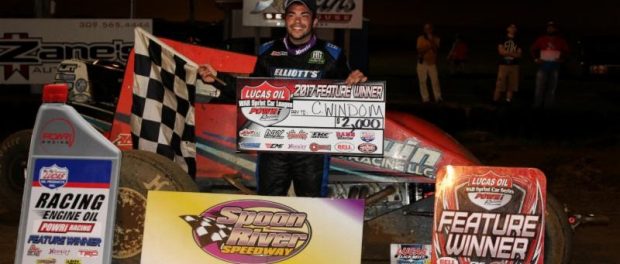 From Chad Buford
CANTON, Ill. (July 22, 2017) – Returning to his hometown, Chris Windom picked up his third win in three opportunities with the POWRi Lucas Oil WAR East Sprints on Saturday night at Spoon River Speedway. The race was a non-stop 25 lapper at top speed on the high-banked speed plant.
Korey Weyant moved into the lead at the start from the pole starting position with Landon Simon close behind. Weyant set a torrid pace as he led the first seven laps. Simon got a good run on lap eight to move past Weyant for the lead. Windom would also move by for second in the following laps.
Simon was up to the challenge as he moved through lapped traffic to keep the lead. That would change on lap twenty two as Simon slid up high in turn one as he attempted to lap a slower car. Windom would move underneath Simon and had the momentum down the backstretch to move into the lead.
Simon made one final attempt at Windom on the final turn of the last lap, but Windom would prove to be too strong in his J&D powered DRC. Mitch Wissmiller ran third in his Air Plus Contracting/SF Welding & Repair Chevy 410 powered Maxim after a good battle with Korey Weyant. Weyant would end up fourth in the Ealey Transportation/Weeble's Bar and Grill/Tosti's Transmission Eagle with Automotive Machine power. Rounding out the top five was Mario Clouser in his Yokohama Tires/Clouser Auto Repair Maxim with Claxton power. Terry Babb was sixth as he was followed by Slater Helt and Chris Parkinson. James Lyerla and Andy Baugh rounded out the top ten.
The POWRi Lucas Oil WAR East Sprints have three remaining events in 2017. They are in action next at Lincoln Speedway in Lincoln, Illinois on Friday, August 18. The following events are the much anticipated SPRINT MANIA on Friday and Saturday, October 6 and 7 at Fairbury American Legion Speedway, also known as FALS in Fairbury, Illinois.
The POWRi Lucas Oil WAR Sprint League is back on track next week for a two day weekend. Kicking off on Friday, July 28 at Valley Speedway in Grain Valley, Missouri followed by Springfield Raceway in Springfield, Missouri on Saturday, July 29.
POWRi Lucas Oil WAR East Sprint League
7/22/17
Spoon River Speedway – 16 cars
Hinchman Racewear Heat 1 – 8 laps
1. 5-Chris Windom, Canton, IL (2); 2. 99-Korey Weyant, Springfield, IL (7); 3. 65-Chris Parkinson, Gladstone, MO (5); 4. 22S-Slater Helt, Harrisonville, MO (6); 5. 31-Austin Sears, Macomb, IL (1); 6. 7S-Wade Seiler, Alton, IL (8); 7. 31L-Buddy Lowther, Cincinnati, OH (3); 8. 20-Steve Thomas, Ludlow, IL (4)-DNF
Wilwood Disc Brakes Heat 2 – 8 laps
1. 24-Landon Simon, Brownsburg, IN (4); 2. Mario Clouser, Auburn, IL (2); 3. 1-Mitch Wissmiller, Saybrook, IL (5); 4. 8D-Terry Babb, Decatur, IL (8); 5. 95-Tommy Rockwell, Towanda, IL (3); 6. 11-James Lyerla, Hillsboro, IL (7); 7. 6B-Andy Baugh, Mason City, IL (6); 8. 1T-Tyler Shoemaker, Clinton, IL (1)
POWRi Lucas Oil WAR East Sprints A-Main – 25 laps
1. 5-Chris Windom (3); 2. 24-Landon Simon (2); 3. 1-Mitch Wissmiller (6); 4. 99-Korey Weyant (1); 5. 6-Mario Clouser (7); 6. 8D-Terry Babb (4); 7. 22S-Slater Helt (8); 8. 65-Chris Parkinson (5); 9. 11-James Lyerla (10); 10. 6B-Andy Baugh (13); 11. 7S-Wade Seiler (9); 12. 95-Tommy Rockwell (11); 13. 31L-Buddy Lowther (14); 1T-Tyler Shoemaker (15); 15. 31-Austin Sears (12)-DNF; 16. 20-Steve Thomas (DNS)