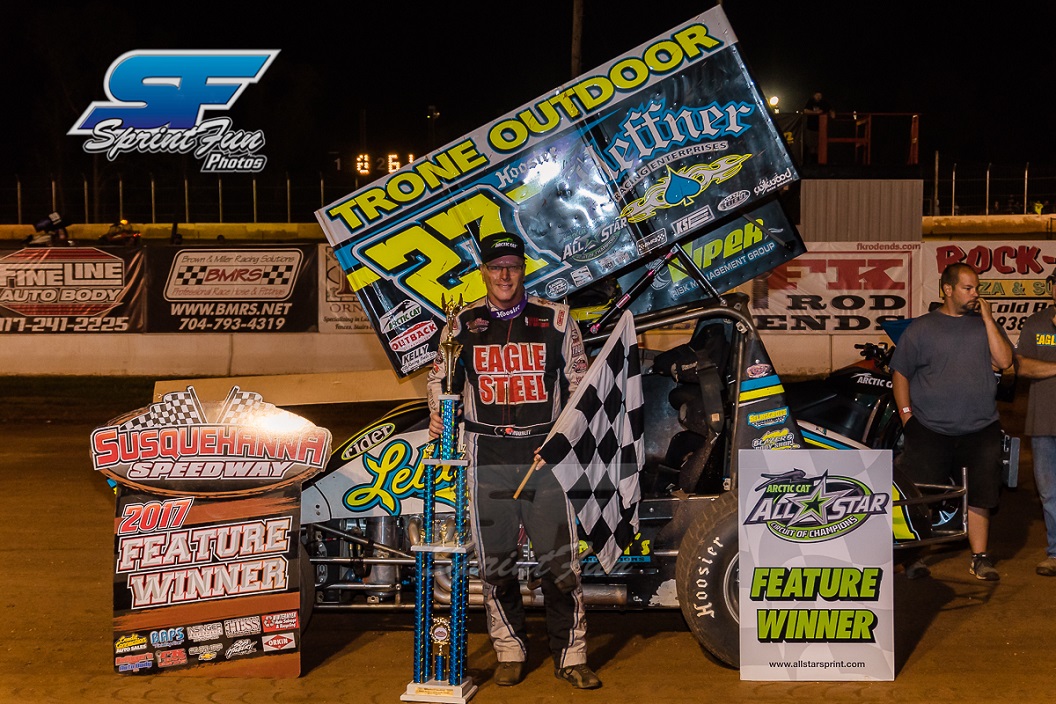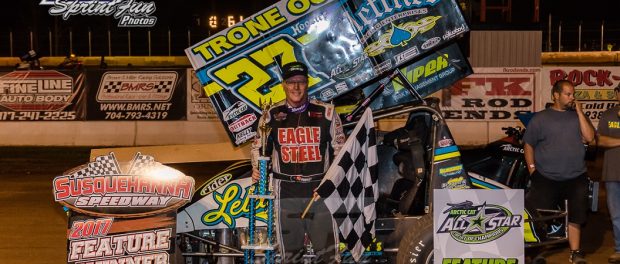 From Tyler Altmeyer
YORK HAVEN, Pa. – (August 20, 2017) – Snapping an Arctic Cat All Star Circuit of Champions winless streak that dates back to June 7, 2015, Spring Grove, Pennsylvania's Greg Hodnett made his return to Arctic Cat All Star victory lane by conquering the Salute to the Troops program at Susquehanna Speedway in York Haven, Pennsylvania. Hodnett, who led all 30 circuits on Sunday, nearly swept the entire evening program by earning victories during his respective heat race and dash before claiming his $5,000 payday. Lucas Wolfe chased Hodnett to the final checkers, followed by Lance Dewease, Anthony Macri and Brock Zearfoss.
"I'm really excited to be in this position," Greg Hodnett said in victory lane. "I can't thank Mike Heffner enough for what he does for me and this team. Most picture the 'Month of Money' as leading up to Knoxville, but for us here in Pennsylvania, the 'Month of Money' basically starts now. We have a lot of big paying shows coming up. This is a great way to head into the next few weeks."
Greg Hodnett and Anthony Macri led the starting grid to green on Sunday night at Susquehanna Speedway. Hodnett earned the initial advantage and controlled the first two circuits before yellow flags waved for the first time on lap three. Anthony Macri raced second as caution flags waved, followed by Lucas Wolfe and Brock Zearfoss.
Green flag conditions resumed with Hodnett returning to his post at the front of the field. Wolfe drove by Macri during the lap three restart to advance into second, still followed by Zearfoss and eventually Lance Dewease.
Hodnett led the field to traffic for the first time on lap eight which narrowed his near-two second advantage that was built just before the front-runners found the back of the pack. Wolfe used traffic to his benefit and started to pick away at Hodnett's lead while battling lapped cars. Despite Wolfe's ability drive through traffic, Hodnett's ability was just as impressive; keeping two to three lapped cars between himself and Wolfe as he navigated the bottom edge of the speedway.
As the lap counter continued to count up, Hodnett's lead continued to grow, expanding to just over two seconds by the midpoint of the 30-lap feature program, eventually reaching four seconds just before caution flags reappeared on lap 26.
The main event's second and final caution set-up a five-lap dash to the finish with Greg Hodnett still in control, followed by Lucas Wolfe, Anthony Macri and Lance Dewease. When green flag conditions waved, Hodnett returned to the bottom and wasted to time returning to a lengthy command, ultimately stretching the gap to nearly two seconds by the time the final checkers flew. Lucas Wolfe chased Hodnett to the flagstand, followed by Lance Dewease, Anthony Macri and Brock Zearfoss.
"It wasn't the best place to race to gain a lot of straightaway speed, but it got us where we are," Greg Hodnett said. "Traffic got kind of tricky there in some spots. There were a lot of guys racing pretty hard in front of us; chopping each other and driving all over the track. I'm just thankful to be up here."
With the four-race, Central Pennsylvania swing officially in the books, the Arctic Cat All Star Circuit of Champions will switch gears once again and prepare for an Atomic Speedway doubleheader on Friday and Saturday, August 25-26. The 3rd Annual Open Wheel Championship will headline action at the Chillicothe 1/4-mile, complete with two, full programs awarding a total winner's share equaling $15,000 over the course of two days.
Open Wheel Championship preliminary competition will award $5,000 on Friday evening, August 25, followed by a $10,000-to-win finale on Saturday, August 26. Those seeking additional news and notes should visit Atomic Speedway live on the Web at www.atomicspeedway.net.
Contingency Awards/Results: Susquehanna Speedway- Sunday, August 20, 2017:
Event: Justin Snyder's Salute to the Troops
EMi Driver's Meeting: 36 entries
State Water Heaters Warm-Ups: Lance Dewease – 15.396 seconds
Lincoln Electric Fast Qualifier: Ryan Smith – 15.317 seconds
Ford Performance Heat #1: Lance Dewease
All Pro Aluminum Cylinder Heads Heat #2: Brock Zearfoss
Hunt Brothers Pizza Heat #3: Anthony Macri
Daido Engine Bearings Heat #4: Greg Hodnett
JE Pistons Dash #1: Greg Hodnett
Kistler Racing Products Dash #2: Anthony Macri
Classic Ink USA B-Main: Sammy Swindell
Daido Engine Bearings Main Event Winner: Greg Hodnett
MSD Performance Hard Charger Award: Trey Starks (+9)
Outback Steakhouse A-Main 5th Place Finisher: Brock Zearfoss
Outback Steakhouse A-Main 10th Place Finisher: Max Stambaugh
Outback Steakhouse A-Main 15th Place Finisher: Tyler Esh
(Lincoln Electric, Daido Engine Bearings, MSD Performance, Outback Steakhouse: Need decal to qualify for contingency award)
Qualifying
Group (A)
1. 94-Ryan Smith, 15.317; 2. 69K-Lance Dewease, 15.729; 3. 39-Cory Haas, 15.79; 4. 49x-Tim Shaffer, 15.862; 5. 21-Brian Montieth, 15.996; 6. o7-Sammy Swindell, 16.235; 7. 44-Trey Starks, 16.255; 8. 17-Caleb Helms, 17.124; 9. 95-Hunter Mackison, 17.126
Group (B)
1. 1z-Dale Blaney, 15.792; 2. 35-Tyler Esh, 16.043; 3. 33M-Max Stambaugh, 16.108; 4. 3Z-Brock Zearfoss, 16.168; 5. 5T-Tyler Ross, 16.45; 6. 91-Kyle Reinhardt, 16.67; 7. 1080-Jordan Mackison, 16.853; 8. 5-Justin Barger, 16.935; 9. 33-Brent Matus, 18.191
Group ( C )
1. M1-Mark Smith, 16.228; 2. 24-Rico Abreu, 16.254; 3. 14-Tony Stewart, 16.296; 4. 39M-Anthony Macri, 16.356; 5. 2W-Glenndon Forsythe, 16.566; 6. 7C-Caleb Armstrong, 16.856; 7. 14G-Coleman Gulick, 17.227; 8. 51-John Garvin, 17.467; 9. 13-Brandon Matus, 17.828
Group (D)
1. 10H-Chad Kemenah, 16.159; 2. 48-Danny Dietrich, 16.303; 3. 22-Brandon Spithaler, 16.347; 4. 27-Greg Hodnett, 16.407; 5. 91f-Anthony Fiore, 16.842; 6. 99M-Kyle Moody, 17.159; 7. 24W-Lucas Wolfe, 17.264; 8. 8M-TJ Michael, 17.304; 9. 9C-Roger Campbell, 17.836
Heat #1 – Group (A) (10 Laps) – Top 5 Transfer
1. 69K-Lance Dewease [3]; 2. 49X-Tim Shaffer [1]; 3. 94-Ryan Smith [4]; 4. 39-Cory Haas [2]; 5. 21-Brian Montieth [5]; 6. O7-Sammy Swindell [6]; 7. 44-Trey Starks [7]; 8. 95-Hunter Mackison [9]; 9. 17-Caleb Helms [8]
Heat #2 – Group (B) (10 Laps) – Top 5 Transfer
1. 3Z-Brock Zearfoss [1]; 2. 1Z-Dale Blaney [4]; 3. 33M-Max Stambaugh [2]; 4. 35-Tyler Esh [3]; 5. 5T-Tyler Ross [5]; 6. 91-Kyle Reinhardt [6]; 7. 5-Justin Barger [8]; 8. 1080-Jordan Mackison [7]; 9. 33-Brent Matus [9]
Heat #3 – Group ( C ) (10 Laps) – Top 5 Transfer
1. 39M-Anthony Macri [1]; 2. M1-Mark Smith [4]; 3. 24-Rico Abreu [3]; 4. 7C-Caleb Armstrong [6]; 5. 14-Tony Stewart [2]; 6. 14G-Coleman Gulick [7]; 7. 2W-Glenndon Forsythe [5]; 8. 51-John Garvin [8]; 9. 13-Brandon Matus [9]
Heat #4 – Group (D) (10 Laps) – Top 5 Transfer
1. 27-Greg Hodnett [1]; 2. 24W-Lucas Wolfe [7]; 3. 48-Danny Dietrich [3]; 4. 10H-Chad Kemenah [4]; 5. 99M-Kyle Moody [6]; 6. 8M-TJ Michael [8]; 7. 91F-Anthony Fiore [5]; 8. 9C-Roger Campbell [9]; 9. 22-Brandon Spithaler [2]
Dash #1 (4 Laps)
1. 27-Greg Hodnett [1]; 2. 3Z-Brock Zearfoss [2]; 3. 69K-Lance Dewease [5]; 4. 49X-Tim Shaffer [3]; 5. 1Z-Dale Blaney [4]
Dash #2 (4 Laps)
1. 39M-Anthony Macri [1]; 2. 24W-Lucas Wolfe [3]; 3. 94-Ryan Smith [2]; 4. 39-Cory Haas [4]; 5. M1-Mark Smith [5]
B-Main (12 Laps) – Top 4 Transfer
1. O7-Sammy Swindell [1]; 2. 91-Kyle Reinhardt [5]; 3. 44-Trey Starks [2]; 4. 2W-Glenndon Forsythe [4]; 5. 22-Brandon Spithaler [3]; 6. 91F-Anthony Fiore [6]; 7. 17-Caleb Helms [9]; 8. 5-Justin Barger [8]; 9. 95-Hunter Mackison [10]; 10. 14G-Coleman Gulick [11]; 11. 1080-Jordan Mackison [7]; 12. 8M-TJ Michael [12]; 13. 51-John Garvin [13]; 14. 9C-Roger Campbell [15]; 15. 33-Brent Matus [16]; 16. 13-Brandon Matus [14]
A-Main (30 Laps)
1. 27-Greg Hodnett [1]; 2. 24W-Lucas Wolfe [4]; 3. 69K-Lance Dewease [5]; 4. 39M-Anthony Macri [2]; 5. 3Z-Brock Zearfoss [3]; 6. 49X-Tim Shaffer [7]; 7. M1-Mark Smith [10]; 8. 48-Danny Dietrich [13]; 9. 1Z-Dale Blaney [9]; 10. 33M-Max Stambaugh [11]; 11. 10H-Chad Kemenah [15]; 12. 7C-Caleb Armstrong [16]; 13. 21-Brian Montieth [17]; 14. 44-Trey Starks [23]; 15. 35-Tyler Esh [14]; 16. 91-Kyle Reinhardt [22]; 17. 99M-Kyle Moody [20]; 18. 14-Tony Stewart [18]; 19. 17-Caleb Helms [25]; 20. O7-Sammy Swindell [21]; 21. 5T-Tyler Ross [19]; 22. 94-Ryan Smith [6]; 23. 22-Brandon Spithaler [26]; 24. 39-Cory Haas [8]; 25. 24-Rico Abreu [12]; 26. 2W-Glenndon Forsythe [24] Lap Leaders: Greg Hodnett [1-30]
Current Arctic Cat All Star Circuit of Champions Standings (August 20, 2017):
1. Chad Kemenah – 4792
2. Ryan Smith – 4456
3. Caleb Armstrong – 4344
4. Max Stambaugh – 4040
5. Caleb Helms – 3878
6. Brandon Spithaler – 3751
7. T.J. Michael – 3741
8. Tyler Esh – 3677
9. Brandon Matus – 3522
10. Tim Shaffer – 3462