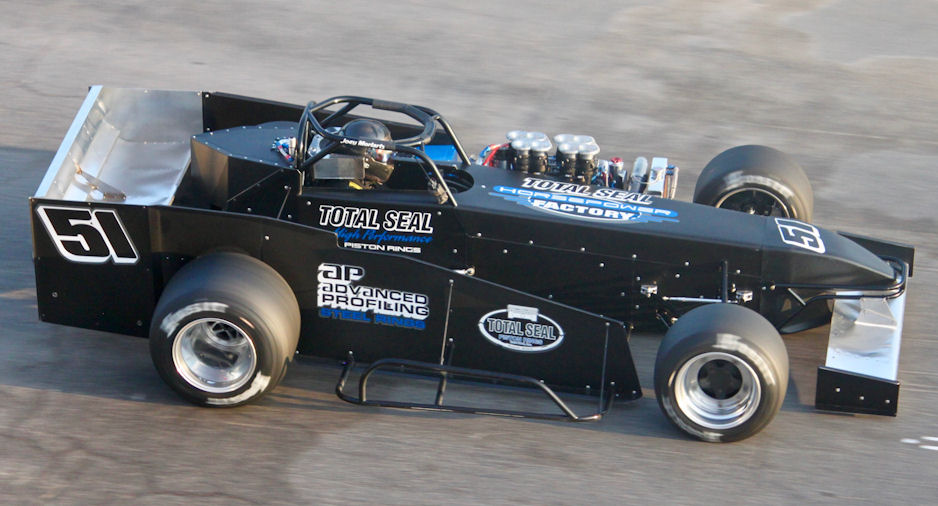 By Camden Proud
OSWEGO, NY (August 30, 2017) –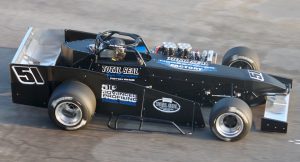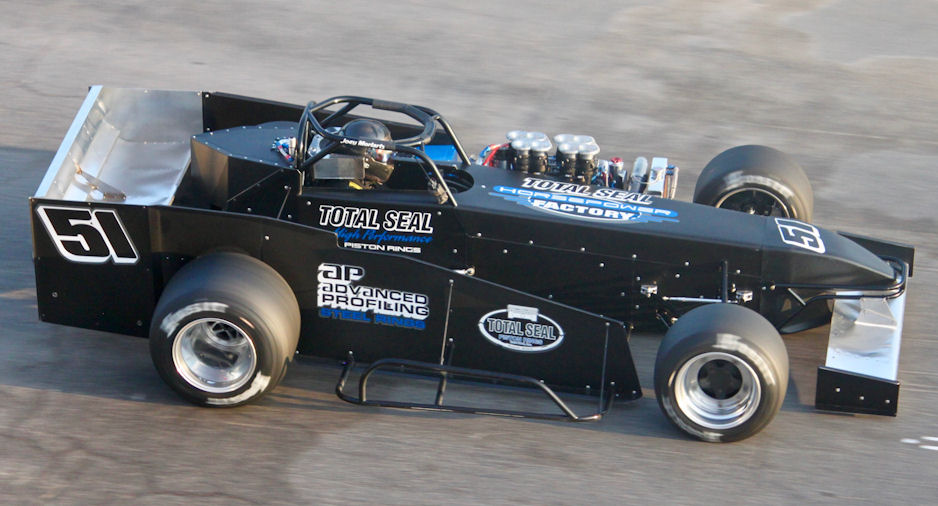 , who posted a 16.371 second lap in the John Nicotra owned No. 51 to be driven this weekend by Joey Moriarty on Wednesday evening.
Other cars that have taken time so far this week include Jason Spaulding with his ISMA Supermodified and rookie Addison Bowman in the No. 12 Small Block Super on Monday, Pat Lavery with the Nicotra Racing No. 6 Supermodified on Tuesday, along with Supermodified drivers Bill Sharkey and Aric Iosue, who were joined by Sitterly and once again the Bowman SBS, this time driven by former track public relations director Dan Kapuscinski on Wednesday.
Sitterly got faster each session as the evening went on with the Hawk Chassis IFS racer recently purchased by Nicotra, starting out in the 16.9 bracket, before eventually working his way down to a 16.5 and then a blistering 16.371 second lap with newer rubber.
Second on the speed charts for the Supers so far this week is his teammate Pat Lavery, who posted a 16.7 lap on Tuesday afternoon. Iosue got the Graham Racing No. 11 down to a 16.852, while Sharkey posted a 17.589 with the Shark Motorsports No. 71 early on Wednesday evening.
In his return to Small Block Super action for the first time since 2010, Kapuscinski put up a 19.355 lap, besting Bowman's handful of 19.5s put together earlier in the week. 'Danny K' will attempt to qualify for the 26th annual Bud Light Classic 75 on Friday evening.
Spaulding was also on the track several times Monday afternoon, with his fast time being a 16.400 in the Jakes Automotive No. 23 winged Super.
Testing will really get busy Thursday morning, afternoon and evening with two sessions scheduled, one from 11:30am to 3:30pm, and then again from 4pm to 8pm.
Signed up for tomorrow's morning session are the Supermodifeds of Joey Payne, Dan Connors Jr and Brian Sobus. They will be joined by the Small Block Supermodfieds of Ray Sand Jr and veteran Anthony Losurdo, who will be making his first appearance of the season driving the Mark Castiglia owned No. 69.
On Thursday afternoon, pavement star Bobby Santos will be on hand for testing with the Graham Racing No. 21 as Santos looks to compete in his fourth consecutive Bud Classic 200. Curran Racing teammates Jerry Curran and Jeff West will look for track time as well.
In the Small Block Supermodifieds, Tyler Thompson will be in attendance with his recently established ride for the Classic, as the dirt racing campaigner will wheel a former Kreig Heroth Racing No. 04 recently purchased by Jason Simmons. Scott Shafer and Jon Tesoriero, who will be driving the former Dennis Rupert No. 99, will also test from 4-8pm.
Official Classic Weekend action gets started on Friday, September 1 when Central New York Chevy Dealers 'Pole Day' qualifying will take place for the Supermodifieds and Small Block Supermodifieds ahead of the Bud Light SBS Classic 75 and Budweiser International Classic 200 to be held this Sunday, September 3. A 'Party in the Pits' featuring a performance by Dirtorad Ruckus will take place at the infield stage to conclude Friday's events. Saturday's program will feature the return of the NASCAR Whelen Modified Tour plus the ISMA Supernationals 60 for the winged Supermodifieds.
For a full Classic Weekend schedule and ticketing information, be sure to visit online at OswegoSpeedway.com or phone a box office representative at (315)-342-0646. You can also FOLLOW on Twitter @OswegoSpeedway or LIKE on Facebook at Facebook.com/OswegoSpeedway.
About Oswego Speedway: Oswego Speedway, a sports entertainment company, is a 5/8 mile semi-banked pavement racing oval located off the shores of Lake Ontario in scenic Oswego, NY. Oswego Speedway has been a continuously run weekly racing venue since August, 1951. The premier open-wheel pavement short track cars in the world, Supermodifieds, run weekly at Oswego Speedway making Oswego the only weekly Supermodified racing venue in the world. The Small Block Supermodifieds accompany the full blown Supers on a weekly Saturday night schedule which runs from May through September. Oswego Speedway is mentioned in racing circles as the "Indy of the East," as no fewer than a dozen past and present competitors have competed at the famed Indianapolis Motor Speedway including Mario Andretti, arguably the greatest driver of all time, two-time Indy 500 champion Gordon Johncock, along with former International Classic Champions Bentley Warren, Joe Gosek, and Davey Hamilton.