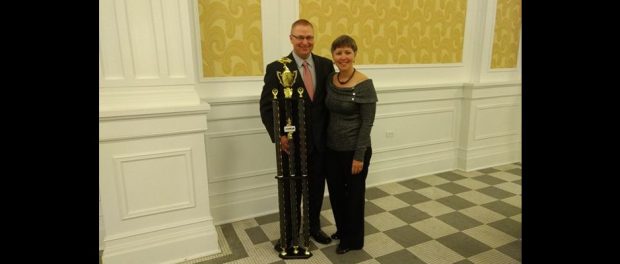 By T.J. Buffenbarger
(November 7, 2017) — With all of the races in the books for the 2018 season in Michigan the "rubber chicken" circuit has heated up last weekend with with various banquets across the mitten.
Notebook
The MTS banquet held at the Durant Ballroom was a very nice looking affair. While many racing banquets seem underdressed it was refreshing to see MTS champion Mike Galadja donning a nice suit for the occasion. The hall itself looks like a great venue for such an affair. MTS also had the top competitors from the Midwest Non-Wing Sprint Car series accept their awards as well.
Butler Motor Speedway also had their banquet honoring their top drivers of 2017 on Saturday.
Sunday's Michigan Motorsports Hall of Fame induction banquet Sunday in Mt. Pleasant appeared to have a nice turnout with nearly 500 in attendance. Congratulations to all of the inductees and award winners from that program. Last week I had the opportunity to interview announcer and inductee for 2017 Mark Cowan. Check that interview out by clicking here.
Next up on the banquet circuit is the Engine Pro Sprints on Dirt presented by ARP banquet on Saturday November 11th at the Holiday Inn in Battle Creek, Michigan.
One of the swankiest banquet affairs of the racing season is hosted by the annual Michigan Auto Racing Fans Club The 52nd annual event will take place Saturday January 20th at DeCarlo's Banquet and Convention Center in Warren, MI. The 2018 date does not conflict with the Chili Bowl Nationals, and I am long overdue to check out this event. Contact MARFC president Bill Barnhardt at president@marfc.org for more information.
Things are starting to take shape for next season with a handful of dates being released. Berlin Raceway announced two sprint car events featuring the Must See Racing sprint cars on May 12th and June 18th. Must see also released a first draft of their 2018 schedule featuring dates at Owosso Speedway June 30th and August 4th along with a date at Birch Run Speedway on May 11th leading into the Berlin event.
Kalamazoo Speedway will go down to one sprint car event in 2018 featuring the Auto Value Bumper to Bumper Super Sprints on June 1st.
In our last column we mentioned Hartford Speedway being for sale. The Dibble family did want us to pass along that if the track is not sold they will operate the facility in 2018. With that in mind one would be hard pressed to find that nice of a facility with a following already built up by the Dibbles to operate.
Dan McCarron is taking part in an interesting series in conjunction with Attica Raceway Park featuring his team's preparations for the upcoming season. You can follow this behind the scenes look by clicking here.