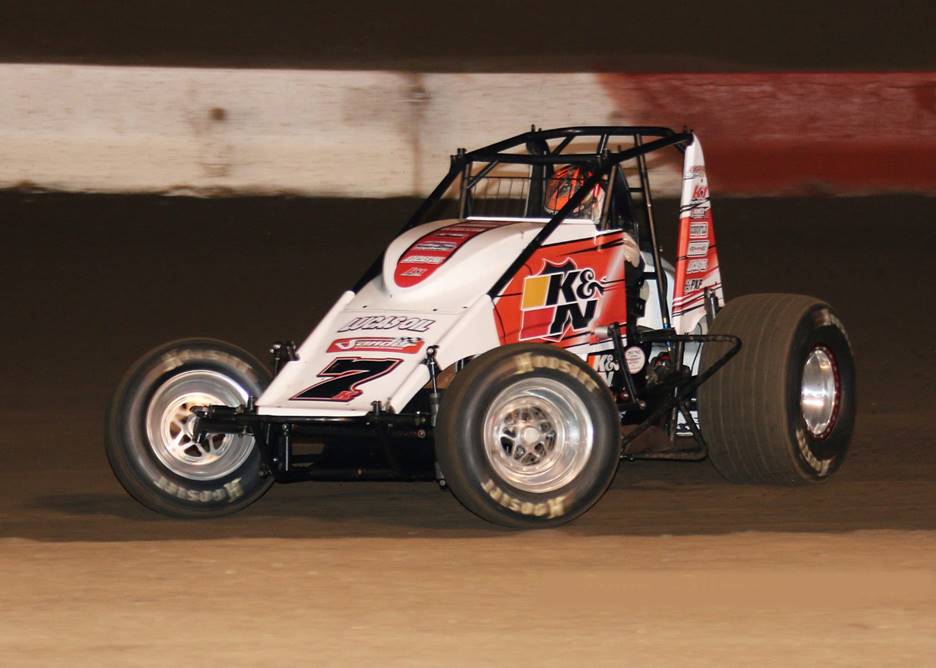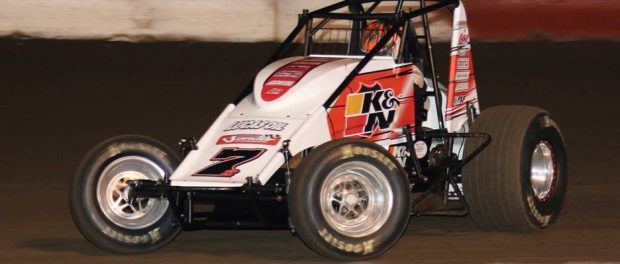 From Scott Daloisio
VENTURA, Ca. (November 7, 2017) — In a late deal, two Southern California racing champions, Cory Kruseman of Ventura and Ronnie Gardner of Riverside, have teamed up for this week's 22nd Annual "Budweiser Oval Nationals presented by All Coast Construction" at Perris Auto Speedway. The three-day race, which begins on Thursday, November 9th, will culminate with a $25,000.00 to win 40-lap main event on Saturday, November 11th.
The last second pairing came about when Arizona's Landon Cling, who was slated to drive for Kruseman at the Ovals, flipped and suffered a concussion during the running of the "Western World Championships" at the Arizona Speedway last Saturday night. With Cling unable to compete this weekend, there was only one driver that Kruseman wanted to call and that was Gardner, who is close to sewing up his fifth consecutive USAC Western Midget Championship.
"It was a no brainer (to call Gardner) as he does a good job at Perris and always tries real hard," said Kruseman, who won the Oval Nationals driving for Tony Stewart in 2003 and 2004. "He almost won a main event there earlier this year and he respects the equipment he drives. I am looking forward to working with him this weekend."
Gardner, a 29-year-old who got engaged two months ago, was not looking forward to missing the Oval Nationals for the second year in a row. Last year the team he was driving for was forced to scratch just before the race and this year the team did not enter a car. Seeing he did not have a ride, Perris Auto Speedway officials approached him last Thursday and asked if he would like to be one of the infield announcers for the race. He eagerly jumped at the opportunity, but it came with one condition. If he received a phone call offering up a ride, he would have to accept it. That call came Monday night.
"I was looking forward to being on the mic, but when the ride in one of Cory's cars came up, I had to take it," Gardner said. "I am excited. He called me Monday night and asked if I wanted to drive his car. Growing up, my uncle owned cars with Rickie Gaunt and Troy Rutherford driving for him. But, Cory was always my racing hero."
Having never driven one of Kruseman's cars before, Gardner, whose racing roots run deep as his grandfather on his mom's side, Ronnie Duman, finished sixth in the 1968 Indianapolis 500 and the Gardner's on his father's side of the family have been racing for nearly 100-years, got a handful of laps in the car on Wednesday night at the Oval Nationals practice.
"I want to do good for him (Kruseman), but it is hard getting into a car you have never driven before and competing against the best in the country," Gardner said. "I plan on making the main every night and have hopes of finishing in the top ten in all three races."
In addition to Kruseman's guidance in the #7K car for the Oval Nationals, Gardner will also have Harlan Willis, who was Kruseman's car owner when they combined to win the 2001 SCRA championship, and longtime Kruseman crew chief Mike Nigh, calling the shots in the pits for the big weekend.
In addition to wearing his hat as car owner at the "Oval Nationals," Kruseman, who is one of the most decorated open wheel drivers in the last half century, will also be the "Grand Marshal" of the event and will compete in the inaugural demonstration race for the Yamaha R1 DT cars.
This week's Gardner/Kruseman effort in the Oval Nationals is being sponsored by Lucas Oil, Sander Engineering, K&N and K1 Race Gear.
Spectator gates will open at 4:00 P.M. with racing at 7:00 for the Thursday and Friday portions of the Oval Nationals. On Saturday, gates will open at 3:00 and racing will commence at 6:45. Fans wishing to attend can find Perris Auto Speedway at 18700 Lake Perris Drive in Perris (92571). The track website is available at the following link http://perrisautospeedway.com/ and the office phone number is (951) 940-0134.