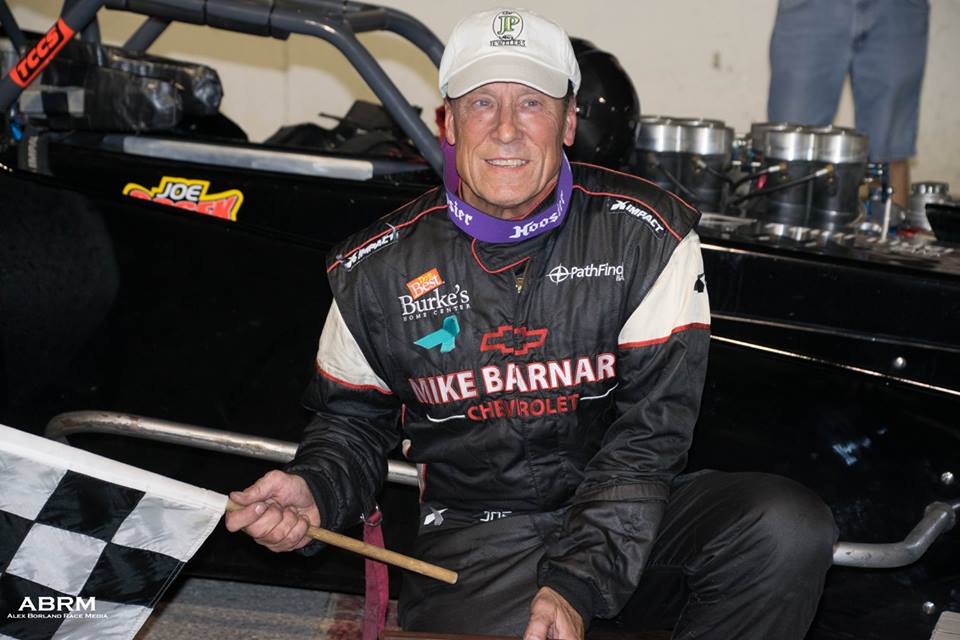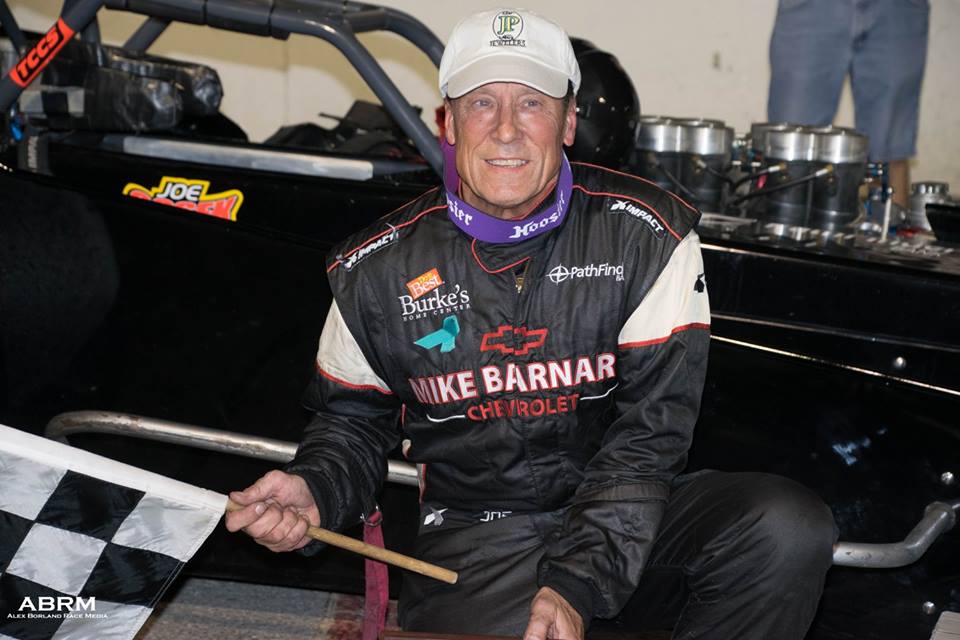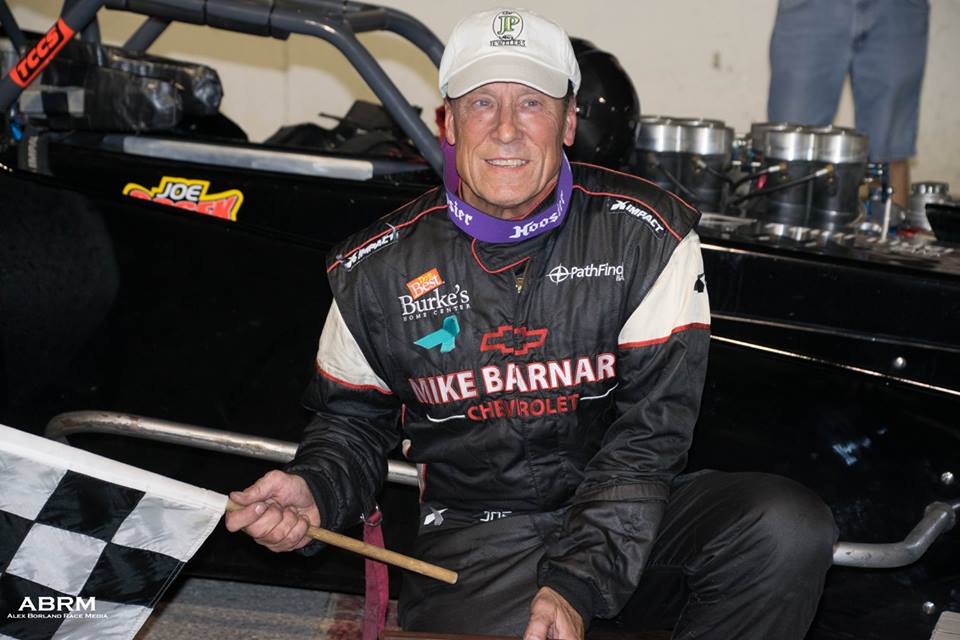 From Camden Proud
OSWEGO, NY (November 9, 2017) – It had been since 2011 since the all-time points system for Oswego Speedway's Supermodifieds had been updated, but that changed earlier this week and the new top five provided an interesting shift as well as a new all-time points leader for the first time since the mid-1990s.
Joe Gosek, a full-time Oswego campaigner for the past 35-plus seasons, has now surpassed Eddie Bellinger Jr. as the all-time Supermodified points leader through the 2017 season. Gosek was 4th at the conclusion of 2011, but has since passed three all-time greats in Jim Shampine, Steve Gioia Jr, and Bellinger to take the lead with an astounding 32,606 career points, besting Bellinger's 32,405.
Gosek has 44 career wins at Oswego including three Budweiser International Classic 200s, plus two track championships and several 'Mr. Supermodified crowns' to boot with his legendary No. 00. As of right now, it appears Gosek's 32,600 point mark may never be broken and Joe will only add to that in 2018.
At almost 62 years-old, Gosek is still very much winning, taking his 44th win at Oswego in the 45-lap 'Retro Night' feature this year and he shows no signs of slowing down. "I still think I have a few more good years in me," he said.
Seven time track champion Otto Sitterly, first a champ in 2006 and Supermodified rookie back in 2004, was the big mover and shaker overall thus far. Sitterly, of Canajoharie, moved from the 31st spot with 9,400 points prior to 2012 right up to 13th with nearly 15,000 career points collected. Since 2012, Sitterly scored three more track championships to add to his total with car owner John Nicotra.
The 'Zero Hero,' Tim Snyder, an Oswego rookie in 1996, also gained a considerable amount of points and while the Northfield, N.H. driver only moved up one spot, it was to crack the top twelve. Snyder was 13th with some 13,400 points after 2011 and the 2001 Budweiser International Classic champion has competed just about full-time in every season since with Snyder now moving into 12th all-time with 16,732 points, blowing him past Mark Letcher. With Snyder planning to compete full-time in 2018, he is on pace to best Ron Wallace, Mike Muldoon Sr. and Nolan Swift to move into tenth all-time just behind Norm Mackereth, who he may have the chance to pass next season as well.
While Sitterly and Snyder made notable gains already, there are other drivers further back in the top 100 such as Bob Bond, Hal LaTulip, Bill Sharkey, and Ray Graham that will all see considerate point increases as well.
With Gosek officially emerging as the new all-time leader, the remainder of the list, which will now include roughly 600 unique names since 1962, continues to be updated and will be posted in its entirety at OswegoSpeedway.com in the near future.
"We are happy to finally begin the tedious process of updating our all-time stats for Supermodified fans to see," said speedway public relations director Camden Proud. "Our all-time points system is calculated using a different system than the current one implicated at the track, so this tends to take a considerable amount of time. Soon you will be able to see more statistics than ever at OswegoSpeedway.com including this full-Supermodified all-time points list, which will see some major shifts when it is all said and done. Until then, all of us at the speedway congratulate Joe Gosek on his accomplishment."
New lists contributed by Dave Rice of Oswego such as All-Time SBS Car Owner Wins, Feature Only Points and Chassis Wins have all been added to the track's website while Supermodified, SBS and Super Stock all-time wins and top fives have been updated as well. Several more stats will be added throughout the offseason.
The full 2018 schedule for Oswego Speedway has been announced with its annual open practice session set to be held on Saturday, May 19 before a Memorial Day Weekend spectacular officially kicks off the season one week later on Saturday, May 26.
For more information on Oswego Speedway, be sure to visit online at OswegoSpeedway.com. You can also FOLLOW on Twitter @OswegoSpeedway or LIKE on Facebook at Facebook.com/OswegoSpeedway.
Top 20 All-Time Oswego Speedway Supermodified Point Standings (1962-2017):
Joe Gosek – 32,606
Eddie Bellinger Jr – 32,405
Steve Gioia Jr – 29,806
Jim Shampine – 28,317
Bentley Warren – 25,993
Warren Coniam – 21,792
Jamie Moore – 18,575
Norm Mackereth – 17,548
Nolan Swift – 17,213
Mike Muldoon – 17,147
Ron Wallace Sr – 16,958
Tim Snyder – 16,732
Otto Sitterly – 14,912
Mark Letcher – 13,687
Doug Didero – 13,156
Bobby Stelter – 12,805
Danny Soule – 11,858
Todd Stowell – 11,752
Brian Herb – 11,345
Kempton Dates – 11,146