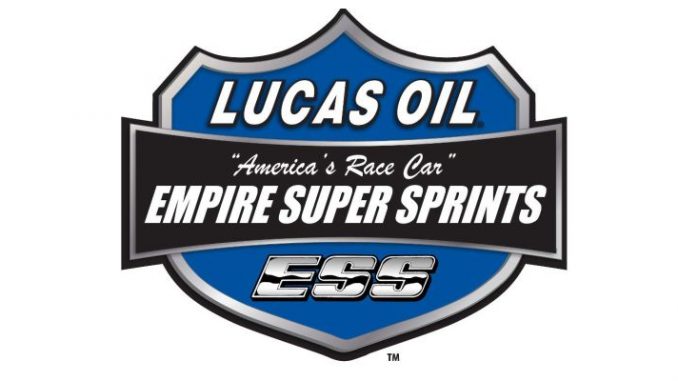 From Dean Reynolds
VERNON, NY (November 22, 2017) – It was special night for Brewerton NY's Jason Barney as on Saturday night, November 11th at the Vernon Downs Casino and Hotel he received all his accolades by becoming the Lucas Oil Empire Super Sprint (ESS) Champion. Knocking on the door for several seasons, Barney put together a flawless campaign to claim his first ever ESS title.
A record payout was distributed to 25 different drivers of over $87,000 of which just over $55,000 was in cash, $15,000 in the Lucky Giveaway Program, $3,000 Mach 1 Frame, $3,000 in Lucas Oil Products with the rest made up of contingency programs.
For the driver of the familiar #87 sprint car where he does much of the fabrication himself, not only did he win the overall Lucas Oil crown, but he also was the NAPA Auto Parts US Tour champion, claimed the 1000 Islands RV Centre Canada Tour, the Insinger Performance Hard Charger crown and the Danny Willmes Enterprises Lap Leader crown. His take home in cash and prizes was $10,680.
Other drivers also claiming point titles and honored on the night were Danny Varin for his Donath Motorworx CNY Speedweek title and also winning the SUNY Canton Series. Steve Poirier won the Quebec Series which is sponsored by his family Fondations 4 Saisons with Dave Axton claiming the Cobra Coaches Dash Series Crown.
Several special awards filled the night with Matt Billings getting the Lucas Oil ESS Outstanding New Comer Award at $500 Cash. The $500 Lane's Yamaha Rookie of the Year was won by Brett Wright, The Northeast Racing Parts Auction and Trade Show Most Improved driver at $500 was won by Chad Miller. Shawn Donath was picked as the Mach 1 Chassis Hard Luck Award winner where he received a frame from Mach 1. The Lucas Oil ESS Mechanic of the Year Award voted on by the teams was won by Jason Barney's crew chief Brandon Ahrens.
The annual John Zentner Memorial Award was given to Chad Miller and well received by the filled banquet room. Miller hit over 90% of the shows with many times it was just him and his mom as the crew.
The 2017 Empire Super Sprint Hall of Fame class was made up of Tom Taber and Bobby Parrow. Both drivers claimed many top point standings placings and also amassed 22 career ESS victories. Each driver received a well deserved standing ovation.
Jason Barney and Paul Kinney were recognized for their perfect attendance and each A-Main winner in 2017 was also honored.
Special recognition was given to point fund and major cash sponsors during the season which consisted of Lucas Oil, Hoosier Racing Tire, Donath MotoWorx, Mach 1 Chassis, Einstein Construction Group, Scorpion Security Products, E&V Energy, SUNY Canton, 1000 Islands RV Centre, Cobra Coaches, Fondations 4 Saisons, Insinger Performance Fuels/Sunoco Racing Fuels, Engler Machine and Tool, Car Mate Trailers, Lacaillade Masonry, Ohsweken Speedway, Shuttleworth Asphalt Sealing, Fondations 55 and Danny Willmes Enterprises.
Matt Thomas from Thomas Racing Videos produced and outstanding CNY Speedweek video for the second year in a row and also for the first time, a special champion video.
The annual rules meeting that preceded the awards banquet saw no rule changes with Hoosier Racing Tires voted in for three more years with the same compounds.