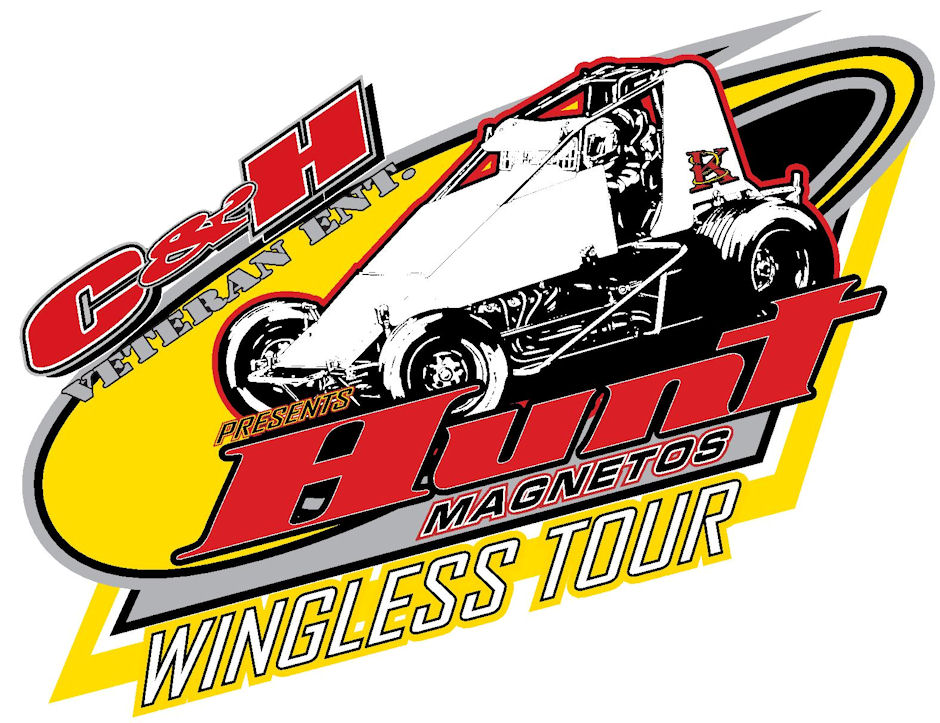 From Gary Thomas
MARYSVILLE, Ca. (February 19, 2018) — The Sherm and Loree Toller Memorial has grown to be the traditional Northern California Sprint Car kick-off and for the second consecutive year the C&H Veteran Ent. presents Hunt Magnetos Wingless Tour will be a part of the show this Saturday February 24 at Marysville Raceway.
This weekend's event opens the second C&H Veteran Ent. presents Hunt Magnetos Wingless Tour season under the Glad Enterprises banner with promoter Rick Faeth at the helm. He spoke about opening the year on Saturday. "Having one of MRP's signature events such as the Toller Memorial for the second straight year is great for our wingless tour. I'd like to thank Dennis Gage for hosting us and look forward to kicking-off what should be a great season."
The C&H Veteran Ent. presents Hunt Magnetos Wingless Tour this season will once again pay a minimum of $1,200-to-win & $175-to-start the Pit Stop USA A-main each night. The middle portion of the purse has also been increased thanks to support from Transport Products Unlimited.
The tour champion will be awarded a solid $1,500 from a point fund that pays out the top-10 at season's end. There will be no entry fees and no membership fees for competitors to run tour events. A solid contingency program is also in place with numerous companies lending their support each night.
Last season was dominated by Tracy's Austin Liggett and car owner Brian Sperry, who picked off five wins en route to the C&H Veteran Ent. presents Hunt Magnetos Wingless Tour title. Liggett however, will not be chasing points this year, leaving the championship battle wide open.
The top-five in the standings last year was filled out by Brent Steck, Klint Simpson, Casey McClain and Troy Degaton. Several other drivers will look to battle their way to the front of the field at the opener including reigning Toller Memorial winner Cody Spencer, along with Terry Schank Jr., Kalib Henry, Sparky Howard, Angelique Bell, Scott Hall, Barry Pries Jr., Trey Walters, Chris Kerr, Marcus Smith, Tim Sherman Jr. and many more.
The Sherm and Loree Toller Memorial honors the late husband and wife, who were part of the Marysville Raceway family for years. Sherm handled the infield reporting duties at the speedway, while Loree was a scorekeeper in the booth. Prior to that both also worked at the now defunct Ernie Purcell Speedway in Grass Valley. Also on the card this Saturday in Marysville to help open the Nor-Cal campaign will be Winged 360 Sprint Cars and the RaceSaver 305 Sprints.
Marysville Raceway Announcer and Public Relations Director Troy Hennig talked about having the C&H Veteran Ent. presents Hunt Magnetos Wingless Tour as part of the Sherm and Loree Toller Memorial on Saturday, "We are definitely excited to host the season-opener for the tour this weekend in Marysville. What has taken place the last year and half with the series has been all positive. Having the Hunt Wingless cars alongside the Winged 360's and RaceSaver Sprints will make for a great show at the Toller Memorial and we hope all the fans will come out to support the event."
All seating will be general admission this Saturday with adult tickets $17; juniors 12-15, seniors 62+ and military with ID will be $14; children 6-11 are $6 and five and under will be free. A family pack featuring two adults and two juniors (or three children) will be available for $50. The front gate will open at 5pm, with cars on track shortly after and racing to follow. A full program of West Coast Race Parts qualifying, heat races, the Santamauro Racing Products dash and Pit Stop USA A-main will all be on tap.
The Marysville Raceway is located in Marysville, California. From the Junction of HWY 70 and HWY 20 (12th Street), go a quarter-mile east on HWY 20. Turn south onto Ramirez Road for 1.5 miles. The physical address is 1468 Simpson Ln, Marysville, CA 95901. More info on the track can be viewed at www.marysvilleraceway.com
C&H Veteran Ent. presents the Hunt Magnetos Wingless Tour is proudly brought to you by C&H Veteran Ent., Hunt Magnetos, Pit Stop USA, Transport Products Unlimited, West Coast Race Parts, SpeedMart, Benic Enterprises, Santamauro Racing Products, Davis Motorsports of Reno, Air One Hvac Systems and TW Racefotos.
Information on the C&H Veteran Ent. presents Hunt Magnetos Wingless Tour can be found by visiting http://www.petaluma-speedway.com/ and clicking on the Hunt Series tab. You can also like the tour on Facebook at https://www.facebook.com/joehuntwingless/?pnref=lhc – After beginning in 2010 this season marks the ninth campaign for the traveling Wingless Spec Sprint tour.
If you're interested in joining the 11-race tour as a marketing partner please contact Scott Hall at scotthallracing@gmail.com