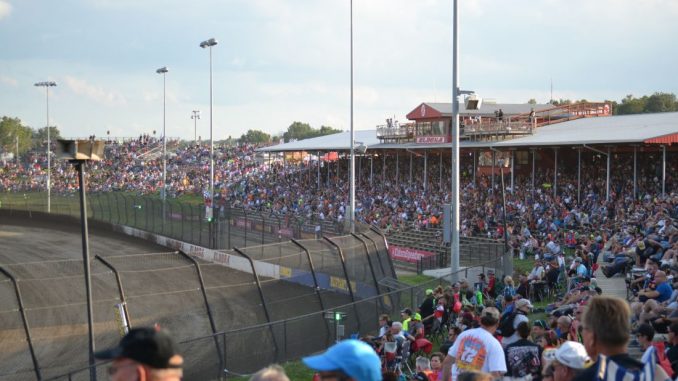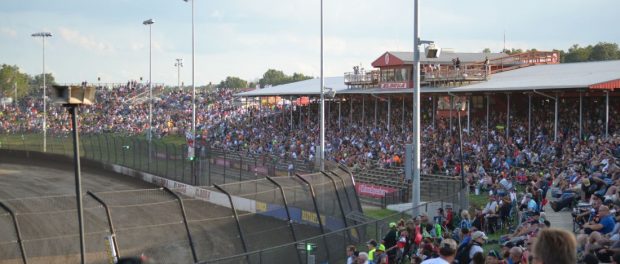 By T.J. Buffenbarger
One of the hottest sports stories over the past couple of years doesn't have anything to do with the plays on the field or cars on the track. It has to do with the number of people watching on television. As things evolve in how people consume media, sporting giants like the NFL and NASCAR have seen a dip in their numbers. While we see these entities and others fighting to retain television viewers and go to the events in person short track dirt racing is perceived as being on an upswing.
That's because going to a short track race in person still matters.
In major sports the television revenue stream is so important that I feel it degrades the in person experience. With that revenue also brings in factors such as later start times and other adjustments to accommodate things people on the television side believe are best for their product. The problem is those decisions are not always great for people attending in person.
I believe the problem for many of these major sports is that revenue has become more vital than the profit from event attendance combined with a lot of venues trying to milk every last dollar from its fan based with high prices.
The television ratings issue is similar to a good television show. It does well for a period of time, but after a while people lose interest in the story and quit tuning in. At some point a segment of the fan base gets tired of the storyline and turns the channel to see something new. They are not invested from attending in person, so it's easy for them to move on to the next big thing. There isn't the same kind of investment from the couch as there is from going to an event and being a fan in person.
Another factor in this is some of the over saturation of certain sports in the sports landscape. The television side found that studio shows about certain sporting events was cheaper to produce than a lot of other sports live or taped. This pushed a lot of other sports off the air to where we don't see the variety of sports on certain networks there were 10 or 15 years ago. At some point some of these sports became over saturated in the market and people stop tuning in. Absence often makes the heart grow fonder. I feel for race fans short track racing has enough of an "off season", with a handful of event through the winter for diehard fans that can't get enough of the sport, to create a balance that doesn't burn race fans out on the sport.
Television is not the only thing to blame. Exorbitant parking, concession, and ticket prices were accepted for a long time until the at home experience with HD Television and other factors became better than the in person experience.
I feel Motorsports venues that strive for proper start times and a well-run program is one of the sports with a better fan experience attending in person. Thankfully we have had some good stewards in the sport that have avoided the pitfalls of pricing themselves out of the market. They still strive to give a race fan a great experience when they walk in the gates. For these tracks and series the difference between making it and not is selling that ticket to the person to go to the event. The event is geared towards people coming out to watch or participate. I feel this is something many of our major sports have lost sight of.
Dirt racing tracks and series still rely on people going to the race track. Chances are your regional or national dirt series won't be on live terrestrial or satellite television. Even if the event is available on a pay per view basis it still takes effort to go see it. In the instance of the Pay Per View it's more of a tool to keep people engaged rather than its primary revenue source. Because going to the track matters helps keep ticket and concession prices in check so a family can afford to go to the races a few times a year.
Shows like Thursday Night Thunder that featured sprint car and midget racing on live television are still held in high regard. Going to a few of those races in person though were frustrating with extra pace laps and waiting around for television only having to hurry up to fit the event in a certain window. While I could see some of the benefits of these events being on live television it always degraded the experience for the fan attending in person. If a venue or series is paying to be on television and degrading your fan experience to me just isn't worth it.
With so many options in our world for entertainment I find what I see at various tracks I attend very positive. The on track product is good at most tracks and I believe fans subliminally know their attendance is deemed more important than a sport where someone could watch sitting on their couch at home. With the Pay Per View model people can still stay engaged with short track racing and it gives the series and/or track another revenue stream they directly control and a tool to keep up interest. In today's world I feel we are ahead of the curve on this compared to a lot of other sports.