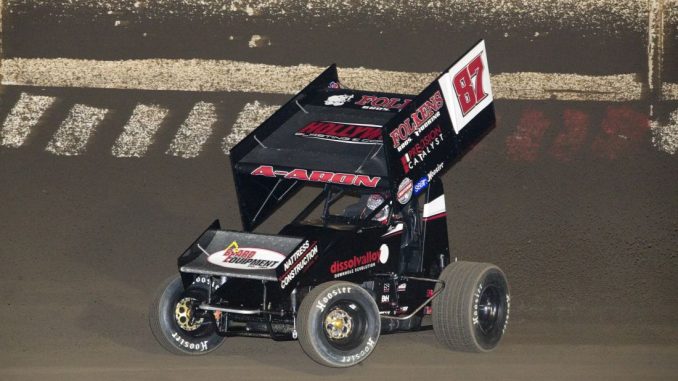 Couch Racing: Thrillers in Tulare
With snow still on the ground in Michigan I decided to buy my first month of DIRTVision's Fast Pass to check out the event at Thunderbowl Raceway on Friday featuring the World of Outlaws Craftsman Sprint Car Series and USAC West Coast Sprint Car Series.
The highly enjoyable show, completed earlier than programs I've attended in the Eastern time zone, featured late race heroics in both divisions.
For the first 2/3 of the USAC West Coast Sprint Car feature Austin Liggett successfully held off challenges from Bernal, Danny Faria Jr, and Richard Vander Weerd. With about 10 laps to go it appeared Bernal found another gear, tearing up and down Tulare's high banks to pass Liggett, who had led the first 28 laps, for the win.
In the World of Outlaws feature Aaron Reutzel used traffic to extend his lead in the late stages of the feature on his way to victory. Reutzel's aggressive drive through traffic over the final seven laps was remarkable when you consider winged sprint car races are often lost overtaking slower cars.
All of this was viewed from my living room with not even a blip of hesitation on the broadcast. I believe my DIRTVision fastpass will be highly enjoyable and will enhance our coverage of the Greatest Show on Dirt here on TJSlideways.com
Silver Cup Stunner
If you ever needed an example of why drivers don't give up until the final lap Saturday's Silver Cup finale at Silver Dollar Speedway was a perfect example. Andy Forsberg was able to capitalize on Colby Copeland and Michael Kofoid stumbling on the final lap in turns three and four to drive from third to first off the final corner.
McCullagh is Not a One Hit Wonder
Corey McCullagh has proven over the past month his victory at the Grand Annual Sprintcar Classic was no fluke. After winning the SRA Eureka Sprint Car Series after having to run the B-Main last Saturday at Avalon Raceway McCullugh scored another win at Premier Speedway on Saturday. When I pointed out that McCullugh might be worthy of a ride in the United States this summer McCullugh was quick to reply.
I have a passport ready to go….. lol

— Corey McCullagh (@CoreyMcCullagh) March 12, 2018
Time will tell if McCullagh can find an opportunity in the United States.
Down goes Millstream…again
Ever go to the bar and see that person in the corner that you know has problems, yet you look at them and think to yourself "I can fix that!" Six months later you are telling someone how sure you were going to be the one that changed them before it all went wrong? That's Millstream Speedway in its current state. Through multiple promoters that have tried to revive the Findlay, Ohio oval the outcome has been the same. Hopefully someone makes it work eventually, but I don't see that happening anytime soon.
It is sad that things haven't worked out for what used to be one of my favorite race tracks. On the bright side gaining an All Star Circuit of Champions program at the lightening fast Waynesfield Raceway Park is an upgrade in my opinion. I am appreciative people like Shane Helms are willing to give it a try and support the sprint car crazy state of Ohio, particularly in the Findlay area.
Other notes
Its good to hear Brock Mackovich is okay after a huge ride on Saturday night at Western Springs Speedway. Maskovich did spend the night in the hospital as a preventative measure but was quick to point out despite the crash he won the National Midget Point Title at the Springs.
It appears the Sprint Series of Texas is no more. SST had been one of the longer running budget minded series in the southwest.
The World of Outlaws announced they have included preliminary feature wins into the career win totals of drivers. While many poured over the numbers I couldn't help but think how much better we have it today without "preliminary features" and not seeing the top four finishers in the feature on the second day until the dash. I feel on track product and format is better than it was during the height of the TV era.
In closing
You may notice some of the changes on TJSlideways.com. This was done mostly by necessity as I started running into some issues by putting off a theme upgrade that was supposed to done in November but ran out of time due to a new job and life happening. After problems continued to mount I decided to bite the bullet and take some time this past weekend to finish the project before the bulk of racing season began. There are still more tweaks to make, don't be surprised when various things move around as I put the finishing layout touches.