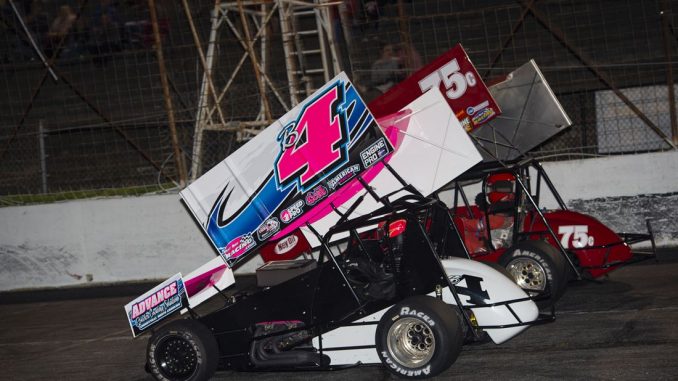 From Must See Racing
HOLLY, Mich. (May 8, 2018) — Following the excitement of a historic opening weekend last month, the Must See Racing Sprint Car Series is primed to begin the northern portion of its schedule with a Michigan doubleheader.
The winged asphalt 410ci sprint car series will make stops at Birch Run Speedway and Berlin Raceway during a two-day weekend on May 11-12, hoping to build on the pair of Southern Shootout races in North and South Carolina that saw three-time series champion Jimmy McCune and second-year fan favorite Bronzie Lawson IV pick up important victories.
McCune's win at Anderson (S.C.) Motor Speedway was the milestone 25th of his MSR career, while Lawson's triumph at Hickory (N.C.) Motor Speedway marked his first 410 sprint car victory of any kind.
For Lawson, the start to the northern half of the MSR schedule means it's time to get down to business, knowing that he can't rely on any sort of home track advantage going forward.
"Man, we had the benefit of being in front of a home crowd and having that excitement ramp up in our favor when we won at Hickory, but there's none of that when you get to the tracks that these northern guys frequent," said Lawson. "I'm going to have my work cut out for me. We never expected to win this soon, so we've kind of blown our goals out of the water, but now it's time to settle in and focus on being consistent for the next few months."
Lawson added that his set goals coming into the year are still the same as they were before, despite the fact that he scored the biggest win of his career and his confidence is as high as it has ever been.
"We're not changing our outlook or what we hope to accomplish," he noted. "We still have a lot of learning to go out and do at a lot of these tracks this year and we know that. Our focus is on finishing races and bringing the car back in one piece every night. If we do that, the results will start to follow.
"If I can score a few top-fives and challenge for a top-five spot in points, I'll be really happy with that."
Lawson and McCune will have a host of challengers to deal with heading into Birch Run and Berlin, however, led by National Sprint Car Hall of Famer Jeff Bloom and former Berlin winner Jason Blonde.
NASCAR Modified ace Bobby Santos III, two-time Little 500 winner Jacob Wilson, Aaron Pierce and home-state favorites Ryan Gillenwater and Tom Jewell are also expected to throw their hats into the ring and challenge for victory both nights.
Ontario's Ryan Litt plans to add Canadian flavor to the field and Ohio supermodified ace Charlie Schultz will also return, as Schultz seeks his long-awaited first MSR win for car owner John Reiser.
Birch Run's four-tenths-mile oval makes its return to the MSR schedule this season after holding a non-points special event last August. McCune took the win in the American Racer Invitational for his seventh of eight series wins in 2017.
Berlin has long been a staple of MSR competition and welcomes the series for the ninth time since debuting on the calendar in 2011. Blonde and Brian Gerster split the MSR stops at Berlin last year.
Saturday's race at Berlin will also mark the first race utilizing the new Engine Pro Fast Car Dash format, which will see the fastest eight cars from time trials racing in a fully-inverted, six-lap sprint race that helps to determine their feature starting position.
For more information on Must See Racing, visit the series on the web at www.mustseeracing.com.