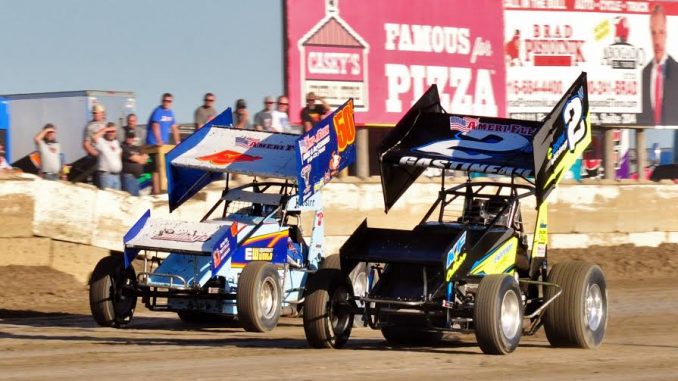 From John Lemon
TULSA, Ok. (May 22, 2018) – Thousands of Americans will be hitting the highways during the Memorial Day holiday weekend and you can add the racing teams and the fans of the AMERI-FLEX / OCRS sprint car series to that list. The sunflower state of Kansas will be the destination with two action packed shows set to take place on two very different racetracks.
First up will be the tight quarters of the Caney Valley Speedway who's 1/4-mile oval is always a challenge for the open wheel warriors. That event, located in Caney Kansas, will take place on Saturday May 26th. 4-time AMERI-FLEX / OCRS champion Jamie Passmore came out on top in last years event. Caney Valley is also the track where Passmore earned his very first sprint car win. Action is such at Caney Valley Speedway one can expect sparks to fly with the banging of chrome nerf bars and bumpers lap after lap.
After the Caney Valley event and in just a handful of hours after the Indy 500 is scheduled to conclude on Sunday the 27th, the sprint cars are set to take part in 'Sprint Car Maynia II' at the larger and faster 3/8-mile 81 Speedway in Park City Kansas. This very special event will not only feature the AMERI-FLEX / OCRS sprint cars but also the sprint cars of the NCRA and URSS racing organizations. All three groups will run individual programs. The inaugural running of this event last season produced a whopping 93 sprint cars jammed in the pit area between all three sanctions. Jamie Passmore won the AMERI-FLEX / OCRS portion of the program for back to back victory lane visits that weekend. 81 Speedway is rich in tradition and winning there calls for a highlight marker on a drivers resume list of accomplishments.
Broken Arrow Oklahoma's Alex Sewell will carry a 9-point lead (195-186) in the point standings over Layne Himebaugh as this weekends racing activities loom. Mickey Walker is currently third in the title chase with 174 points while Casey Wills sits next at 168 and Shane Sellers finishes off the current top five with 166.
Join us for a thrilling and exciting doubleheader this holiday weekend in the great state of Kansas and see the always thrilling AMERI-FLEX / OCRS sprints do their thing in the dirt as it's time to 'Feel The Thunder' once again.