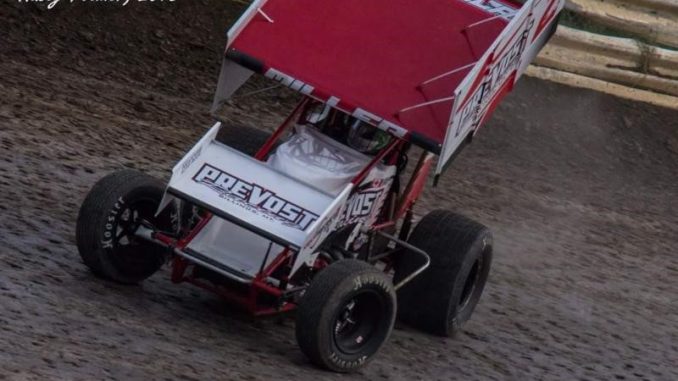 From Bryan Hulbert
RAPID CITY, S.D. (June 1, 2018) – Opening the 2018 season at Black Hills Speedway, Canada's Kelly Miller raced to his third career victory with the Brodix ASCS Frontier Region. The third leader of Friday's 25 lap A-Feature, the No. 2jr of Miller raced to the point from the fourth starting spot.
Chasing Clint Anderson on the opening lap, the second revolution saw Eric Lutz in
control. Leading until Lap 17 as the track went under yellow flag conditions, a bobble on the restart was enough for Miller to pounce.
Setting the pace from Lap 18 on, Miller was joined on the podium by Eric Lutz and Clint Anderson. Coming from eighth, Montana's David Hoiness finished fourth with Wyoming's Blayne Brink following from ninth to make up the top-five.
Jess Beckett crossed sixth with 14th starting, T.J. Thorne in seventh. Adam Speckman from 13th was followed by Ben Holmberg from 15th with Idaho's James Setters rolling from 19th to complete the top-ten.
The Brodix ASCS Frontier Region goes green again on Saturday, June 2 at Gillette Thunder Speedway in Gillette, Wy. For other news, notes, and information on the American Sprint Car Series, from the National Tour to any of the Regional Tours that make up the over 150 across the ASCS Nation in 2018, log onto http://www.ascsracing.com, follow on Facebook, on Instagram, and on Twitter (@LucasOilASCS).
Race Results:
ASCS Frontier Region
Black Hills Speedway – Rapid City, S.D.
Friday, June 1, 2018
Car Count: 24
Heat 1 (8 Laps): 1. 2JR-Kelly Miller, [1]; 2. 27DD-David Hoiness, [5]; 3. 56X-Mark Chisholm, [2]; 4. 3B-Jess Beckett, [7]; 5. 33-Robert DeHaan, [8]; 6. 1K-Bill Deay, [4]; 7. 2-James Setters, [3]; 8. 77-Damon McCune, [6]
Heat 2 (8 Laps): 1. 88-Travis Reber, [2]; 2. 10-Anthony Farnsworth, [4]; 3. 4-Adam Speckman, [1]; 4. 2P-Shad Petersen, [5]; 5. 65-T.J. Thorne, [6]; 6. 2X-Jason Schumacher, [3]; 7. 8X-Randy Dolberg, [7]; 8. 23N-Josh Higday, [8]
Heat 3 (8 Laps): 1. 6-Eric Lutz, [3]; 2. 9A-Clint Anderson, [5]; 3. 29-Eric Flatmoe, [7]; 4. 14-Ben Holmberg, [2]; 5. 21-Blayne Brink, [8]; 6. 35M-Cody Masse, [4]; 7. 3-Mike Pennel, [1]; 8. 0-Ned Powers, [6]
A Feature (25 Laps): 1. 2JR-Kelly Miller, [4]; 2. 6-Eric Lutz, [3]; 3. 9A-Clint Anderson, [2]; 4. 27DD-David Hoiness, [8]; 5. 21-Blayne Brink, [9]; 6. 3B-Jess Beckett, [1]; 7. 65-T.J. Thorne, [14]; 8. 4-Adam Speckman, [13]; 9. 14-Ben Holmberg, [15]; 10. 2-James Setters, [19]; 11. 33-Robert DeHaan, [11]; 12. 3-Mike Pennel, [20]; 13. 2X-Jason Schumacher, [18]; 14. 0-Ned Powers, [22]; 15. 23N-Josh Higday, [23]; 16. 29-Eric Flatmoe, [7]; 17. 35M-Cody Masse, [17]; 18. 1K-Bill Deay, [16]; 19. 2P-Shad Petersen, [12]; 20. 10-Anthony Farnsworth, [5]; 21. 56X-Mark Chisholm, [10]; 22. 88-Travis Reber, [6]; (DNS) 8X-Randy Dolberg, ; (DNS) 77-Damon McCune,