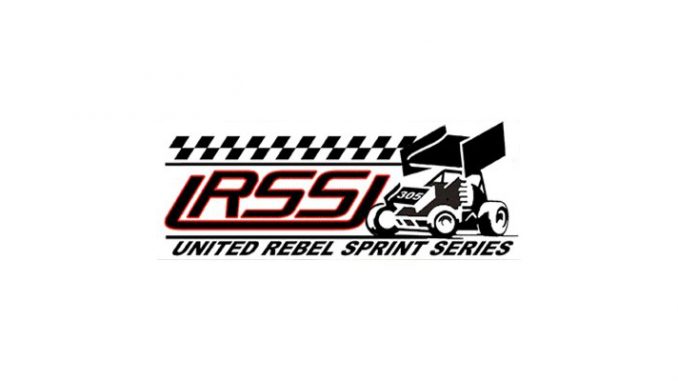 From David Smith Jr.
OBERLIN, Ks. (June 11, 2018) – One of the highlights on the 2018 "Rebel" schedule takes place this coming Friday and Saturday night as the United Rebel Sprint Series head to the beautiful Dodge City Raceway Park for the second annual "Lubbock Wrecker Service DCRP 305 Sprint Car Nationals." The tour will be joined by the tracks Precise Racing Products DCRP Sprint Cars for two nights of fast-paced sprint car action.
Thanks to Mother Natures fury, only two events have been held thus far for the URSS with Fairview, Oklahoma's Jake Martens. Martens, who is also one of the early pre-entrants for the inaugural Belleville 305 Sprint Nationals, holds a slim ten-point lead over fellow "Okie" Taylor Velasquez of Turpin. Tyler Knight currently sits third in series points (-12) while Koby Walters, Steven Richardson and defending tour champion Zach Blurton are tied for fourth, sixteen-points out of lead.
Rounding out the top ten are Jordan Knight (-30), Brian Herbert and Ty Williams (-32) and Tracey Hill (-36).
Friday night's feature payout is will be at least $500 for the winner and $125 to start the feature finale All non-qualifiers will earn $100.
Saturday night's feature finale winner will earn a cool $3000 and could earn up to $4500 with lap money in play as well. Starting the twenty-four-car championship feature finale will take home $600 while all non-qualifiers will earn $150.
Friday night's action will get underway at 8:00 PM while championship Saturday night will see heat races begin at 7:30 PM.
Dodge City Raceway Park is located on the south edge of Dodge City, Kansas on US 283, then 0.9 mile west on US 56, then 0.1 mile south.
For more race information, payout breakdown and how you can sponsor a lap for Saturday night's championship feature finale, check out the tracks official website www.dodgecityraceway.com.
Keep up-to-date on all the "Rebel" happenings at www.unitedrebelsprintseries.com and their official facebook page: United Rebel Sprint Series (URSS). There you will also find official pre-entry form for the inaugural Belleville 305 Sprint Car Nationals and detailed information concerning that August 3-4, 2018 event.
In the staging area: After this weekends second annual DCRP 305 Sprint Car Nationals, the URSS will make their first appearance of the season at El Paso County Speedway in Calhan, Colorado on Saturday night, June 23.