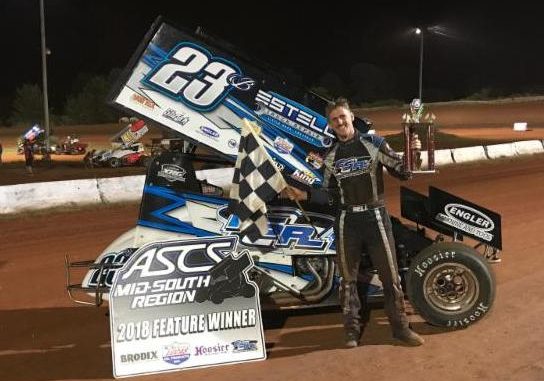 From Bryan Hulbert
MURFREESBORO, Ark. (July 1, 2018) – Wrapping up four nights of racing across the state of Arkansas, Tennessee's Brian Bell captured his first ASCS Mid-South Regional win of the season at Diamond Park Speedway.
Leading start to finish for Sunday's $2,000 prize, Bell brought the FSR Radiator No. 23b across the line ahead of Tim Crawley with Marshall Skinner in third. Placing fourth was Howard Moore with Justin Webb in fifth. Ernie Ainsworth, Joseph Miller, Wally Henson, Adam Miller, and Robert Richardson made the top-ten.
The ASCS Mid-South Region races again at Riverside International Speedway in West Memphis, Ark. on Saturday, July 21.
For other news, notes, and information on the American Sprint Car Series, from the National Tour to any of the Regional Tours that make up the nearly 150 races across the ASCS Nation in 2018, log onto http://www.ascsracing.com, follow on Facebook, on Instagram, and on Twitter (@LucasOilASCS).
Race Results:
ASCS Mid-South Region
Diamond Park Speedway – Murfreesboro, Ark.
Sunday, July 1, 2018
Heat 1 (8 Laps): 1. 91A-Ernie Ainsworth, [1]; 2. 40-Howard Moore, [2]; 3. 26-Marshall Skinner, [5]; 4. 2H-Wally Henson, [3]; 5. 30-Joseph Miller, [6]; 6. 32M-Adam Miller, [4]
Heat 2 (8 Laps): 1. 23B-Brian Bell, [2]; 2. 1X-Tim Crawley, [3]; 3. 31-Justin Webb, [5]; 4. 32X-Robert Richardson, [1]; 5. 21K-Kevin Hinkle, [4]
A Feature (25 Laps): 1. 23B-Brian Bell, [1]; 2. 1X-Tim Crawley, [3]; 3. 26-Marshall Skinner, [4]; 4. 40-Howard Moore, [6]; 5. 31-Justin Webb, [5]; 6. 91A-Ernie Ainsworth, [2]; 7. 30-Joseph Miller, [8]; 8. 2H-Wally Henson, [7]; 9. 32M-Adam Miller, [11]; 10. 32X-Robert Richardson, [9]; 11. 21K-Kevin Hinkle, [10]