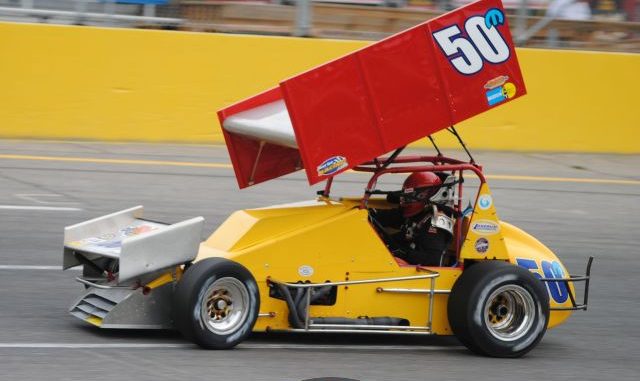 Jacob Seelman
BIRCH RUN, Mich. – Brian Gerster finally found his way back to victory lane with the Must See Racing Sprint Car Series for the first time in nearly a year, winning Sunday afternoon's steamy Xtreme Speed 30 at Birch Run Speedway.
Gerster started fourth but methodically worked his way through the field, finally driving around the outside of Ryan Gillenwater in turn two and leading the final 13 laps en route to the win.
Sunday's matinee performance marked Gerster's 20th career series victory, and he becomes the fourth different winner in five races this season, already breaking last year's mark of three different winners.
"I haven't raced here (at Birch Run) for 11 years, so I have to thank Dick Myers and Rick Ferguson for giving me a great race car," said Gerster. "It was a long, hot weekend but we made it all work and got it done. The fans are the real troopers on a day like this one. I'm glad we were able to give them a great show.
"I knew that there would be some speed moving up (the track), it was just a matter of doing it the right way and making the right adjustments during the race," Gerster added. "When your race car's fast, you don't think about the heat as much as well. It's good to get back in victory lane with Must See, too. (Jimmy) McCune has been inching ahead of us on the win list, so we'll have to come back and race with him a little bit more to get that gap closed back up."
While the closing stages may have seemed easy, the heat and a hard-charging Bobby Santos III meant that Gerster couldn't let off the gas as he worked traffic in the final laps.
Santos moved into second one lap after Gerster's pass for the lead and carved a nearly two-second deficit down into mere car lengths coming to the white flag. He lost ground in turns one and two, however, and trailed Gerster by four tenths of a second at the finish line.
"I just screwed up the original start, really, is where I think we lost this one," lamented Santos. "We had a great car and I think if we had been able to get out front right away, we could have held it to the finish. I hate it for my car owner Dick (Fieler). I wish we could have got him a win on his birthday because this team deserves to be in victory lane, but we'll try again next time."
The run to the twin checkers appeared to be a photo finish, with Santos pulling alongside Gerster, however that move came on the cool-down lap and was for naught for the veteran open-wheeler.
"I think we ran an extra lap as it was; it was a little crazy with (flagman) J.D. (Wilbur) trying to help work lap traffic for us and get the checkered going, but it was a fun race," noted Gerster. "Either way, Bobby Santos is one of the best pavement racers in the country, so to have him wheel to wheel with us at the end is pretty cool, if you ask me."
Three-time defending series champion Jimmy McCune completed the podium, while polesitter Gillenwater eventually faded to fourth after leading the first 17 laps.
Anthony McCune crossed the line fifth. Aaron Pierce, who won Saturday night's feature at Owosso Speedway and set fast time on Sunday, struggled during the main and came home a distant seventh.
Must See Racing
Birch Run Raceway
Birch Run, MI
Sunday July 1, 2018
Feature:
1. 50M – Brian Gerster
2. 22A – Bobby Santos
3. 88 – Jimmy McCune
4. 45 – Ryan GillenWater
5. 8 – Anthony McCune
6. 97 – Ike Beasley
7. 26P – Aaron Pierce
8. 81 – Joey Schmidt
9. 88N – Frank Neill
10. 42 – Jason Blonde
11. 9s – Charlie Schultz
12. 8A – Adam Biltz
13. 72s – Joe Speakman
14. 7 – Tom Jewel
15. 00 – Joey Irwin
16. 26 – Jeff Bloom
17. 90 – Tom Nichols