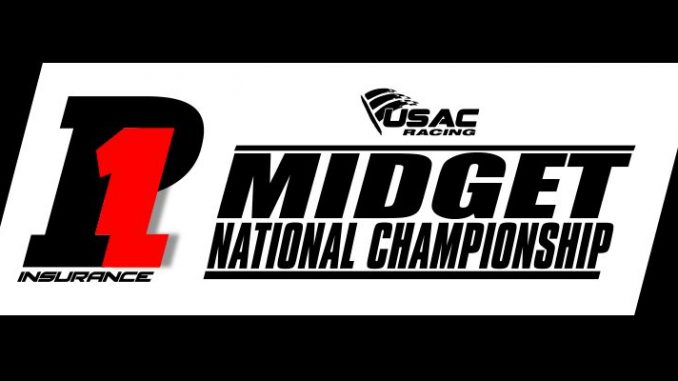 By Richie Murray
The compasses are all pointed toward the middle of the United States this coming week for five races in six nights as the season hits a busy, hectic stretch of summer with two new tracks and a host of new events ready to welcome the USAC P1 Insurance National Midgets for its annual, popular swing that sports a new look.

The expansive week of racing includes four racetracks in four different states.  The week kicks off on Tuesday, July 10 with the series' first visit to the state of Oklahoma in 43 years when the road takes us to Red Dirt Raceway in Meeker, Okla.  Back in 1975, John Batts and Sleepy Tripp earned successive victories at the Oklahoma City Sports Arena.
One night later, on Wednesday, July 11, the series returns to the birthplace of two-time Indianapolis 500 winner Rodger Ward for the ninth running of the "Chad McDaniel Memorial" at Solomon Valley Raceway in Beloit, Kansas.
After one night off, on Friday and Saturday, July 13 and 14, the two-night, inaugural Riverside Chevrolet "Midwest Midget Championship" presented by Westin Packaged Meats and Schmidt's Sanitation at Jefferson County Speedway in Fairbury, Nebraska debuts.  The first night on Friday will feature a $3000 winner's share leading into Saturday night's finale which sees the ante upped to $5000 for the main event winner.
The series hits the trail the following night, on Sunday, July 15, for its second debut at a new track in a six-day span, Sweet Springs Motorsports Complex in Sweet Springs, Missouri for the "John Hinck Championship."  It will be the first "Show-Me State" showcase for the USAC National Midgets since Jerry Coons, Jr. victory at Eldon's Lake Ozark Speedway in 2006.
Tuesday night's opener at Red Dirt Raceway and Sunday's closer at Sweet Springs Motorsports Complex mark two of the three new tracks the series will visit during the 2018 season, along with the new Dirt Track at IMS being recently announced.  Norman, Oklahoma's Christopher Bell, the 2013 series champ, will compete in both bookend events at Red Dirt and Sweet Springs for his only USAC Midget appearances of the week.
Past winners of the ninth-running of Wednesday's "Chad McDaniel Memorial" at Solomon Valley include Scott Hatton (2012), Christopher Bell (2013 & 2017), Bryan Clauson (2014 & 2016) and Kevin Thomas, Jr. (2015).  The 2011 event was rained out.
USAC National Midgets have raced at Jefferson County's 1/5-mile dirt oval in each of the past two seasons.  Phoenix, Arizona's Chad Boat (2016) and Minden, Nevada's Tanner Thorson (2017) scored each of those victories.
The USAC National Midget championship race is one of the closest seen in quite some time with the top-five separated by a mere 30 points.  Series Rookie Logan Seavey of Sutter, Calif. continues to hold down the series lead by a scant four points over Phoenix, Arizona's Boat.  Reigning series champ Spencer Bayston of Lebanon, Ind. is third, nine points out of the lead.  Another rookie, Zeb Wise of Angola, Ind., is fourth, 21 points back from the leader.  Indianapolis, Indiana's Tyler Courtney is 30 points from the lead in fifth.
The swing of events is a homecoming of sorts for several regulars with the series, including Broken Arrow, Oklahoma's Brady Bacon (6th in points), Collinsville, Oklahoma's Tyler Thomas (11th in points), Paola, Kansas driver Tucker Klaasmeyer (14th in points), Broken Arrow, Oklahoma's Jason McDougal (16th in points), Bethany, Oklahoma's Matt Moore (19th in points) and Stillwater, Oklahoma's Zane Hendricks (22nd in points).  McDougal, Moore and Hendricks are among this year's highly-talented Rookie class.
Six USAC National Midget races have been held thus far in the 2018 season.  Seavey won the opener at the Southern Illinois Center in Du Quoin on March 10.  Courtney captured the victory at the "Kokomo Grand Prix" at Indiana's Kokomo Speedway on April 13.  The Indiana Midget Week title was won by Spencer Bayston as Kyle Larson (Montpelier), Chad Boat (Lincoln Park), Bayston (Lawrenceburg) and Kevin Thomas, Jr. (Kokomo) picking up the checkered flags.
On Tuesday at Red Dirt, the front gates open at 5pm.  The drivers meeting takes place at 6pm with cars hitting the track at 6:30pm.
On Wednesday at Solomon Valley, the drivers meeting is schedule for 6pm with cars set to take to the track at 6:30pm.
On Friday and Saturday at Jefferson County, front gates open at 4pm.  The drivers meeting is set for 5:30pm with cars on track at 6pm.
On Sunday at Sweet Springs, the pits open at noon, grandstands open at 3pm, drivers meeting at 5pm with the cars getting on track at 5:30pm.