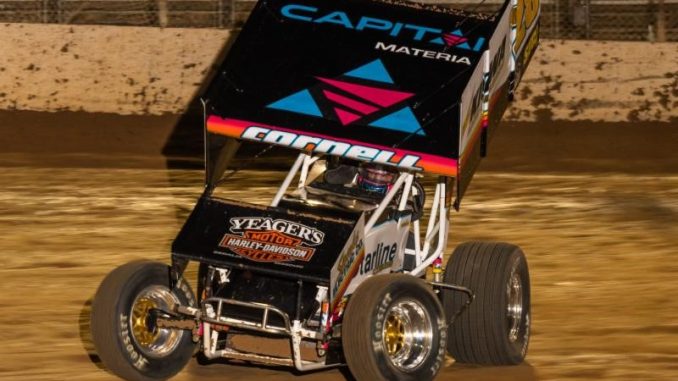 From Bryan Hulbert
CANEY, Kan. (July 12, 2018) – Diamonding off the final turn at Caney Valley Speedway, Missouri's Jonathan Cornell out ran Oklahoma's Alex Sewell to the line for his second career victory with the American Bank of Oklahoma ASCS Red River Region presented by Smiley's Racing Products.
The first of three nights of racing across the state of Kansas, Cornell banked $2,000 for his efforts.
Rolling third at the race's final restart with six laps to go, Cornell rolled the high-line to second on Mike Goodman. Keeping the Kiowa Line Builders No. 28 just to the right rear corner of Sewell throughout the closing laps, Cornell was glued to Alex's back bumper as the pair scurried down the back straightaway for the final time.
Swinging wide off the fourth turn to protect against the high side pass, Sewell left the hub open and Cornell dove at the opportunity; edging Sewell to the checkered flag by 0.188 seconds.
Mike Goodman finished third with Zach Chappell and Casey Wills making up the top-five.
Chance Morton rolled across sixth with Mathew Howard in tow. Lance Norick, Cameron Hagin, and Jared Sewell made up the top-ten.
Up next, the series will join up with the National Championship Racing Association on Friday, July 13 at Humboldt Speedway. The first of two nights with the Kansas based series, Humboldt Speedway opens at 6:00 P.M. with racing at 8:00 P.M. (CDT). Admission for Friday night is $15 for adults, kids 6-12 is $5, and Pit Passes are $35. Get more information on Humboldt Speedway at http://www.humboldtspeedway.com.
For other news, notes, and information on the American Sprint Car Series, from the National Tour to any of the Regional Tours that make up the nearly 150 races across the ASCS Nation in 2018, log onto http://www.ascsracing.com, follow on Facebook, on Instagram, and on Twitter (@LucasOilASCS).
Race Results
ASCS Red River Region
Caney Valley Speedway – Caney, Kan.
Thursday, July 12, 2018
Smith Titanium Heat 1 (8 Laps): 1. 22-Sean McClelland, [1]; 2. 50Z-Zach Chappell, [4]; 3. 15D-Andrew Deal, [5]; 4. 90-Lance Norick, [2]; 5. 7M-Chance Morton, [6]; 6. 5H-Cameron Hagin, [3]; 7. 37H-Matthew Howard, [7]
Lightning Wings and Powdercoating Heat 2 (8 Laps): 1. 8-Alex Sewell, [6]; 2. 11G-Mike Goodman, [5]; 3. 31-Casey Wills, [4]; 4. 20G-Jake Greider, [1]; 5. 9$-Kyle Clark, [3]; 6. 29-Tanner Berryhill, [2]
Battlestar Performance Heat 3 (8 Laps): 1. 28-Jonathan Cornell, [5]; 2. 44-Jared Sewell, [1]; 3. 52-Cody Karl, [2]; 4. 5M-Charles McManus, [4]; 5. 85-Forrest Sutherland, [3]; 6. 6-Kaden Taylor, [6]
Pizza Express of Oklahoma A Feature (20 Laps): 1. 28-Jonathan Cornell, [4]; 2. 8-Alex Sewell, [1]; 3. 11G-Mike Goodman, [3]; 4. 50Z-Zach Chappell, [8]; 5. 31-Casey Wills, [5]; 6. 7M-Chance Morton, [11]; 7. 37H-Matthew Howard, [19]; 8. 90-Lance Norick, [12]; 9. 5H-Cameron Hagin, [17]; 10. 44-Jared Sewell, [6]; 11. 5M-Charles McManus, [10]; 12. 85-Forrest Sutherland, [15]; 13. 22-Sean McClelland, [2]; 14. 6-Kaden Taylor, [16]; 15. 52-Cody Karl, [9]; 16. 15D-Andrew Deal, [7]; 17. 9$-Kyle Clark, [14]; 18. 20G-Jake Greider, [13]; 19. 29-Tanner Berryhill, [18]