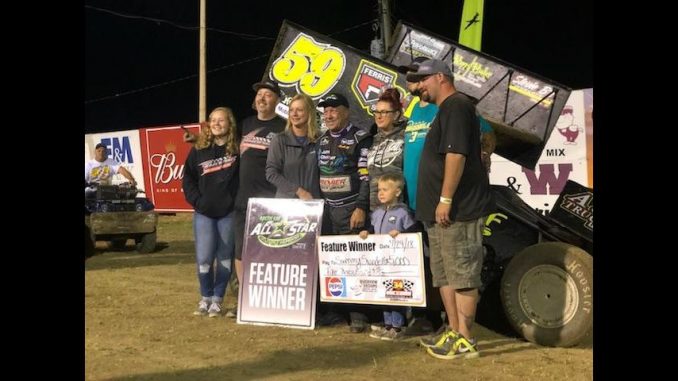 From Inside Line Promotions
WEST BURLINGTON, Iowa (July 30, 2018) – Sammy Swindell had such a successful debut in the Thone Motorsports ride that everyone has agreed to team up for the upcoming Knoxville Nationals in two weeks.
Swindell climbed aboard the No. 59 sprint car last weekend for four consecutive Arctic Cat All Star Circuit of Champions races and promptly delivered results, making the dash all four nights and improving his feature finish each night. In fact, Swindell posted a top 10 during each race and culminated the weekend with a trip to Victory Lane on Sunday at 34 Raceway.
"I didn't know these people and hadn't really paid attention to their car," he said. "I didn't know what to expect. When I went there and saw the equipment, it was all there. They have good cars and good motors. That's what you need to win these things. I got a chance to go up there and go through the cars when I was putting my seat in to get a heads up of where to be. We took a stab at what we needed to start with and we were fairly close. We improved each night and were able to zero in on some things. It came together really fast."
The action began on Thursday at Angell Park Speedway in Sun Prairie, Wis., where Swindell made his debut at the bullring. He qualified second quickest in his group and placed second in a heat race to advance into a dash. A fifth-place result in a dash lined him up on the inside of the fifth row for the main event.
"We weren't as good as we needed to be," he said. "I'd never been at that place and didn't know what to expect. I got turned early in the race in the first few laps. I was able to do a 360 and keep going, but I think I fell back to 19th or 20th. The track wasn't very easy to pass on, but we kept moving forward and got back up to 10th. The car was fast because the motors run so good, but we didn't have the car balanced real good."
A 10th-place outing was a solid rebound after overcoming the early spin. The team continued to make improvements on Friday at Jackson Motorplex in Jackson, Minn., where Swindell timed in fourth quickest in his group, won a heat race and finished fifth in a dash to start the A Main 10th.
"We probably didn't do enough things to get the car where we needed to be," he said. "We were still searching on everything, all the little things you have to put together. I was able to run right there with the guys and I felt like when we were running the top early I was a little quicker, but you had to be a lot faster to pass someone. I moved down and we started picking them off. Later in the race it started to take rubber around the bottom so at that point everyone got in line."
Swindell maneuvered to a sixth-place result.
He ventured to Knoxville Raceway in Knoxville, Iowa, on Saturday. Swindell qualified third quickest overall and second in his group. A fourth-place heat race run earned a spot into the dash. He then finished fourth in the dash to start the A Main seventh.
"On the first corner I was able to drive up to fourth or fifth," he said. "We were able to run with the guys and then a couple of them had some problems so it handed me the lead. If we could have stopped and started over there were some things I could have changed to make it better. As the race went on the things we didn't have right showed up more. That gave (Kerry) Madsen a chance to pass me. I just didn't have the speed through the corner that he had. To go in there with a whole new team and get second, that's pretty stout."
Swindell led Laps 15 through 19 before hanging on for a runner-up result.
The weekend concluded on Sunday at 34 Raceway, where Swindell timed in sixth quickest overall and third in his group. He won a heat race and placed second in a dash to start the main event on the outside of the second row.
"When we started out the car was pretty tight, but I was able to stay in fourth," he said. "Once we made a lap I felt like I was faster so it was getting the chance to do something. The track had really got where it was locked down and you'd run wide open. It doesn't leave you a lot of opportunities. I had to wait until we got to traffic. I was able to try a bunch of different lines to figure out where I could be better. It was wide enough I could get turned and cut across the bottom of turn two. I think I passed all three of the cars running in front of me off two turn."
Swindell took the lead on Lap 27 and he led the final four laps to claim his sixth triumph of the season and his 27th career victory with the All Stars. Here is a link to watch highlights of the race: https://youtu.be/y9YE9D4NQSw.
Swindell will drive for A.G. Rains this Thursday through Saturday at Knoxville Raceway during the 28th annual 360 Knoxville Nationals presented by Great Southern Bank. He won the event in 2016.