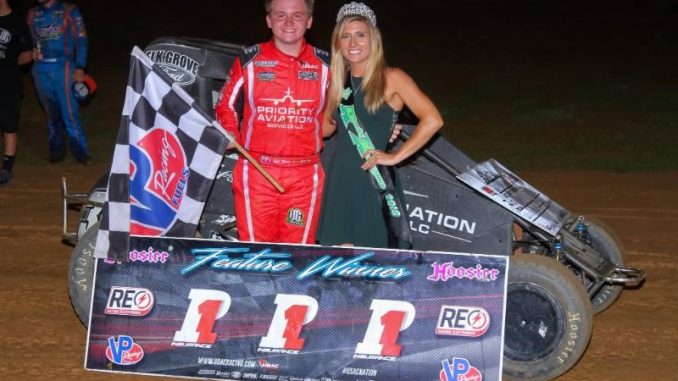 From Richie Murray
NEWMANSTOWN, Pa. (August 4, 2018) — For the past two months, Zeb Wise waited patiently on the sidelines with a broken collarbone, watching as the summer racing months passed him by without a steering wheel in his grasp.
The long-awaited return for the USAC P1 Insurance National Midget Rookie came Saturday night during the "Pennsylvania Midget Week" opener at Lanco's Clyde Martin Memorial Speedway.
To some, after a long layoff from any circumstance in life, the prevailing thought would be to ease your way back in, dip the those into the water per se, working back in at a tepid pace to get reacclimated to the setting.
No such reacclimating period existed for the young Angola, Indiana native as he slipped on his Clauson-Marshall Racing/Vision Collision – Priority Aviation/Spike/Stanton SR-11 like a comfortable pair of shoes right from the get-go, working his way past reigning series champ Spencer Bayston with 11 laps remaining to win his first career USAC feature.
"I really wasn't expecting to win tonight, to be completely honest," a humble Wise said. "I figured it would take a little time to get back used to. I've always felt comfortable at this track; I've ran a micro here. After qualifying, I thought we might have a shot and we were pretty solid in the heat race. Then, once I got into the lead in the feature, I got into a zone and didn't look back."
At the start, though, it was Kevin Thomas, Jr. racing into the lead from the outside of the front row, sliding in front of series point leader Logan Seavey to take the top spot on the opening lap. Thomas would break away for a half-straightaway lead by the third lap before the first of a brigade of stoppages put the action to a halt when Brayton Lynch and Kenney Johnson collided in turn three on the fourth lap.
Following the restart, Tyler Courtney and Brady Bacon walloped each other in turn four while battling for the fifth position, sending Courtney into a barrel roll. Not only would Courtney return the race, he would race his way back into the top-ten by the end of the 40-lap main event.
Bacon's misfortune came as part of a tumultuous event on lap 17 as Thomas worked lapped traffic, clipping Andrew Layser on the bottom of turn three and sending KTJ sideways toward the top of the track. Bacon had no room to escape the quagmire and flipped to produce another red before rejoining the fray.
That put Bayston in the lead where he would crack open a full-straightaway lead on the ensuing restart while Seavey, Wise and Grant tussled for the second, third and fourth positions as they worked to wade through the lapped traffic that formed a three-car buffer between Bayston and his nearest competition on the restart.
Wise pulled off the slider on Seavey in turn two on the 21st lap while Grant squeaked by the outside of Seavey for third exiting turn four a half-lap later. Grant's charge to the front would be stifled when the lapped car of Kevin Woody, Jr. slipped sideways in turn three. Grant tagged him, sending him into a series of flips that also collected top-five-running Timmy Buckwalter.
After a minor tangle between Chad Boat, Brenden Bright and Jason Rice between turns one and two on lap 28, finally, for Wise, the seas began to part with no lapped traffic separating he and Bayston on the restart.
"I followed Spencer for a little bit," Wise recalled. "I knew if we got into lapped traffic, I wasn't going to get by him. It was just so tight through traffic. Even if there are cars running the bottom, there's really no way to throw a slider. A slider would already be tight, let alone when there's a car on the bottom."
Wise put the full assault on Bayston, sliding him in turn three on lap 29 for the lead, momentarily. Bayston would return the favor in turn three on the following lap, however, Wise countered to the inside and recaptured the flag to secure the spot at the top of the leaderboard.
Yet, at a place like this, there's no time to rest on your laurels, set the dials on cruise control and let it ride. Lanco is basically a dirt track jungle with rabid, ravenous racecar drivers salivating at the opportunity to eat you alive if given the opportunity.
Everybody and everything is in play at all times on this 1/8-mile speed bowl. Case in point: Courtney, Bacon and Grant are among the three drivers who flipped during the feature who recovered to finish in the top-ten, perhaps the only occasion of that occurring in USAC history. Courtney finished 10th. Bacon, who flipped on lap 16, finished 5th and Grant, who flipped on the 25th lap, came home with a 7th place finish.
"Anywhere we go with the USAC Midgets, there's no time to rest, especially with a veteran like Spencer," Wise said. "He's a great racecar driver. I knew he'd be there the whole time and, as soon as I passed him, he wanted it back. I think that goes for any racecar driver."
Bayston began reeling Wise in as the laps wore down to two to go, searching high low and middle as the leaders encroached constant traffic. Bayston peeked to the outside on the back straight while Wise refused to relinquish a single grain of sand, trying to split that grain between the two lappers, tapping Kenny Miller around who, in turn, collected Bayston.
Meanwhile, in one of the most amazing, unspeakable moments that you'll ever see, outside of a Travis Pastrana, Evel Knievel, Joie Chitwood or Tommy Bartlett show, occurred when Seavey put "four on the fence" and literally drove on the chain link, completely horizontal, between turns three and four to avoid the carnage unscathed.
On the final restart, Wise had clamped down the lead with vise grips as he drove to a one-second win over hard-charging USAC Eastern Midget point leader Alex Bright and USAC National Midget point leader Logan Seavey, followed by a career-best result for Adam Pierson while Brady Bacon rounded out the top-five.
The victory for Wise was also monumental in the realm of auto racing history as no driver that young has ever won a National Series feature under the USAC banner. At 15 years, 8 months and 21 days old, Wise surpasses the former record held by the late Bryan Clauson, who won his first in a USAC Midget at the age of 16 years, 3 months and 23 days on October 8, 2005 at Ohio's Columbus Motor Speedway.
Wise accomplished the feat in none other than the No. 39BC, the same number that was synonymous with Bryan, sports his initials and is owned by Bryan's father, Tim.
"I'm kind of speechless," Wise acknowledged. "I didn't even know Bryan had that record before me. To do it in the 39BC is very cool. He's the one who picked me, so I'm glad to get a win for him. I know he's watching up there and I'm sure he's happy. Thank you, Bryan, for everything you did for me."
Contingency award winners Saturday night at Lanco's Clyde Martin Memorial Speedway were Chad Boat (Simpson Race Products First Heat Winner), Tyler Courtney (Competition Suspension, Inc. Second Heat Winner), Logan Seavey (Chalk Stix/Indy Race Parts Third Heat Winner), Andrew Layser (KSE Racing Products Hard Charger) and Brayton Lynch (Wilwood Brakes 13th Place Finisher).
——————————–
USAC P1 INSURANCE MIDGET NATIONAL CHAMPIONSHIP RACE RESULTS: August 4, 2018 – Lanco's Clyde Martin Memorial Speedway – Newmanstown, Pennsylvania – 4th Annual "Pennsylvania Midget Week"
QUALIFYING: 1. Spencer Bayston, 97, Kunz/Curb-Agajanian-10.129 (New Track Record); 2. Tyler Courtney, 7BC, Clauson/Marshall-10.136; 3. Brady Bacon, 76m, FMR-10.293; 4. Zeb Wise, 39BC, Clauson/Marshall-10.324; 5. Kevin Thomas, Jr., 63, Dooling-10.332; 6. Logan Seavey, 67, Kunz/Curb-Agajanian-10.376; 7. Justin Grant, 17BC, Clauson/Marshall/Wood-10.446; 8. Tanner Carrick, 71K, Kunz/Curb-Agajanian-10.487; 9. Adam Pierson, 74m, Mancini-10.612; 10. Timmy Buckwalter, 29, Seymour-10.653; 11. Alex Bright, 77, Bright-10.667; 12. Brayton Lynch, 1K, RKR-10.704; 13. Chad Boat, 84, Tucker/Boat-10.836; 14. Kenny Miller, 23m, Miller-10.965; 15. Tommy Kunsman, 21, TK-11.014; 16. Kenney Johnson, 46, Johnson-11.053; 17. Kevin Woody, Jr., 0, Buckwalter-11.053; 18. Ethan Mitchell, 19m, BundyBuilt-11.231; 19. Andrew Layser, 35, Bright-11.265; 20. Jason Rice, 57, Rice-11.365; 21. Shawn Jackson, 7, Jackson-11.428; 22. Brenden Bright, 92, Bright-11.544; 23. John Anderika, 96, Anderika-14.464; 24. Kyle Craker, 76E, FMR-NT.
SIMPSON RACE PRODUCTS FIRST HEAT: (10 laps, all transfer to feature) 1. Boat, 2. Bayston, 3. Wise, 4. Grant, 5. Buckwalter, 6. Johnson, 7. Layser, 8. B. Bright. NT
COMPETITION SUSPENSION (CSI) SECOND HEAT: (10 laps, all transfer to feature) 1. Courtney, 2. Carrick, 3. Thomas, 4. A. Bright, 5. Miller, 6. Woody, 7. Rice. 1:46.75 (New Track Record)
CHALK STIX THIRD HEAT: (10 laps, all transfer to feature) 1. Seavey, 2. Mitchell, 3. Bacon, 4. Lynch, 5. Pierson, 6. Kunsman, 7. Jackson. NT
FEATURE: (40 laps, starting position in parentheses) 1. Zeb Wise (3), 2. Alex Bright (11), 3. Logan Seavey (1), 4. Adam Pierson (9), 5. Brady Bacon (4), 6. Tanner Carrick (8), 7. Justin Grant (7), 8. Andrew Layser (19), 9. Spencer Bayston (6), 10. Tyler Courtney (5), 11. Chad Boat (13), 12. Kenny Miller (14), 13. Brayton Lynch (12), 14. Ethan Mitchell (18), 15. Tommy Kunsman (15), 16. Shawn Jackson (21), 17. Jason Rice (20), 18. Brenden Bright (22), 19. Timmy Buckwalter (10), 20. Kevin Woody, Jr. (17), 21. Kevin Thomas, Jr. (2), 22. Kenney Johnson (16). NT
—————————-
**Courtney flipped on lap 4 of the feature. Bacon flipped on lap 16 of the feature. Grant flipped on lap 25 of the feature.
FEATURE LAP LEADERS: Laps 1-16 Thomas, Laps 17-28 Bayston, Laps 29-40 Wise.
KSE RACING PRODUCTS HARD CHARGER: Andrew Layser (19th to 8th)
WILWOOD BRAKES 13TH PLACE FINISHER: Brayton Lynch
NEW USAC P1 INSURANCE MIDGET NATIONAL CHAMPIONSHIP POINTS: 1-Seavey-769, 2-Bayston-655, 3-Bacon-648, 4-Grant-644, 5-Boat-639, 6-Courtney-628, 7-K. Thomas-614, 8-Carrick-573, 9-Ryan Robinson-470, 10-Jerry Coons, Jr.-464.
NEXT USAC P1 INSURANCE MIDGET NATIONAL CHAMPIONSHIP RACES: August 5 – BAPS Motor Speedway – York Haven, Pennsylvania – "Pennsylvania Midget Week"